WORLD of SUBMARINES is a game where the player will control a submarine and go through many battles with other opponents. Depending on the mode, you will find different targets and coordinate with your teammates to move and attack properly. The number of submarines that you can unlock is quite diverse, and they will need many blueprints to unlock the potential.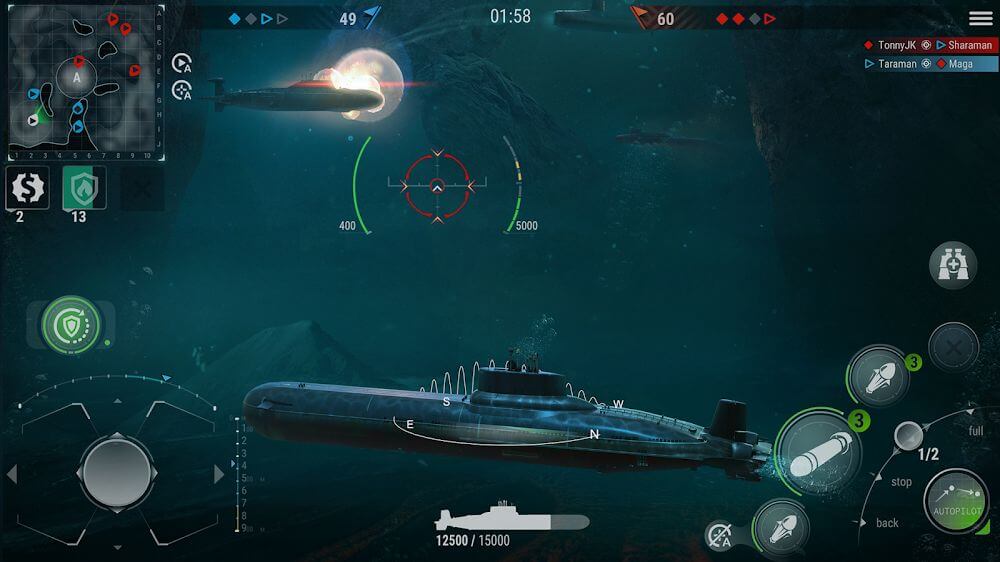 BATTLES TAKE PLACE UNDER THE SEA
In WORLD of SUBMARINES, players will find the battles under the sea interesting but equally challenging. The primary vehicle you will use to defeat other players in the submarine. So there will be some factors that will be different from the battles on land or at sea that you will need to adapt, like how to control your submarine. In addition, you will be amazed at the unique undersea environments.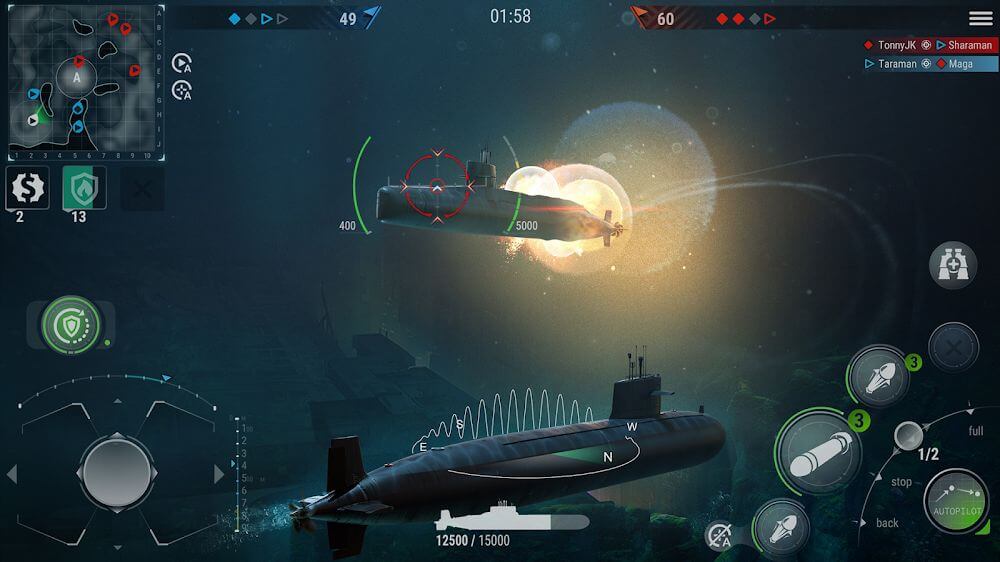 You will control a submarine with a directional joystick and a moving bar. For the directional joystick, you will be able to raise or lower the submarine's depth you are controlling or rotate it in the direction you desire. In addition, the moving bar will have different levels corresponding to actions such as forward, stop, and backward. You will gradually get used to these matches and try to take out the first enemies after aiming correctly.
EXPERIENCING CHALLENGING BATTLES
Once you've finished the tutorial mode of WORLD of SUBMARINES, you'll start with the game modes. The main game mode you will often play is a quick match where you will participate in 4vs.4 matches to defeat the enemy while trying to earn the most points to complete the level. At the same time, the underwater environment is also impressive, detailed, and vast, where you will make purely tactical moves according to enemy positions and attacks.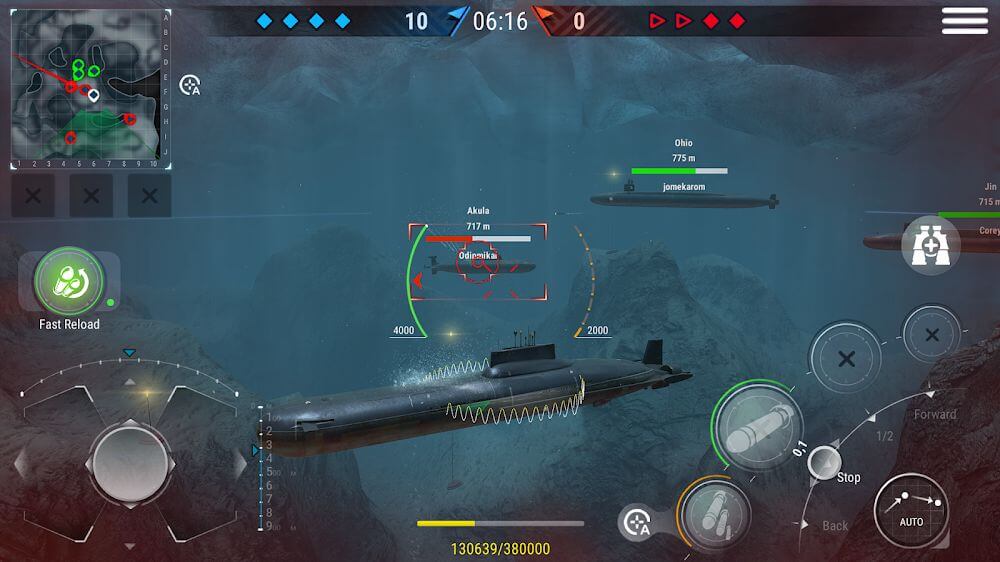 An interesting point anyone realizes when experiencing this game is that you will quickly locate your enemies and teammates on the map with the specified elements. So you will be able to defeat the enemy with others, and remember to be careful because the number of respawn times is limited.
Besides the challenging battles above, you can also find a capture-the-point mode where battles in the ocean always occur. You will find an important point that the two teams will try to capture. Each member must be in the area of that point to defend it. From there, it requires strong defensive tactics and not letting your enemies capture this stronghold.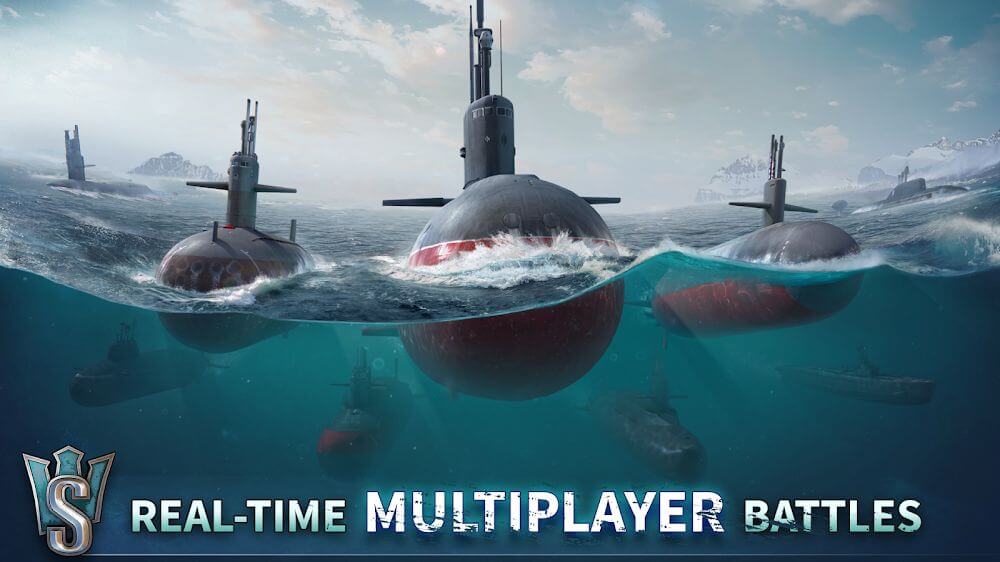 UPGRADE THE POWER OF THE SUBMARINE
When you experience the WORLD of SUBMARINES, you will certainly not be able to ignore submarines with many designs and powers. The collection will gradually be unlocked through the level you reach, and after that, it will require resources to buy. Also, upgradeable parts include hull, engine power, main torpedo, and auxiliary weapon. They all need a blueprint to upgrade their stats, and blueprints with high quality will have a lower success rate. When you reach a level, you can also add additional skills.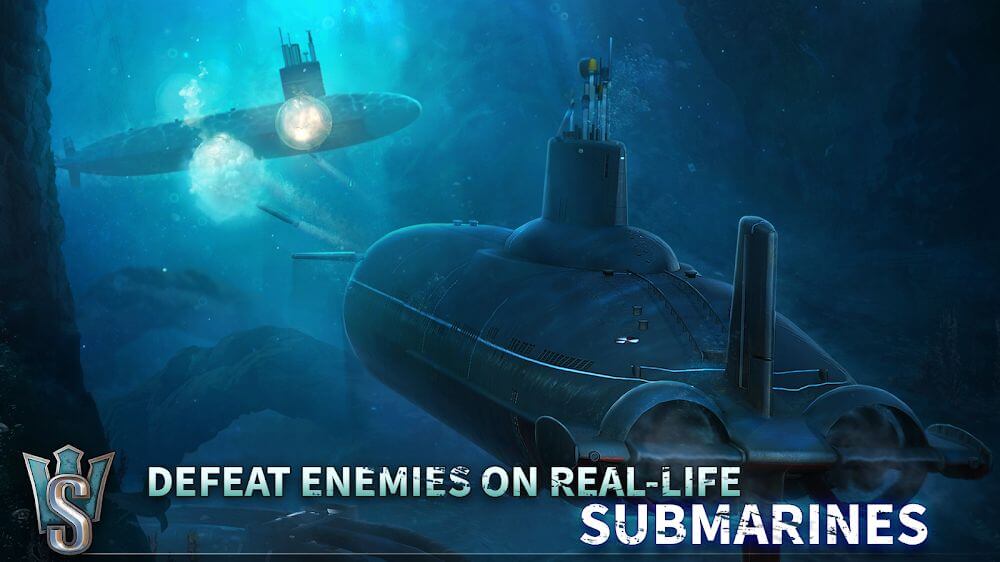 The matches taking place under the sea attract players with factors such as:
Sea battles with modern submarines with realistic and unique controls that you will spend time mastering.
You will be able to quickly locate enemies within a certain distance and move deliberately under the vast seabed space.
Each submarine is equipped with some weapons that you will need to aim and use correctly to take down your enemies.
Different game modes bring different experiences to players when the goal of the game screen is slightly changed.
The number of submarines you can find will appear when you reach a certain level, and blueprints help improve its main parts.
WORLD of SUBMARINES: Navy PvP v2.1 MOD APK (Mega Mod) Download