Vineyard Valley is a puzzle and renovation game where players go to an old location and add new elements to change its appearance. You will need to complete levels with different challenges to find the necessary items. At the same time, the number of new things has many different styles and prices that you can consider.

MAKE THE TANGLED VINES MORE IMPRESSIVE
In Vineyard Valley, the player and the main character will return to a familiar place associated with childhood called The Tangled Vines. It is a resort combined with beautiful vineyards. But over time, the look of this place becomes completely stale, and when you return, you will be able to meet different characters, discover their stories and find ways to complete the renovation.
It is a puzzle game combined with renovation, so there will always be quests constantly appearing before your eyes. At the same time, you also see that the landscape of the place you go to is old, and of course, everything can change depending on the amount and number of gold stars you own. It will be a challenging journey as there are many things that you need to renovate and many things that you need to earn. Puzzle mechanics are easy to approach but will gradually challenge the player.

SOLVE THE PUZZLES YOU SEE
Your participation in the match-three levels in Vineyard Valley is all about earning money and gold stars. Specifically, you will try to complete the level best by meeting the requirements of the level, such as collecting a specific item. The requirement will continuously increase over time, and you can only complete it in a certain number of moves. In addition, you can use many interesting strategies to win the level.
When you enter the frame of the game screen, you will find many squares with different colors, and you need to touch a square to merge other ones of the same color. So, when doing this process, some items will be collected and help you complete part of the requirements of the level. In addition, completing missions can become faster when you use different boosters, and you can also see what boosters are created.
You will be able to tap and merge various squares, and of course, when the number of squares is met, a booster will be created. The foreknowledge of booster appearance is related to the symbol that these squares possess, such as the shape of a wine bottle, a wooden barrel, a coin, and many others. At the same time, they have different effects, such as turning a horizontal or vertical row, destroying some elements in a specific area, and many other interesting effects.

CHANGE MANY OF THE OBJECTS YOU FIND
The objects you see in Vineyard Valley are old and need to be changed soon. You won't need to search for items because they will constantly arrive, and you will try to find resources to change them. Also, new items that you can use to replace old ones will often have different designs that you can choose from. Of course, this choice often comes with an amount you need to pay.
Normally, there will usually be three options, and one of them will usually be free, and you can choose the one you are interested in to preview whether it matches the surroundings. At the same time, some other options will require gold coins to be unlocked and used, so you will try to earn more of this gold in the levels next to the gold stars you find. In addition, you will find many boosters that are activated if you complete the level and still have plenty of moves left.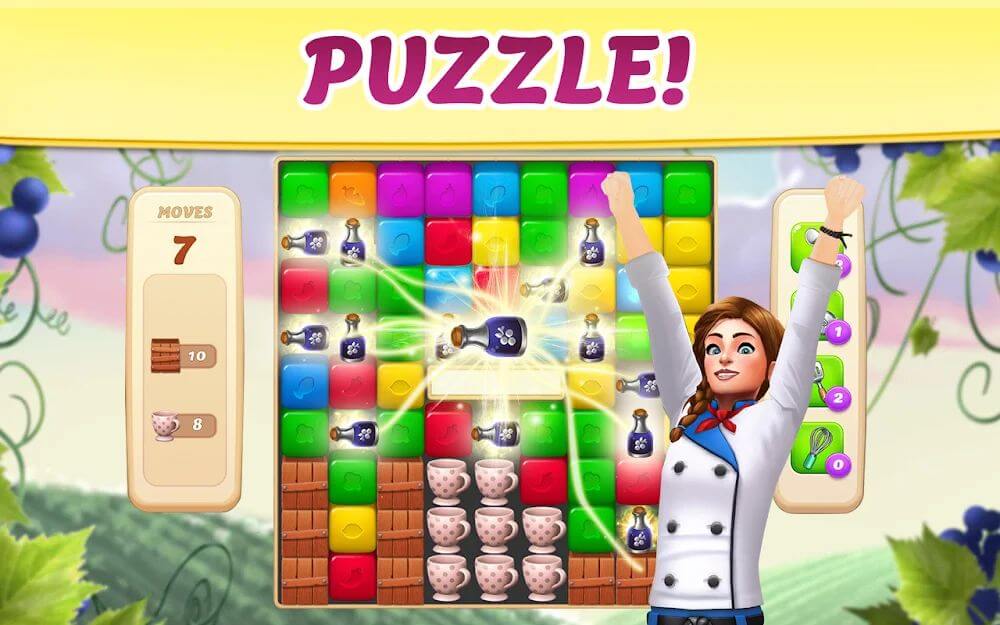 Players will travel to a resort that becomes obsolete over time:
Players will accompany the main character to a place associated with his childhood that will be renovated to get a new look.
Renovations will require gold stars, and the way to collect them comes from puzzle levels with requirements that need to be completed.
You can use many boosters to speed up the level, and you can predict in advance that boosters will appear on the icon of the squares.
When you do a renovation, options will appear from which you can choose of them, and they have many different designs.
Besides the different designs, the objects all have a value that you can see, and you can spend extra money choosing the objects you love.
Vineyard Valley v2.1.8 MOD APK (Unlimited Money) Download