Trials Frontier opens before the players challenges gameplay when traveling through terrain with different characteristics with their bike. You will find a way to get to the end goal of the level and overcome the problems that may occur inside this game. At the same time, players will need to solve assigned tasks to receive rewards and unlock bikes with attractive designs.

OVERCOMING CHALLENGING TERRAINS
In Trials Frontier, the player will be a biker and ride his bikes through various dangerous terrain. It is not a place to compete with flat terrain but will be rough terrain and completely realistic. So any problems can happen if you are not careful and you will try to drive your bike through them quickly to complete the level. It will certainly be an enjoyable but equally challenging experience.
Players will control the bike with two hands and on the right side is the navigation button to go forward or backward. In addition, on the left side, you will use the button to adjust the character's forward or backward leaning action to land correctly and maintain balance. At the same time, this is also the challenge that players are forced to face because most failures do not keep the balance for the character when going through many different levels.

DRIVE CAREFULLY AND REACH YOUR DESTINATION SAFELY
When you begin to experience the level of Trials Frontier, you need to define the goal that you need to reach clearly. At each level, there is a destination at the end of the screen, and of course, you will go through many different traps and environments to reach it. You will also face specific difficulties during driving because you cannot keep your balance even though you already know the two control mechanisms of the character. So, there will be many points of interest to players in this game.
Many types of terrain will make you feel difficult to overcome, and gradually, you will find a way to drive your bike through them. The first difficult experience is often with steep terrain, and you will need to both drive and balance the vehicle so that it does not fall backward. At the same time, some terrain has the presence of explosives, causing some large objects to start moving or breaking. Therefore, you can be attacked by a wheel or be pressed by stones.
Inside the levels of this game, there are specific challenges, but there are always small rewards for you. Specifically, you will control the character and go through the cots with wooden arrows, and you need to touch it to pick up a certain amount of money. You can also easily find many such columns scattered on different positions of a level. So this is a small bonus that you cannot ignore.

QUESTS THAT LEAD YOU TO DIFFERENT REWARDS
When you experience Trials Frontier, you will certainly not be able to take your eyes off the tasks that the characters in this game offers. You will know which level you need to go to and try to fulfill their requests. At the same time, when their requirements are met, you will receive various rewards such as experience, money, and you can level up. Leveling up will give you more energy to continue to the next level.
When you have experienced a bike driving game, they will surely be curious about the number of bikes that this game owns. This game offers a list of different types of bikes that you cannot ignore, and you need to pass many different levels to earn a lot of money. At the same time, each gives you different experiences. Therefore, you will undoubtedly be motivated to go through the different levels.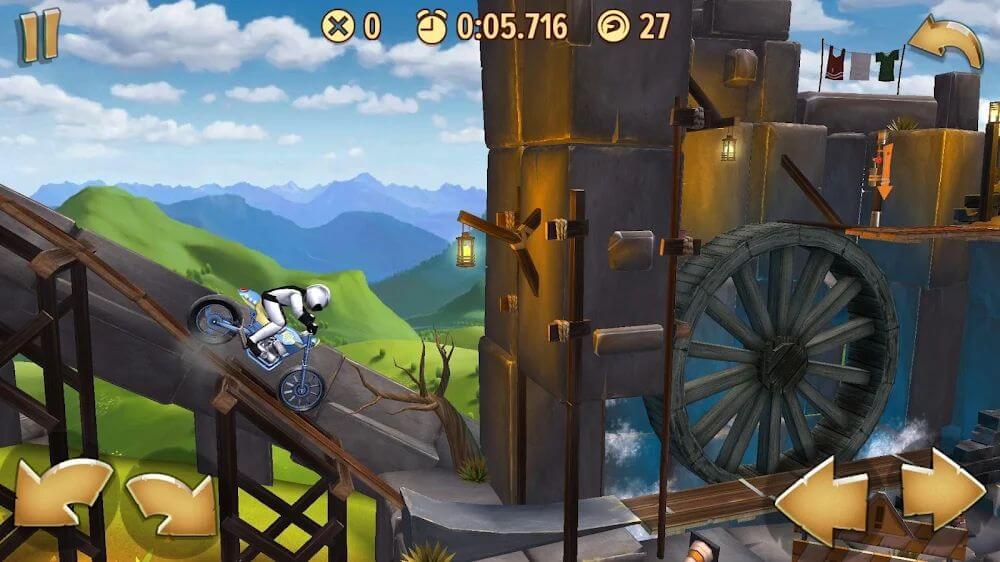 Players will not be able to take their eyes off the attractive and challenging levels:
Players will ride the bike through different terrains and try to get to the level end to complete, and this is undoubtedly a challenging journey.
The game's control mechanism is completely understandable, but in most cases, the player's failure often comes from losing balance.
On some levels, the danger will be increased when large objects can move after the effect of an explosion and move towards the player.
A mission system with many different requirements takes players to various levels to complete them and receive corresponding rewards.
Many levels will allow you to collect some extra coins, and you can spend your time unlocking the bikes you like.
Trials Frontier v7.9.4 MOD APK (Unlimited Money) Download