Thor: War of Tapnarok is a title where the player will control Thor's attacks to take down the monsters that are unleashed and threatening Asgard. When accompanying him, there are mighty Viking warriors, and the power of the group will continuously be increased. At the same time, there will be many mechanisms that you can use to increase strength and destroy enemies quickly.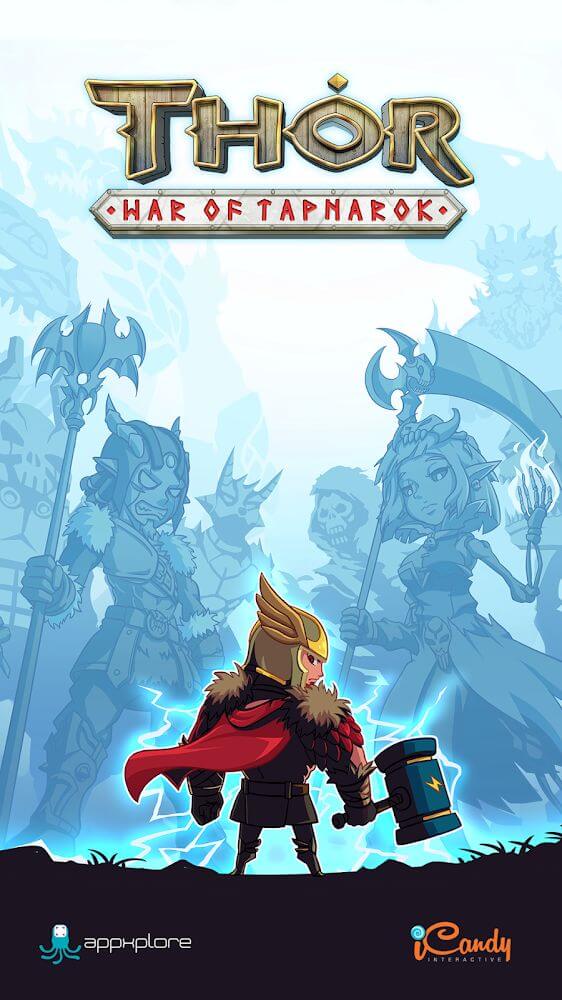 THOR'S JOURNEY TO DESTROY ENEMIES
The story is set after the threat of Ragnarok has been calmed, but everything is not yet peaceful in Thor: War of Tapnarok. Loki obtained a powerful item to summon many monsters to capture Asgard, taking advantage of the unstable situation. Thus, a new apocalyptic event is about to occur and requires the mighty god of the Nine Realms to rise against these monsters. He will not fight alone, but many other Viking warriors will be eager to protect their homeland.
You will be Thor's companion with legendary weapons to fight monsters and unleashed evil gods. At the same time, they will appear continuously before your eyes, and it will be a long journey when you want to restore peace to Asgard and many other realms. With your strength, you will be able to easily duel different enemies and take advantage of their weak points to take them down quickly when dealing with massive damage.
PERFORM ATTACKS WITH EASE
When you start Thor: War of Tapnarok, you will see Thor preparing to attack the enemy in front of you, and you will be the one to decide his attacks. You will repeatedly press to perform attacks until the enemy is defeated and another enemy appears. That will be done continuously, so you will need to be patient, and the strength will be constantly increased so that this process can go faster and earn more money.
Besides normal monsters, you can also face many different enemies like bosses in this game. Specifically, they would be larger and possess higher stamina than normal monsters. There will be a way for you to defeat these monsters and perform powerful attacks to hit their weak point. The weak points will be revealed when you repeatedly attack it, and you need to hit the designated location. The bigger the monster, the more weak points you can attack.
INCREASE STRENGTH AND RECRUIT POWERFUL WARRIORS
Besides the powerful god Thor, you can also recruit other Viking warriors in Thor: War of Tapnarok when you meet the conditions and finances. At the same time, Thor and these warriors have one thing in common: they both need to increase their level over time and use the money to do this. Thor will have unique skills unlocked as a god, and it's on the list at the bottom of his level up.
When you defeat some bosses on some levels, you will sometimes get Runes, a precious material that allows you to summon a Treasure with powerful effects. It can help you improve a large amount of power when earning the right Treasure.
The journey to save Asgard and save the world from monsters brings many exciting things such as:
Players will experience the post-Ragnarok event and fend off monsters unleashed by Loki when using Thor's power and skills.
The number of warriors will continuously increase when you complete the level to a certain level, and you will use the money to recruit them.
Bosses often have stronger strengths than the rest of the monsters and exist many weaknesses to deal a large amount of damage.
You can unlock Thor's potential and find awesome power-ups to overcome more and more powerful enemies.
There will be some chance to drop Runes that help you summon Treasures with amazing power-up effects in some boss battles.
Thor War of Tapnarok v1.3.5 MOD APK (Unlimited Money/One Hit) Download