The Walking Zombie 2 is a shooting game where players will face various enemies in a post-apocalyptic world. You can find different quests and try to complete them in the best way. At the same time, the game's difficulty will increase, and you can get new weapons and show off your shooting skills. In addition, new game modes have appeared in the latest version, where you need to complete the game's basic mode to unlock them.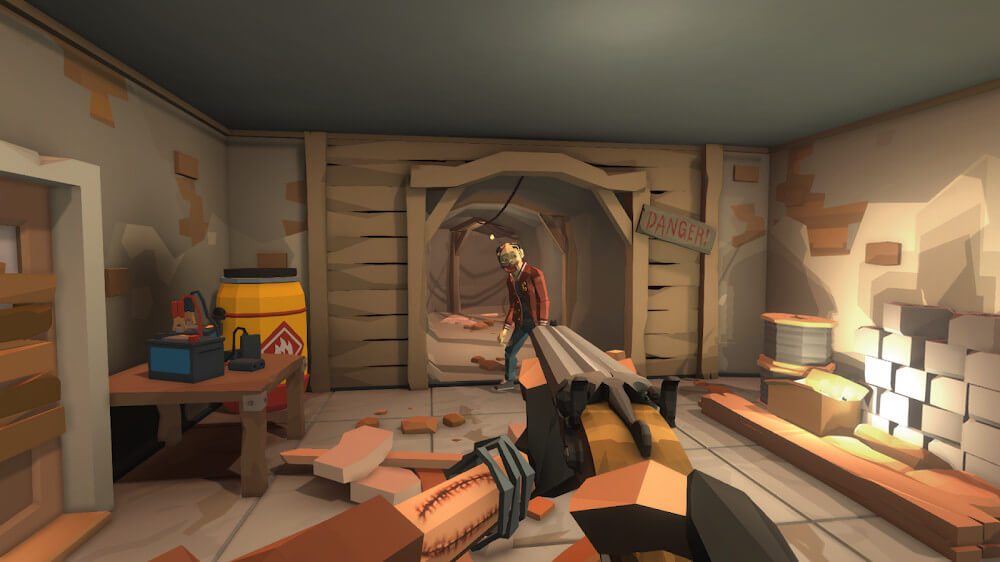 UNLOCK INTERESTING QUESTS
A new journey opens for players when new levels of The Walking Zombie 2 have appeared, and players continue their journey against zombies. There will be many new types of quests appearing before your eyes that you will take your time to overcome and whose points the player will thoroughly pay attention to. Specifically, you'll go to item-gathering quests, and an exciting new melee weapon called Thors' hammer. At the same time, the reward and bonus mechanism has also changed.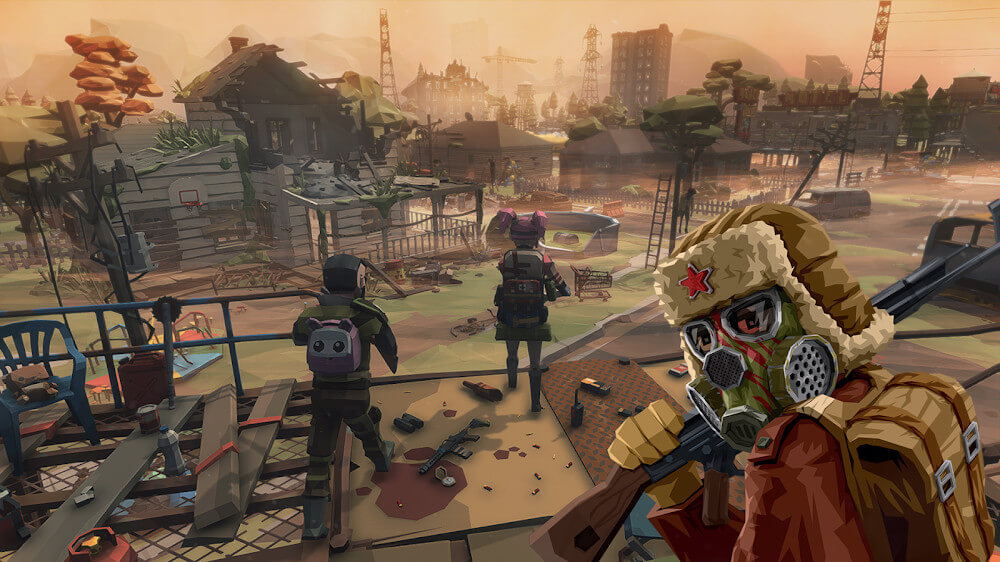 During collection quests, the player will be commanded to look for an object called miniature, which has a symbol of the letter C and is located anywhere in the place you are assigned. The area is primarily a post-apocalyptic wasteland, and many enemies will appear before your eyes. After you have picked up the miniature, then you will go and put it in a machine. Over time, you will build up enough collections and have yourself statues with a different rarity.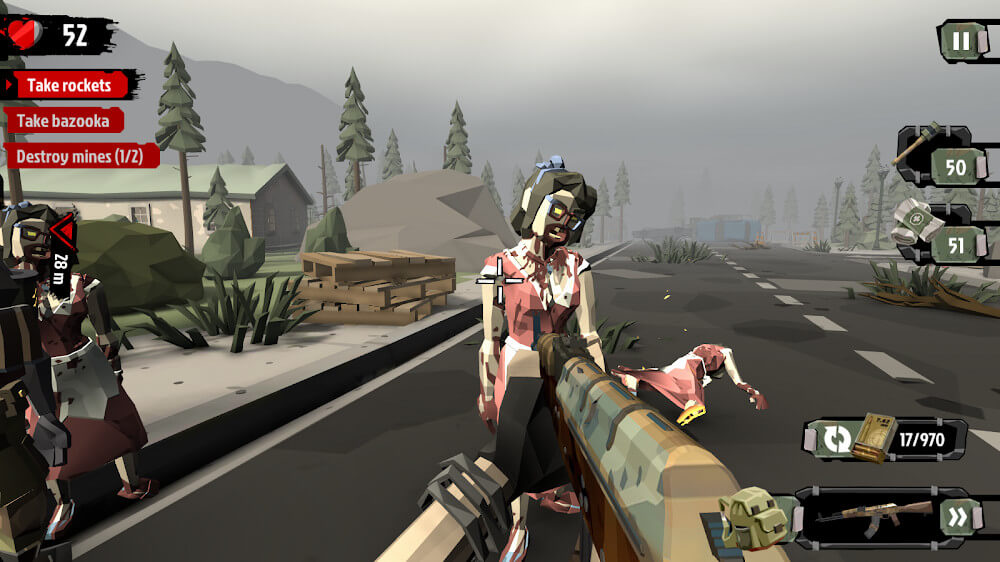 JOURNEY AGAINST ZOMBIES IN A POST-APOCALYPTIC WORLD
The story the players see begins when the characters of The Walking Zombie 2 are caring for a mother who is giving birth and has altered appearances. The child was successfully born, but an unfortunate thing happened when the mother has turned into a zombie shortly after and attacked most of the characters. At the same time, the players will control the character who has gun skills, and he has completely defeated the zombies and saved the child.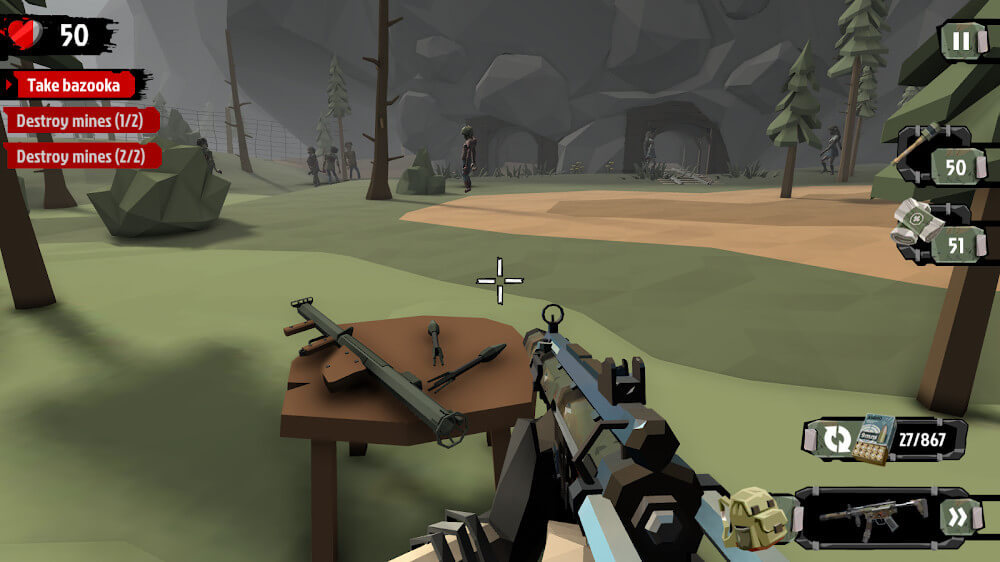 The setting is moved to a place called Woodland and there, will be the survivors of humanity after the zombies pandemic. It is a small town surrounded by a protective wall, and you will be a member of this town. At the same time, you will spend time entering dangerous missions against zombie enemies, and sometimes, your enemies are bandits. In this game, you will need to complete a series of quests to gather resources and new weapons.
PERFORM QUESTS IN DIFFERENT PLACES
You will receive the quest in The Walking Zombie 2 and move to an area on the map. You will control the character with two hands and get used to this control when you pass the tutorial and mission screen. At the same time, your weapon is just a rifle and grenades to attack enemies at the beginning of the game. You will not only focus on taking down other enemies but need to go to the designated area. This game will have navigation elements, so you have to follow them to find the target.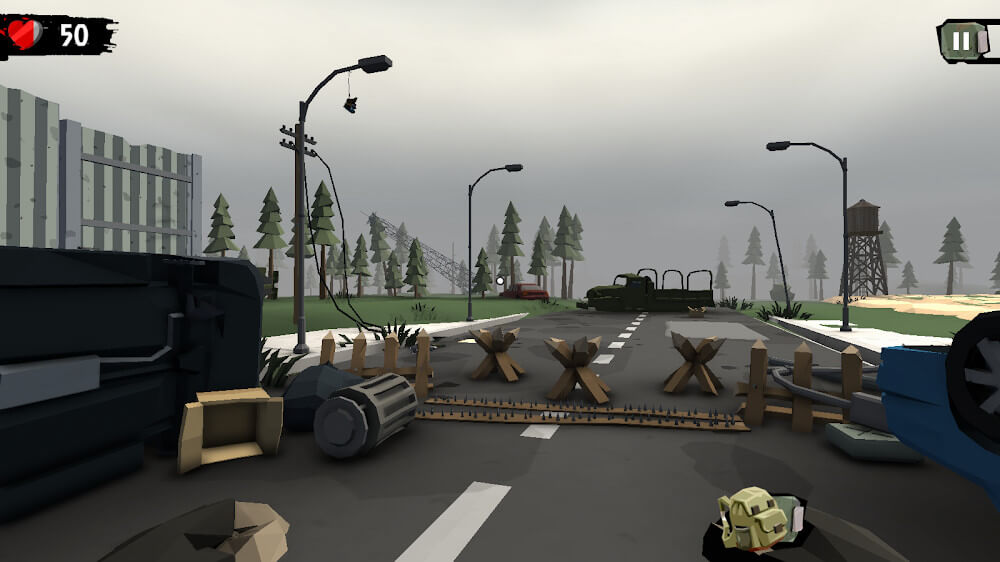 An interesting point when experiencing this game is the variety of enemies that you encounter. You will find some zombies, and the ability is fragile, so you can quickly attack them. In contrast to zombies, humans are targets that you will be careful of because they will be equipped with guns and sometimes have better resistance. At the same time, zombies that are strangely mutated will become bosses, and you will use all your skills to fight them. New weapons are the rewards that you can get.
FEATURES
Classic single-player post-apocalyptic first-person shooter
Modern polygon graphics style that is both attractive and functional.
The karma system – both good and negative acts open the door to new possibilities and encounters.
There are dozens of storylines and side tasks to complete.
Many weapons, protection gear, and other items are available; you may create your own survival team.
You may play this survival game when not connected to the internet.
Gameplay includes optional crafting and construction in the open-world portion of the game.
There are a variety of opponents to contend with, including zombie walkers, robbers, and massive monster mutants.
Traders who participate in settlements
Optional tasks for the zombie hunter Ace can be completed by the player.
Cars and trucks are quicker than walking, and you may store more riches from the deceased in the trunk of your vehicle.
The Walking Zombie 2 v3.6.22 MOD APK (Mega Menu, Free Shopping) Download