Super Pixel Heroes 2021 is a game where players transform into characters inside the pixel world and defeat other opponents in a duel. You will take your time to experience accurate attacks and defenses and deliver the decisive attack. At the same time, you will have yourself a collection of characters that will grow over time. So anyone would love to have high rarity characters.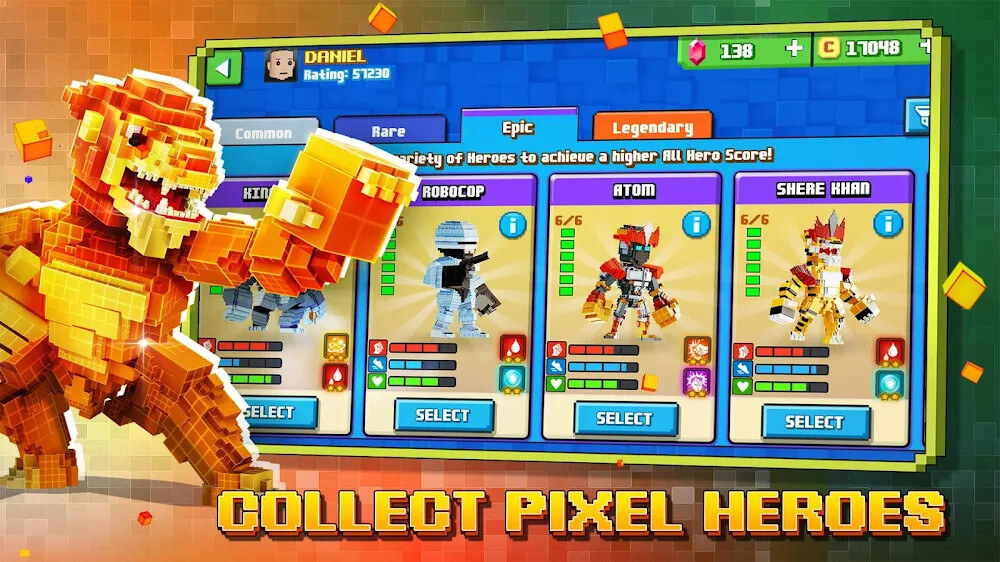 FIGHTING BATTLES IN THE PIXEL WORLD
In Super Pixel Heroes 2021, players will be able to step into a pixel world and control characters with impressive looks, and fight opponents that appear before your eyes one after another. At the same time, when you see these characters, it feels like they are made of lego bricks. The parts of these characters will break if you receive many attacks from the enemy. So you will need to attack and defend correctly.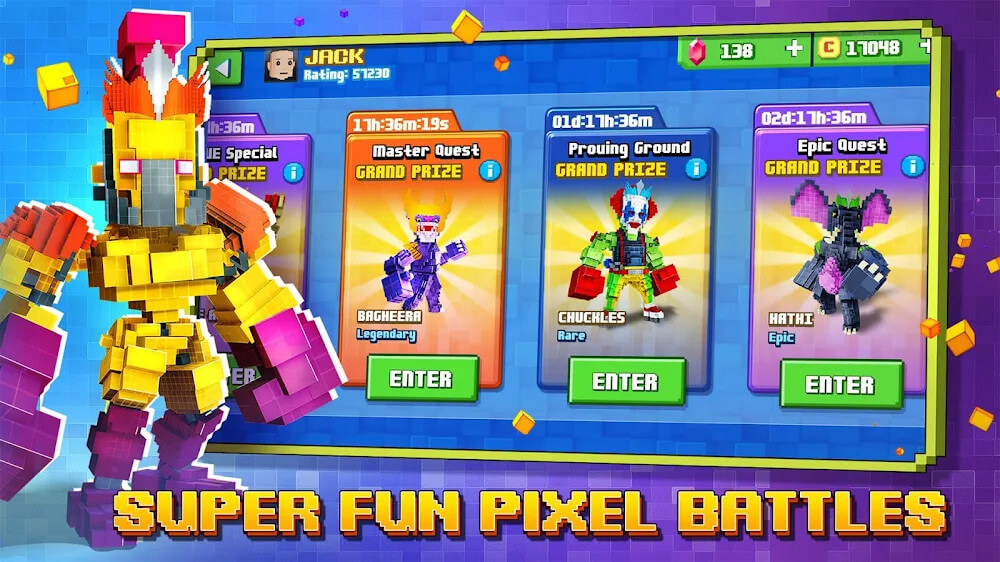 You will control the only two actions of the character that are attack and defense. Specifically, the two characters will always face each other, so you can quickly launch continuous attacks towards the opponent. At the same time, you also need to be aware of attacks from the enemy to defend so as not to lose too many body parts. Therefore, this can be seen as a mechanism that any player will have access to but will require control skills on the player's position.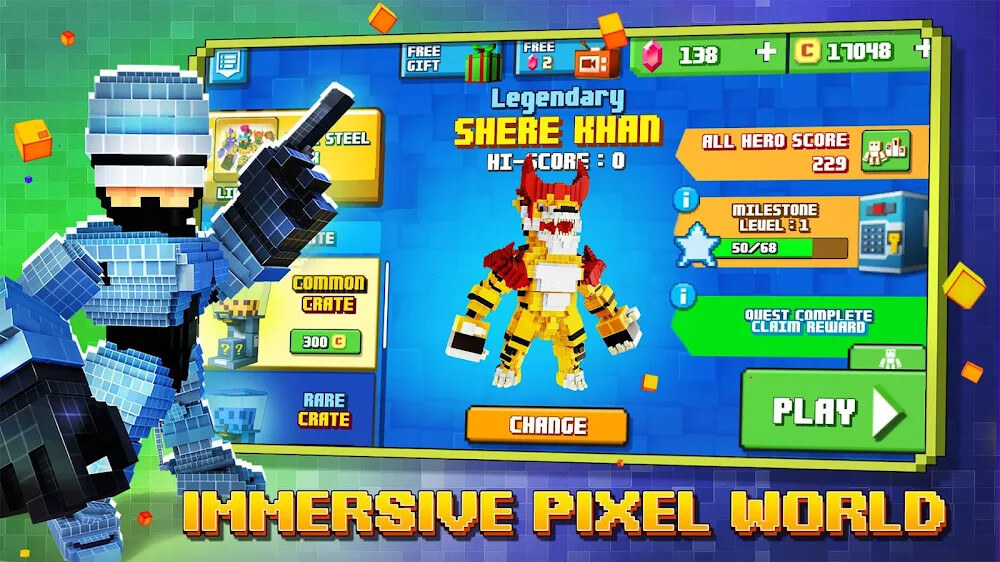 DEFEAT VARIOUS ENEMIES WITH BEAUTIFUL SKILLS
After you have obtained a character in Super Pixel Heroes 2021, you will begin conquering different goals and overcoming enemies that gradually appear. The difficulty of these matches will increase over time, similar to Arcade mode in fighting games. At the same time, depending on how well you complete the level, the rewards that appear will also be different, and you can unlock awe-inspiring things.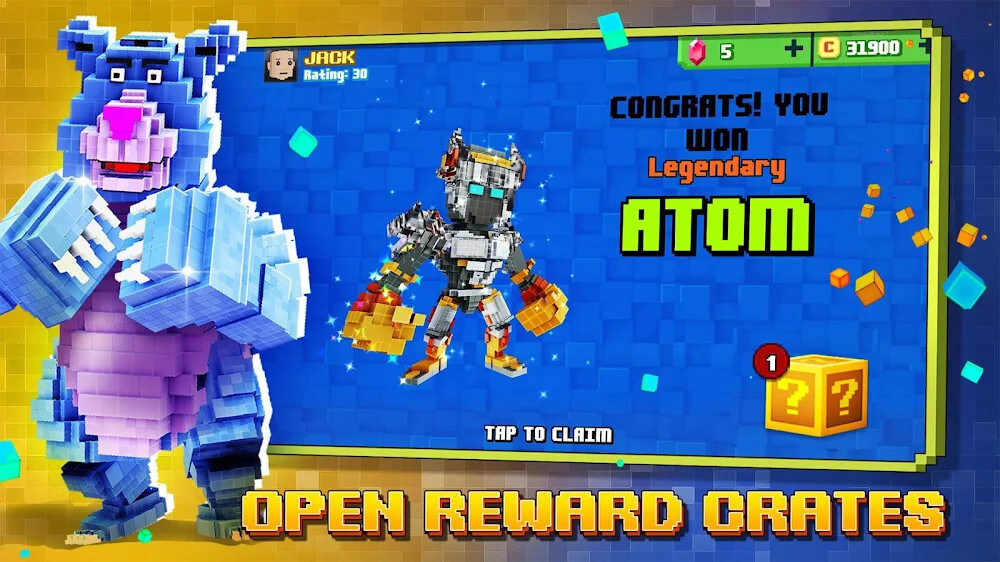 The characters in this game have no health bar, but you will know the extent of damage to the character's body through his left parts. With a body structure similar to a lego set, critical parts of a character such as arms and legs will break over time. So, if you can make your enemy incapacitated, then you will become the winner. Of course, it is you who will decide the final blow.
Once you've dealt enough damage to nullify your opponent's power, you'll see a red button with a danger symbol. After you tap on it, your character will launch their signature attack and ultimately destroy the character. Surely anyone wants to take down many enemies and hates the feeling of being destroyed by others. Therefore, you will try to increase your control skills.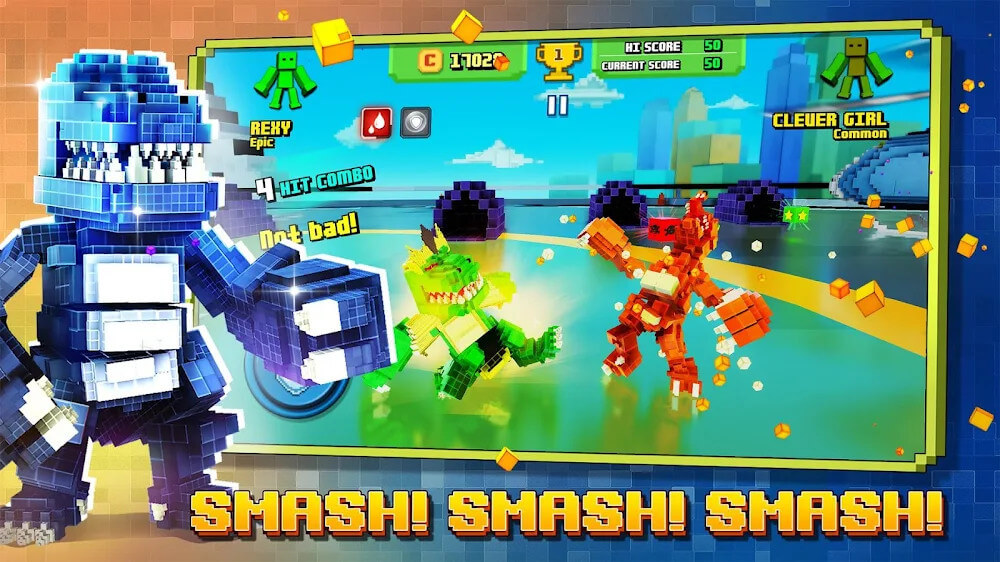 UNLOCK DIFFERENT CHARACTERS
The first reward that you get in Super Pixel Heroes 2021 will be through a reward from a milestone, and in it, a new character will appear. You will be able to choose the character you want freely and the characters in the game all have their rarity ranging from common and legendary. At the same time, there will be other machines that you can put money into to spin a character with a different rarity. So you will need to accumulate a large amount of money to unlock higher rarity characters.
Super Pixel Heroes 2022 v1.2.239 MOD APK (Unlimited Money) Download