Stickman Ghost 2: Galaxy Wars is a high-paced hack-n-slash action game to give players loads of thrills and excitement from every battlefield. Despite using a stickman graphics engine, the experience and fascination of each skirmish or interaction with the environment are exquisite, impressive, and rich in potential. Players can even create their legend through countless achievements and epic battles with the galaxy.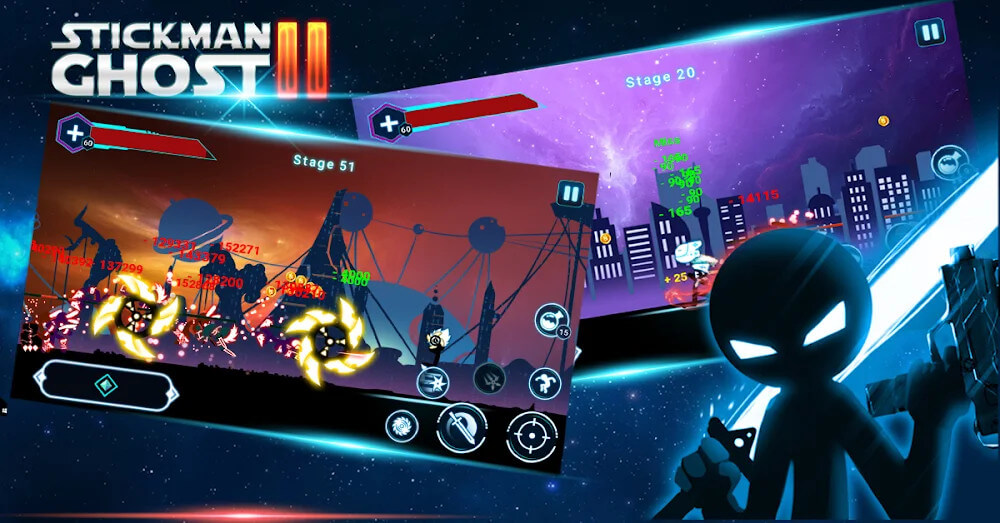 A HIGH-PACED HACK-N-SLASH GAMEPLAY
Most stickman games, including Stickman Ghost 2, are highly paced in their levels or campaigns. Because of that, the combat system, characters, and equipment are all rich and deep to bring everyone's experience to the next level through slow but engaging development. Not stopping there, the enemies or levels have many mysteries and are ready to create many complex but entertaining challenges for players.
A FASCINATING COMBO-FOCUSED CONTROLS
The most prominent feature in almost any stickman game is the pacing of the character's combat through a combination of attacks and moves. Each action or combination will create multiple combos, allowing players to handle situations more flexibly instead of following specific fighting styles. Meanwhile, the game also introduces more interesting skills for players to perform in the most influential moments.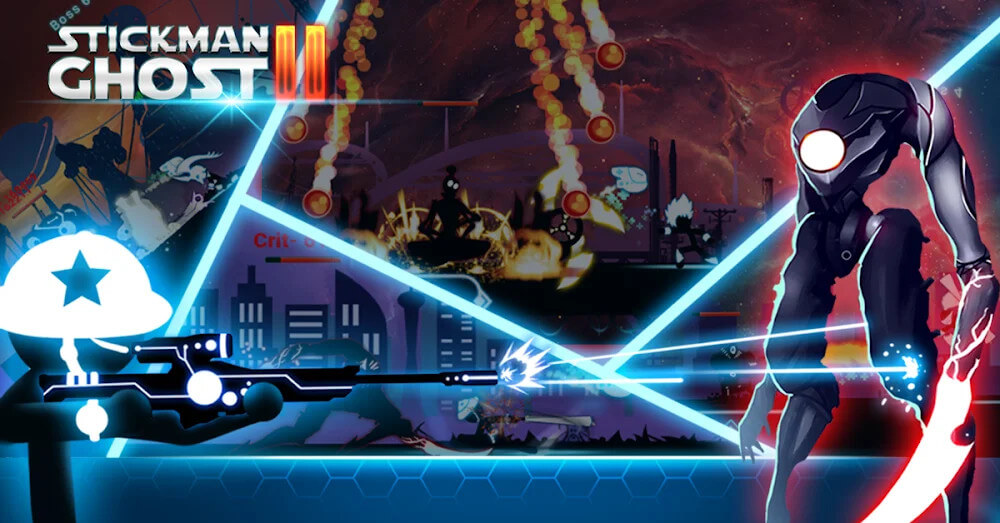 MULTIPLE CHARACTER CLASSES TO EXPLORE
The variety of character classes in Stickman Ghost 2 will open up many new combat potentials for players when they have many significant differences. Because of that, their gameplay and fighting style will change in the use of weapons, skills, and combat performance in many cases. They even have more complex skill systems for players to develop in the long run to unlock new powers to face legendary bosses.
MULTIPLE BIOMES AND LEVELS TO CONQUER
The player's campaign is almost endless as they will go through many areas and levels related to intergalactic wars. Furthermore, each biome exudes a variety of characteristics, including monsters and their behavior, to diversify the gameplay or combat experience of the player. Meanwhile, it will hide bosses or elite monsters at each level, so every journey contains a lot of potential and danger.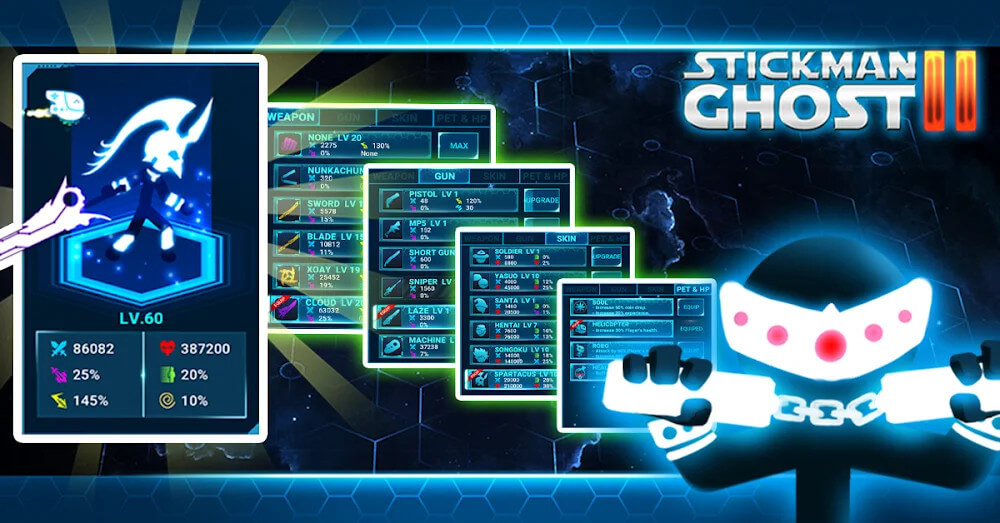 WIDE RANGE OF ARSENAL AND CUSTOMIZATIONS
The weapon system in Stickman Ghost 2 is rich and varied, giving players more ideas to fight in style and creativity. Although each character class has limitations on weapons usage, they still have many exciting combos for players to immerse themselves in the fighting arts of each weapon. Interestingly, people can create funny equipment sets and gradually upgrade to achieve higher combat efficiency than usual.
IN-DEPTH TALENT TREE AND SYSTEMS TO DEVELOP
Depending on the type of player character, they each have a complex and prosperous development system, including the proficiency level of each weapon. When players level up in their favorite characters, they must choose or upgrade skills to unlock more new effects, then consume talent points for each weapon. Depending on the fighting style, they can bring the power of each character to new heights in their career.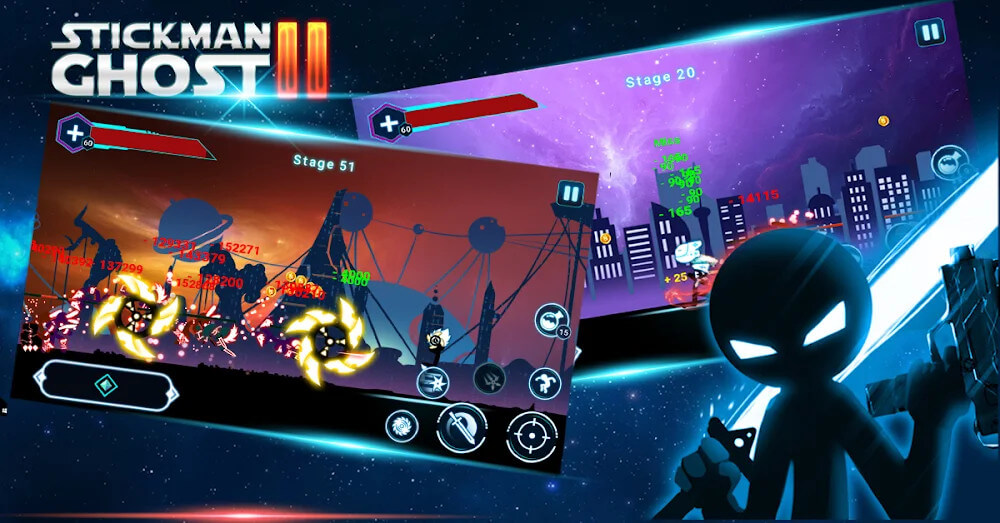 Stickman Ghost 2 is a game full of entertainment and excitement thanks to the systems or gameplay pacing it brings to everyone. Best of all, it is constantly updating with new content, including new costumes, weapons, and features for players to explore and enjoy everything to the fullest.
FEATURES
Fascinating combat-focused gameplay through its high-pacing combo and maneuvers for players to indulge in endless actions.
Innovative stickman graphics with outstanding visual and sound systems to increase players' satisfaction while in combat and more.
Epic bosses with creative designs and patterns put up a fight and challenge for players to overcome with the best achievement.
Multiple character classes with distinct talent tree paths and weapon usage to diversify players' options on enjoying the game.
An expansive weapon arsenal for players to combine and produce new combat styles with hilarious and enjoyable concepts.
Download Stickman Ghost 2 v7.6 APK + MOD (Menu/One Hit, God Mode)