Spellmind is a puzzle adventure game combined with home decoration gameplay to bring everyone the most peaceful moments. It also uses a lot of exciting concepts to enhance that awesomeness while giving everyone the most refreshing stories from interesting personalities throughout the plot. Besides, many remarkable contents such as events or daily tasks will be a good source of motivation for people to rebuild the house actively.

START RENOVATING THE HOUSE FROM SCRATCH
Based on the story, the player will begin to move into a new mansion, but its condition is dire, and the wear down needs to be fully repaired or redecorated. Because of that, their task is now to decorate and restore the house to the best condition through simple but positive activities. Over time, they can unlock more new areas for the mansion and enjoy all the excitement from them.
CREATIVE AND AMUSING MATCH-3 PUZZLES
Besides completing decoration or restoring the house, players must confront countless match-3 puzzle challenges to perform almost any activity. Fortunately, the match-3 puzzle mechanics are popular and friendly to everyone, but this game makes them more creative and flexible than ever. Based on each player's ability to explore, they can make the most of each knowledge of the puzzle to progress faster.

DECORATE EVERYTHING WITH PERSONAL STYLE
Each item or option in each room will give the player three distinct choices, including shape, size, color, and appearance. Spellmind introduces an endless variety of interior changes, but each room adheres to a distinct theme to immerse the player in that lasting decoration. After they finish decorating a room completely, the game will have many nice rewards to progress further in the plot.
HEART-TOUCHING STORY AND CHARACTER DEVELOPMENT
The game's plot is deep and emotional as each character has separate pasts for players to explore and feel from them. There will be lovely story moments in each room while constantly introducing new characters to enrich the player's journey. Of course, people can develop relationships that provide a happier and more enjoyable life with companionship.

HUMOROUS AND GENEROUS DAILY TASKS
The main source of income for players in Spellmind is through daily tasks that the system is updated regularly. Their content is also straightforward, but the difficulty will gradually increase based on the player's level to complete everything or get more additional rewards. They can also accumulate points to receive even greater rewards, thereby progressing further than usual to create a flourishing life.
ENTERTAINING MINI-GAMES FOR A BUSTLING GAMEPLAY
Mini-games are additional content in the main gameplay to diversify everything and experience. They all come in various distinctive forms or styles while emphasizing creativity when most of them are simple puzzles. The mini-games all appear randomly when the player takes certain actions, and the rewards from them are also impressive and subtle to support everyone's progress.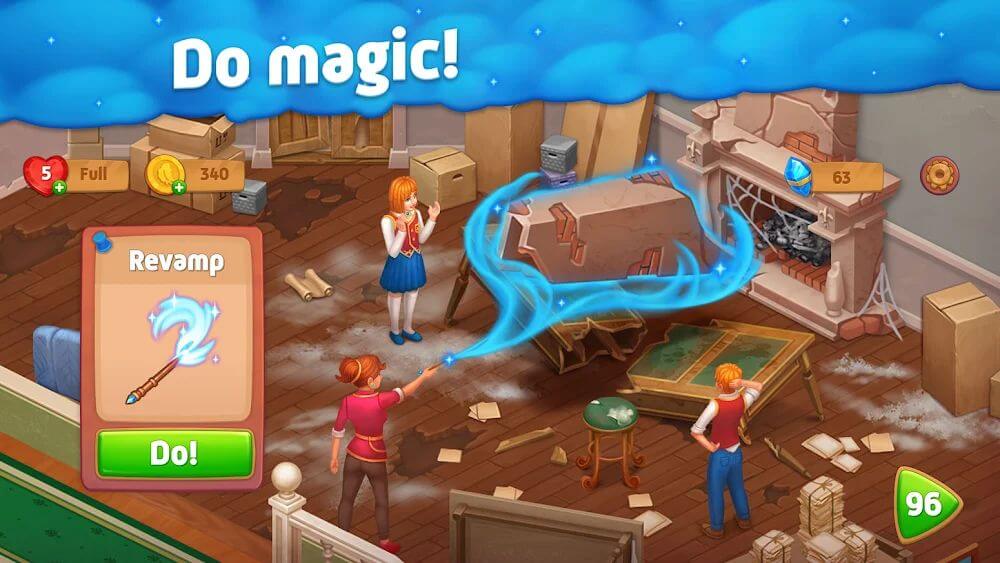 Spellmind is an excellent and worthwhile game as it brings a lot of relaxing value to the match-3 puzzle genre. Besides, people can enjoy a peaceful life with friendly friends or refurbish the villa with attractive beauty and style.
An expansive and immersive journey with an exciting renovation factor combined with creative and hilarious mini-games for absolute gameplay.
Friendly and colorful match-3 puzzles to heighten the fun with delightful moments while granting valuable rewards to perform any action.
Renovate the house wholeheartedly with innovative designs or beautiful themes to create a new lively atmosphere compared to a ruined state.
In-depth character development with remarkable emotions for players immerse and relate to their reality while learning more about their past and determination.
Unique daily tasks for generous rewards to develop or unlock new content to renovate the house with more exquisite furniture or items.
Spellmind v2.7.0 MOD APK (Unlimited Money) Download