Soccer Star 2021 Football Cards will be a perfect game for you to spend hours entertaining on the pitch in fiery and classic football matches. Messi and Ronaldo are no longer strange, and indeed everyone wishes to have a successful career like them. With this game, you will get a professional football player's most authentic life experience.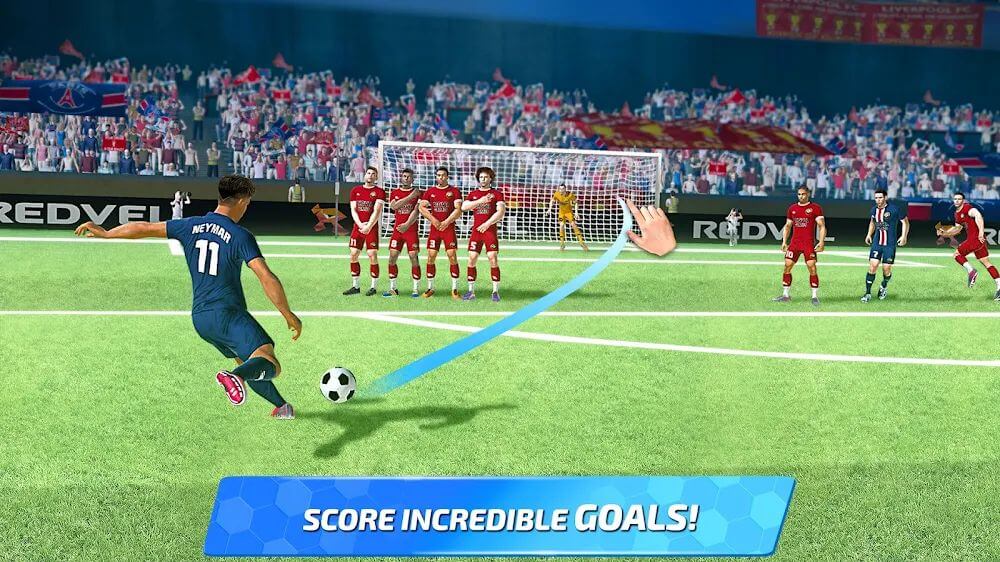 ADDICTIVE AND ADDICTIVE GAMEPLAY
Unlike other games where you have to use both hands to control flexibly, everything will be much simpler with Soccer Star 2021 Football Cards. Moving on the field or dribbling is automatic, and you need to use your mind to give offensive and defensive directions. As soon as the ball reaches your feet, the screen will stop so you can draw the path of the ball you want.
Then the ball will move according to the drawn path, and the nearest player will quickly take it to continue passing to the others. Continue like this until you can shoot the ball and score many points into the opponent's goal. However, you must observe very well to be able to bring the ball to the correct position of your teammates. Otherwise, the ball will quickly be taken away by the opponent. And when the opponent puts the ball into the goal, you will control the direction of the goalkeeper to catch the ball to block that attack.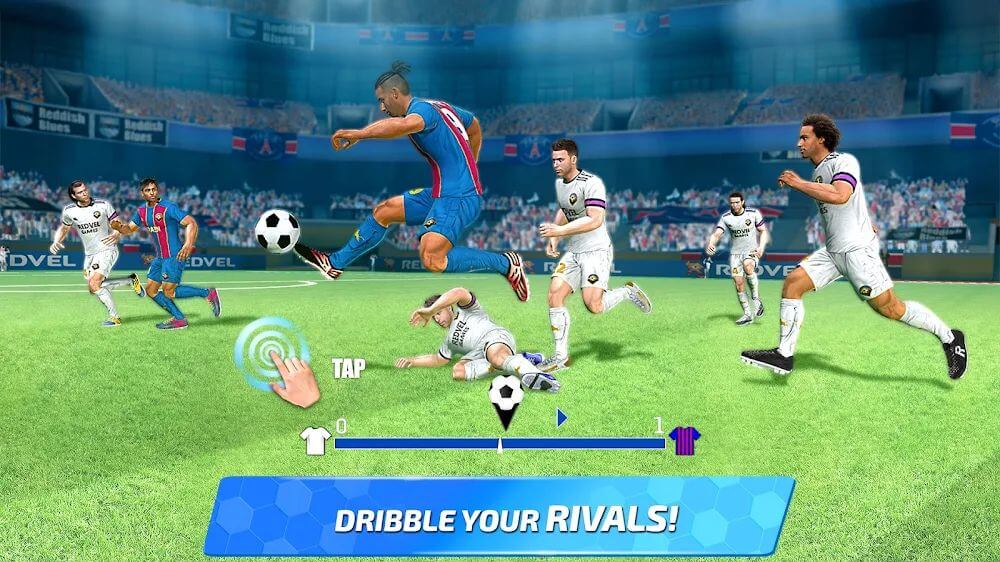 COLLECT VARIOUS SOCCER CARDS
Soccer Star 2021 Football Cards with a card-based style of play to control the team's players through 2 types of cards: player cards and epic cards. To build yourself the strongest team, you must have the best players. You can find quality player cards by buying them in the shop or getting them from completing quests.
Once you've got yourself a team with star-studded names, the next thing you'll definitely need is some epic cards. It will include many different cards, and each has its own characteristic. These can be mentioned as tactical cards, shoe cards, or fitness cards, and you will use them to upgrade your squad to become stronger and stronger. Significantly the tactical card will help you get more advantages in deploying the ball.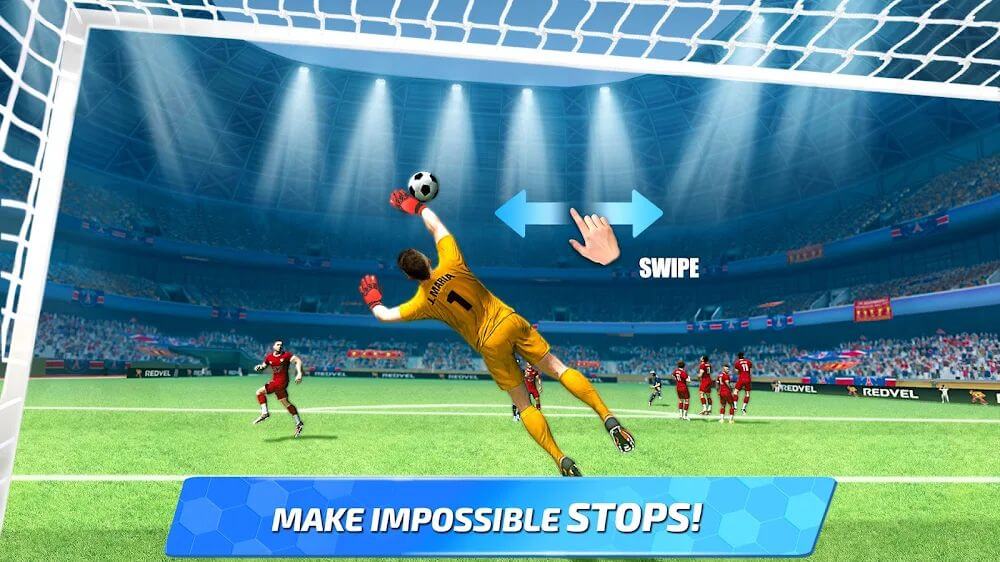 MAKE A LOT OF MONEY FROM TOURNAMENTS
Since you are just starting your football career, you and your team will only be able to participate in some amateur tournaments in the United States. Although it is only a small tournament, it will be an opportunity for you to go further to major tournaments around the world. When you have really proven your position, it is also the time when you can join the ranks of legendary teams and conquer all tournaments.
Winning many major tournaments will earn you a lot of money, and you will use them to improve your life. You can start by owning a lavish mansion or a supercar with the highest price. Not only have the time attached to the pitch, but you can also freely redecorate your property and enjoy life like a king.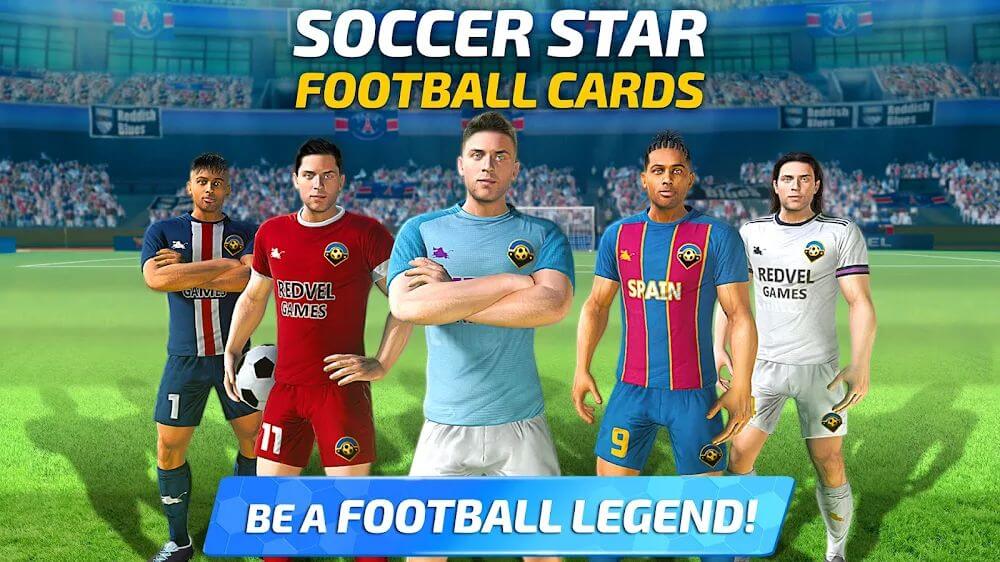 KEY FEATURES
Excellent visual experience with the ability to design with beautiful and vivid 3d graphics that reproduce sharp images.
The main task of all players will be towards earning a lot of money to decorate their house.
Get your team a long-term development orientation from participating in small and large tournaments.
The gameplay is straightforward, with no need to be flexible in the control, but only the need to have the mindset to draw the ball lines.
Finding and collecting good player cards for many players will bring a great experience.
Soccer Star 2021 Football Cards v1.13.0 MOD APK (Free Rewards) Download