Sniper Warrior is a sniper game that takes players to any location with weapons equipped, and they will aim at enemies and fire accurate shots. Depending on the player's shots, they will get different kill marks, and they should also be careful as anyone can be killed with a single shot. Support factors will help players survive longer and earn more points.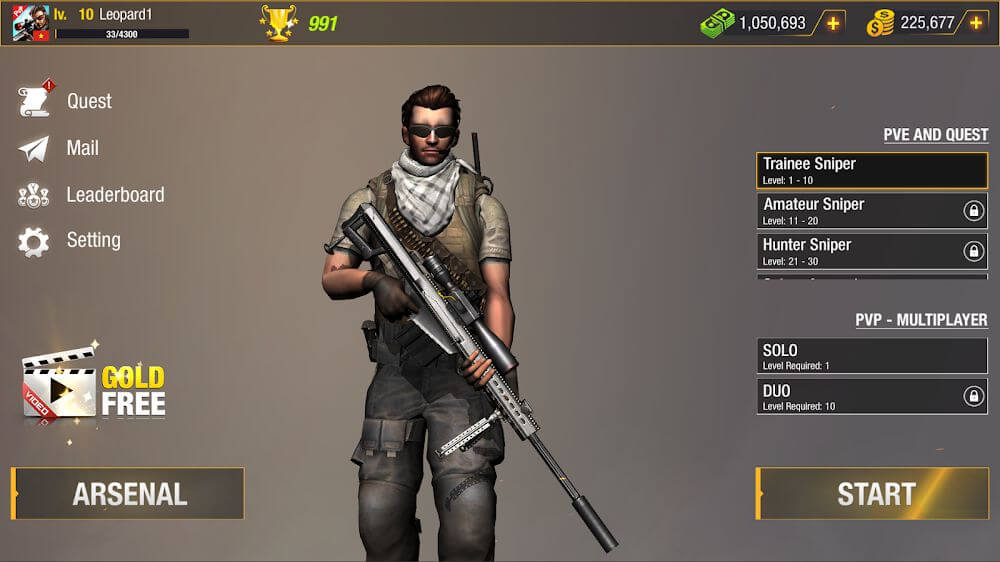 DESTROY THE ENEMIES YOU SEE
In Sniper Warrior, players will control a sniper sent to any location in the environment with the task of destroying the enemies they see. They will need to aim at the enemy carefully and fire quick attacks so that the enemy does not recognize their position. At the same time, your opponents are no longer AI-controlled characters but players with different shooting skills.
One of the differences with some other sniper games is that you can move to the position you want. Specifically, you will use the joystick and buttons to perform the character's shooting action, and from there, you will choose the right location to make your shots. In addition, the environment in the game will also have buildings with shielding elements, and players can hide and continue to search for other goals to earn points.

TRY TO WIN THE LEVELS
Players will notice when experiencing Sniper Warrior that depending on the part you target, the damage dealt will also be different. From there, it requires the player to be careful in his aiming, and in addition, the enemies can identify you in the shots. So you kill them in a single shot and get different kill marks. You can also be defeated and continue to respawn until the level is over.
When participating in the game battle, players will be able to bring many support elements to help maintain the best state of the character. At the same time, powerful weapons can be upgraded over time to deal more damage to enemies. This PVP game allows players to join their friends in the battle and conquer victory against other players.

Players will love the sniper gameplay that this game brings:
Players will be taken to any location in an environment with other players, and they will try to use weapons to destroy each other.
These enemies can be completely destroyed with a single shot if you can find a way to deal the most damage in one shot.
Players can move freely within the game's environment, and they will be able to choose suitable hiding or attacking positions against enemies.
Support items will help players survive longer in the game, and weapons can be upgraded to increase their damage effectiveness.
Players can join with their friends to form a strong team and go with them to victory when there is a reasonable attack strategy.
Sniper Warrior v0.0.3 MOD APK (Unlimited Ammo, No recoil) Download