This will be an action role-playing game that should not be missed by every gamer, not just a mere ninja fighting game, but you can achieve a lot in this game. Players will control the character to adventure through many different spaces that are improved through each level, such as jungle or desert. Using heroic powers, defeat wave after wave of zombies or multiple boss monsters. Each battle will be the fiercest confrontation. Through many levels, you will be enhanced in strength.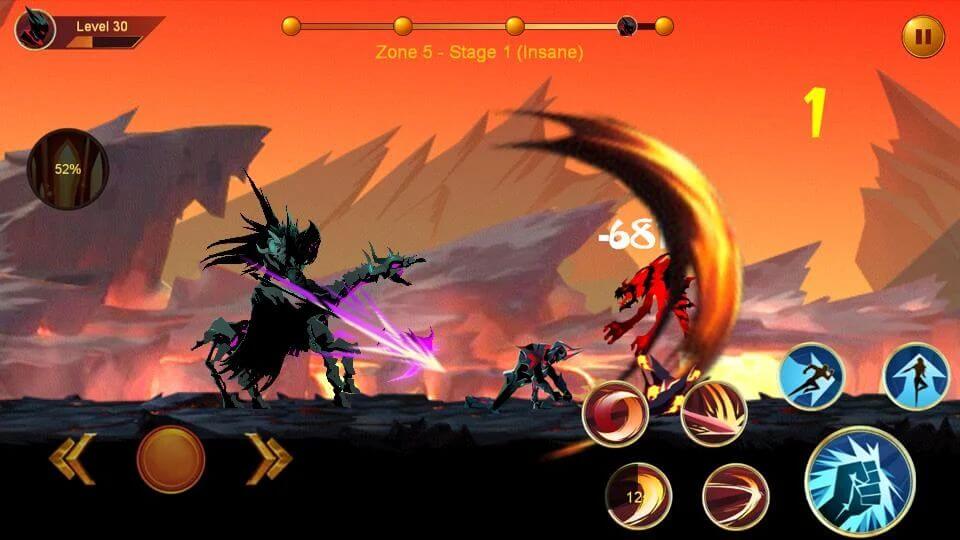 COLLECT AND SWITCH HERO COLLECTION
Players will be heroes with unique powers, you as the ultimate savior to save the world from the invasion of monsters. Join the battle by choosing the hero character with five different heroes. Those are three ninjas, horse knights, and finally, a cleric. Like Shadow fighter, the heroin Shadow fighter two also possesses strong abilities. But the power at the beginning of the game cannot go through many levels, so you need to upgrade it day by day.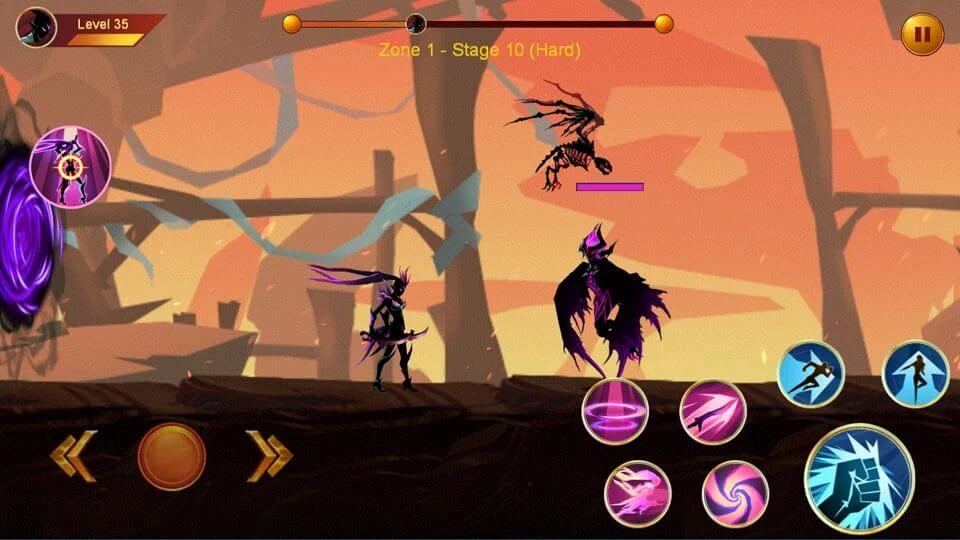 MORE THAN 150 LEVELS WITH FIERCE BATTLES
Shadow Fighter 2 will bring you many "surprises" that you cannot resist. Each fierce battle follows one after another, and it doesn't even give you time to rest or recover. That's a plus but also a downside when it comes to many exciting battles. Players have to go through hundreds of tough battles, equivalent to more than 150 official levels, to pass. Do not be discouraged when facing so many battles. It is an opportunity for you to develop your strength.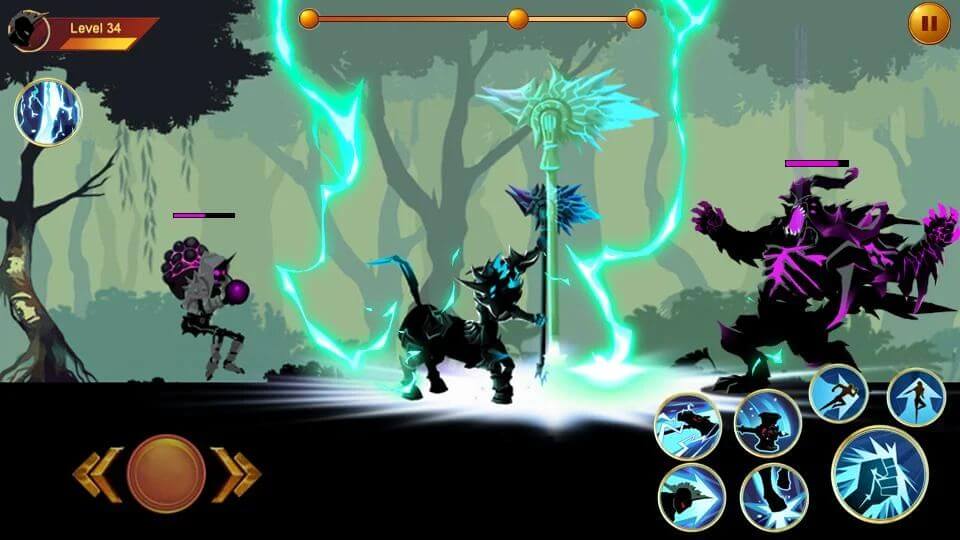 3 BASIC GAME MODES AND VARIOUS SIDE QUESTS
Easily find fierce battles taking place in different environments like jungles or dungeons. Experiencing such battles is inevitable when coming to this game. You will experience 150+ official battles in 3 basic game modes, from easy to extremely difficult. The choice of game mode depends on your abilities as well as the items you own, but I recommend you measure your strength because the enemies in the hard-to-hard modes are extremely aggressive.
But also, do not skip any battle if you have the opportunity to fight in those modes. In addition to the hundreds of official battles in Shadow Fighter 2, you also have to perform a variety of small missions. This is an offline game so that you can perform the task without the support of the Internet. When completing daily quests, if qualified, you can bring back many other valuable items, which are helpful in official battles.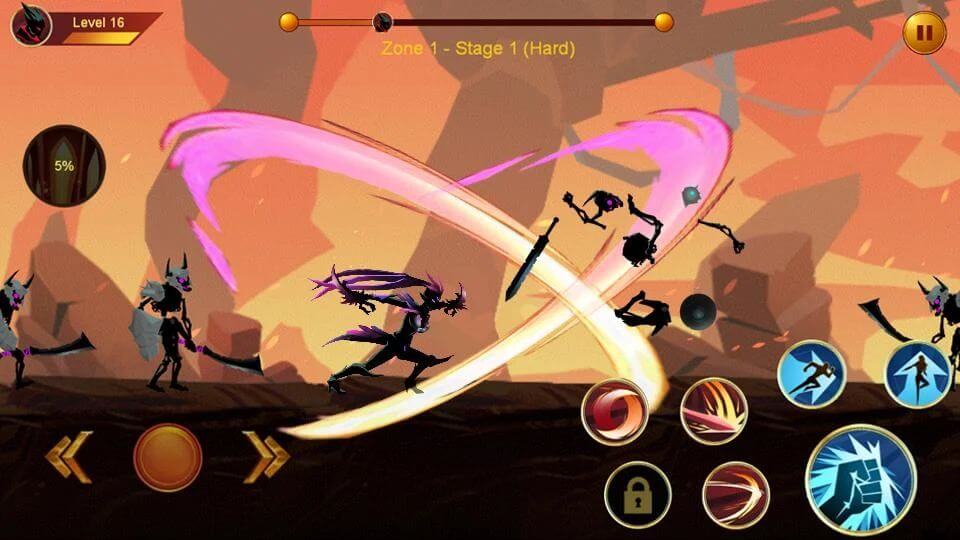 FULLY ARMED WITH WEAPONS, DEFEAT EVERY MONSTER
You can't fight without supporting weapons; that's what I'm sure of when participating in this game. No hero with bare hands can defeat monsters or little zombies, and you can't even get close to them without a specific weapon or strategy. So, choose the appropriate weapon when entering dangerous battles. Deliver powerful attacks and send waves of monsters away from the very first step.
UNLOCK MANY NEW CHARACTERS AND ADD WEAPONS
Chance to own five hero characters if you complete side quests in Shadow Fighter 2 or get it while watching a promotional video. Don't pass up these simple opportunities when you don't have to put in any effort. You can even unlock more advanced weapons while watching the video. Grow your arsenal with just a few taps, or you can buy more gear or weapons in the shop. Make sure you equip enough weapons before starting the battles.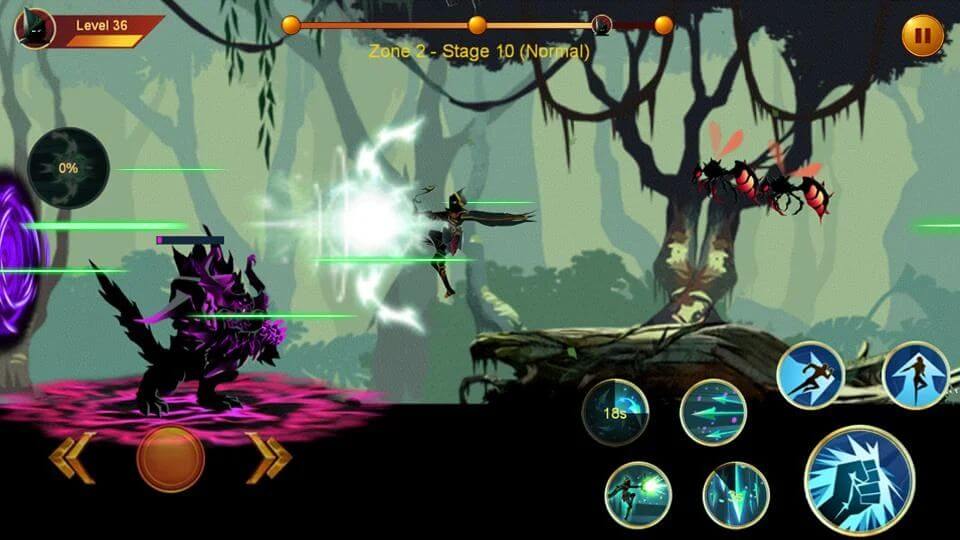 KEY FEATURES
Collect and customize characters in a unique hero collection with five heroes from 3 different positions as a ninja, horse knight, or cleric.
Develop and practice your abilities after going through more than 150 levels corresponding to fierce battles.
Complete three basic game modes from easy to extremely difficult; also have to go through many side quests taking place every day to be able to obtain many items
Fully equipped with weapons, from guns to swords and protective gear to defeat every wave of monsters or hordes of filthy zombies.
Unlock more characters or advanced weapons by watching promotional videos; you can also buy more equipment in the shop if your equipment is not enough.
Shadow Fighter 2 v1.20.1 MOD APK (Money, Mega Menu) Download