Are you ready to start a horror adventure with the quest to track down the terrifying secrets of the butcher boss? If yes, join Scary Butcher 3D to perform the assigned tasks. This is an exciting strategy adventure game where you are asked to do a series of different actions to find a way to escape from this butcher's house. You have to be really smart to wriggle between your actions more than simply escaping. While he is busy with terrifying secrets, you will find a way to prank him.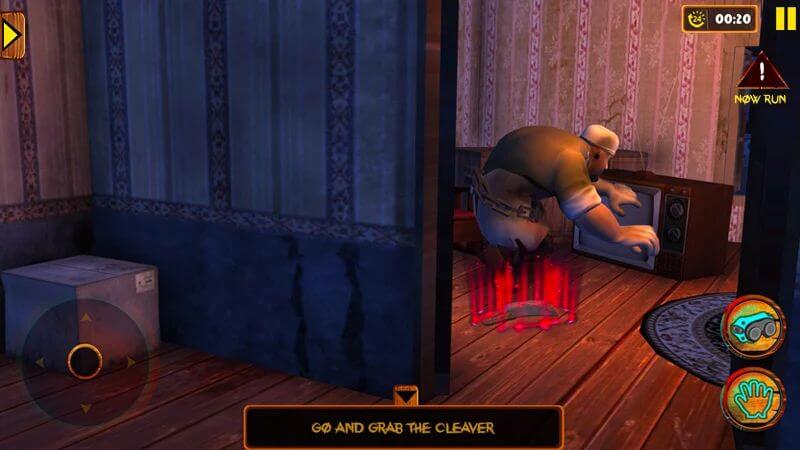 ADVENTURE IN THE HORROR HOUSE AND FIND A WAY TO ESCAPE FROM THE BUTCHER
For some reason, you have strayed to a mysterious forest that coincidentally houses a butcher's house. The house looks old and gloomy; curiosity arouses, so you find a way to go inside. Unfortunately, you were discovered and locked up by him. At that point, the adventure in the horror house of Scary Butcher 3D has officially begun. Thanks to your bravery, you have found every way to escape from this mysterious butcher by doing different enjoyable activities among the freaks.
SMART IN YOUR MOVES TO COMPLETE YOUR CHALLENGES
As soon as you realize he's not paying attention to you because of some of his mysteries, find a way to escape that scrutiny. But note, if you are caught by him again and again, the trip will fail immediately. Coming to this game, you need courage and an indispensable thing that is a superior intelligence. Players need to be competent in their moves. Take each step gently and act according to what your brain tells you to do the best you can.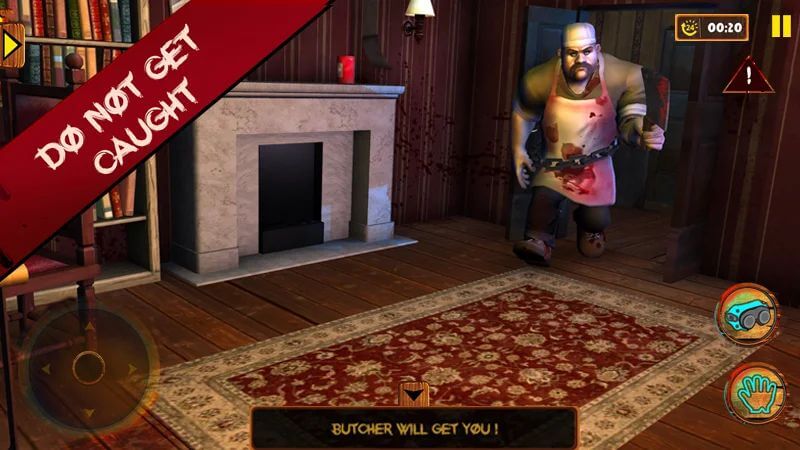 WITH A STRATEGY TO BREAK INTO THE HOUSE AND FOLLOW THE DIRECTION OF THE ARROWS
Make a strategy as soon as you want to explore his creepy house. Breaking into the house of an evil and mysterious person is extremely difficult. But everything has its solution, choose heavy objects like rocks to throw at the hill to distract him. Then the horror ride in Scary Butcher 3D really begins. Players will move gently step by step and break into the evil butcher house by faraway doors. Then follow the directions of the arrows intelligently from there.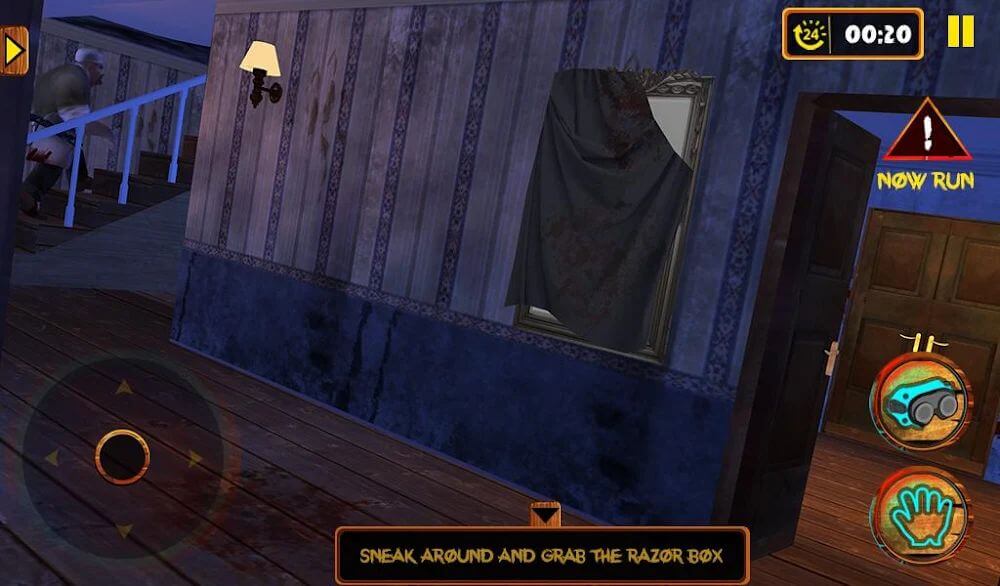 EXPLORE THE BUTCHER'S HORROR ENVIRONMENT AND FIND A WAY TO PRANK HIM
When you find an opportunity ahead of you in Scary Butcher 3D – that's when you know he's at the butcher's shop instead of your home. Now, the time to uncover the mysteries in this horror house will come to you. You will explore every nook and cranny of this dilapidated house to find the remaining razor boxes. Of course, they will be used for exciting purposes – pranking that evil butcher. Pin all the razors to the chair, and he'll get hurt while sitting.
FIND ALL HIS FAVORITE FOODS AND THROW THEM ALL AWAY
You can find all kinds of ways to get revenge on him more than what he used to trap you. Find all your favorite dishes in this tattered house and throw them all out. He must have gone mad because he had been pranked and lost all his favorite things. Then he would panic and go to his secret hiding place, following him ever since. In addition, you can ultimately collect different items such as shovels or night glasses. We have the best things to help make you successful in your trip in Scary Butcher 3D.
KEY FEATURES
The adventure full of horror will officially begin now as you find ways to do different activities just to escape from that butcher.
Clever in coming up with strategies to complete his moves, escape & stay undetected while he is busy with his secrets.
Decide the best way to break into the house again, find a way to distract him & quickly go deeper when there are arrows supporting the way.
Please take the opportunity that the butcher is somewhere else; use that time to explore the entire room in that horror house & find ways to prank him in many ways.
Collect items to support you during this horror adventure, like shovels or night goggles; they will significantly help your future in this game.
Scary Butcher 3D v3.0 MOD APK (Dumb Enemies) Download