Rocket Royale offers players dangerous adventures to explore new locations and gather resources to escape. The main material to do this is meteorites scattered everywhere, which creates battles between players. At the same time, the variety of weapons and support items will help many players create interesting attack tactics.

ENTERING A STRANGE PLACE
In Rocket Royale, the player will join twenty-four other people to appear in a strange location, and some cases, they can even find scattered meteorites. At the same time, anyone wants to escape the island to try to destroy each other to find enough materials and create a rocket. You will experience stunning battle-royale gameplay where you can easily show off your skills with elements that you can collect.
Players will control the character from a third-person perspective and will find many empty slots to equip weapons and items that they can build. At the same time, they also realize they can use various equipment to destroy enemies, and at the start of the game, players will find a staff that allows them to gather the resources they desire. Therefore, players can also build elements to facilitate movement in addition to the survival goal.

COLLECT RESOURCES AND DESTROY ENEMIES
Rocket Royale matches take place with 25 different players and appear in any position. After the start announcement, the player will begin collecting equipment and various resources. This equipment can be weapons, grenades, support items to support you to survive longer during the game. At the same time, with the scepter, the player can destroy any material they see to obtain the necessary resources to build some moving buildings.
One point to note when players use these resources to build is that their quality is not high. In other words, you'll need to prepare yourself to fend off other enemies quickly and can't rely too heavily on these buildings to keep you covered. This comes from the fact that many players can find many powerful and completely destructive weapons that can be difficult for players.
Because of the variety of weapons that players can use, fighting will certainly become more challenging than ever. Specifically, some weapons like launchers have high destructive power, and if you are not careful, you can disappear with a single shot. Attack tactics become more impressive when you find rocket backpacks that can help you fly to your desired location within a specific limit. So it becomes challenging to kill enemies with this equipment.

MOVE FREELY IN THE ENVIRONMENT AND BUILD ROCKETS
An interesting point when you experience Rocket Royale is that you will see many blue points corresponding to the transfer stations. Specifically, you will be able to enter one station and quickly appear at another to save your travel time. But some caveats when you use this element is that you can be surprised and attacked by other enemies. You should also not forget your goal when participating in this game.
The wand can help you destroy any matter you see, and this feature also applies to the destruction of meteorites. Meteors allow you to create rockets, and although there is no safe zone, players will still try to destroy each other to collect this type of resource. At the same time, players will need to wait until the construction is complete, and sure, you will try to stay alive and not let any opponents approach.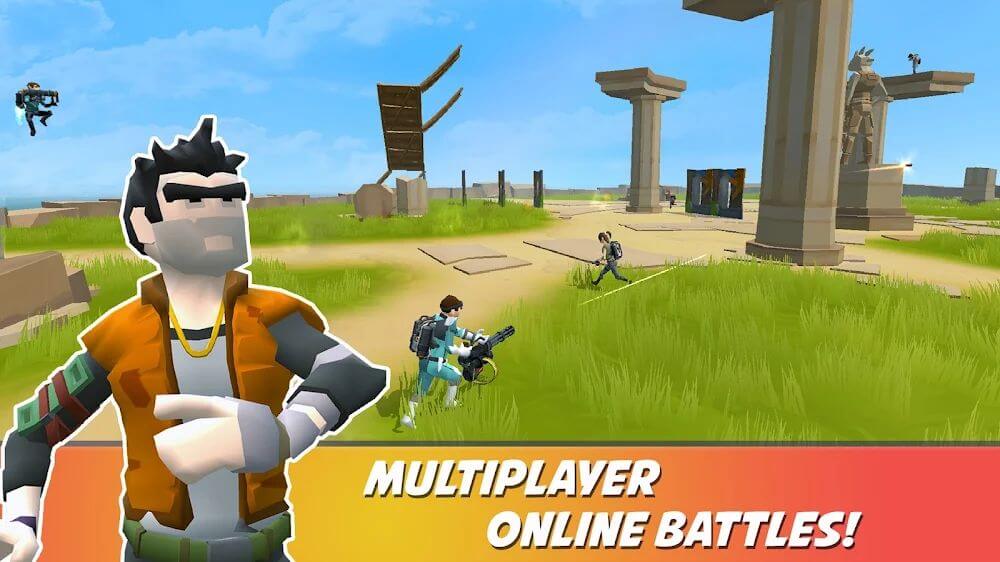 Players will participate in impressive battle royale matches:
The player will be taken to a mysterious location with teleportation columns, and the goal is to escape from this location and overcome many enemies.
They can interact with the elements around them to collect resources and various weapons that will help players cope better with challenges.
The resources you collect are used to build many elements of convenience in movement, and the essential resource is the meteorites.
Because collecting resources is important, different players will try to destroy the opponent to get it and choose a location to create rockets.
The map will recognize some locations where the teleport column is located to make it convenient to move to different locations.
Rocket Royale v2.3.5 MOD APK (Unlimited Money) Download