Prizefighters 2 is a game where players will have for themselves a boxer and go with him through various challenges in the game. You will build this character training mode to increase strength and earn money to spend many things in the game. At the same time, powerful opponents will increase day by day, and you need to be careful and use skills to defeat them.

IMPRESSIVE CHANGES THAT YOU SHOULD NOT IGNORE
In Prizefighters 2, players will find many changes in the career mode promoter. Specifically, in the promoter, you will now be able to participate in tournaments where the number of your opponents will ultimately increase when the participants reach 64 people. You can also customize your belt freely depending on the category you compete in. In addition, some costs of Boxing GM will also have specific changes if you meet certain conditions.

BECOME A FAMOUS BOXER
As you experience Prizefighters 2, you will find yourself on your journey to becoming a famous boxer and going through various battles. At the same time, you will develop your character's skills through practice to increase stats and earn money after each victory. Of course, each match requires players to have specific skills to knock out opponents and face difficult situations. You will take the time to master the controls of this game.
Players will control the character through the visual buttons on the screen, and you will see two diamond shapes on either side of the screen. On the right side is the button that helps you get close to the opponent to attack accurately or dodge attacks from the opponent. In addition, you will see two smaller diamonds when you press them simultaneously, which will help your character defend. It can be said that you will choose the opportunity to attack, and it takes time to practice.

GO THROUGH BATTLES AND GROW STATS
After you have completed the tutorial level in Prizefighters 2, you will be able to enter the primary game mode: the career. The career will have ramifications where you will read information and find gameplay right for you. At the same time, you will also create a character you want for yourself and choose the difficulty you want to experience in this game to match your ability. You will continue to be introduced to the mechanics in this game.
You will see the boxer's status and start the training to increase specific stats. You will choose the type of training you want by reading its benefits to the character. Also, depending on the type of workout, certain costs may arise, and you'll need to consider how much money you have. If you are running out of money, you can participate in matches to earn more.
The mechanics revolve around boxing matches where players will try to defeat their opponents and win quickly. At the same time, there will also be strong opponents gradually appearing, and especially, tournaments taking place are something that you cannot ignore when showing your skills.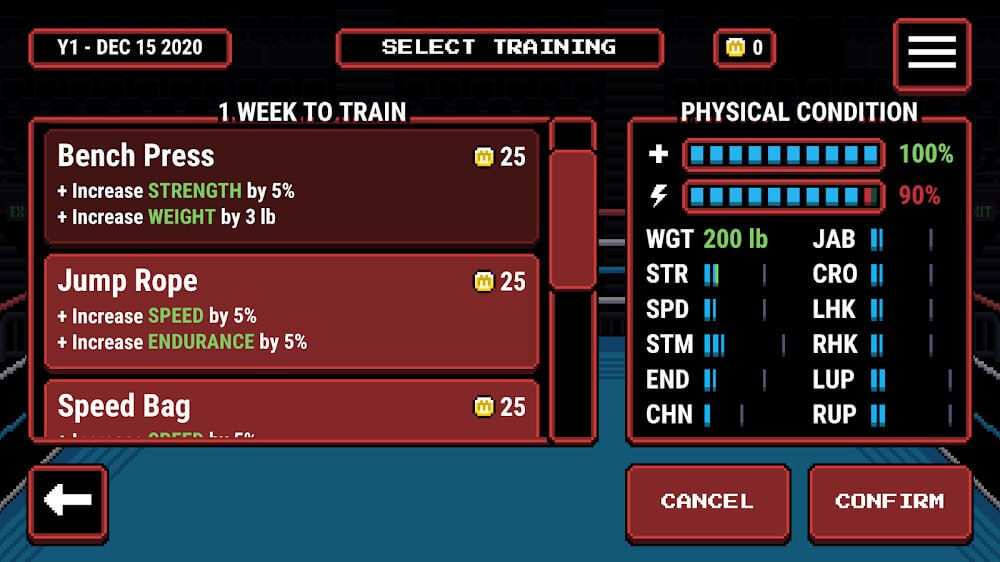 The experience of becoming a boxer captivates players when:
They will find a way to make their athletes famous by going through many challenges in different tournaments.
There will be many development branches in the modes that you choose and adjust the difficulty as you feel suitable and can complete.
The number of challenges is varied, and tournaments can take place to compete against many opponents.
Workout mechanics have certain benefits that you cannot ignore, and sometimes you will need to pay to do them.
The obvious changes in the new version appear mostly in promoter mode that you cannot ignore.
Prizefighters 2 v1.08.1 MOD APK (Premium, Money, Skills) Download