If you are looking for a game to educate your children, then I would recommend My Town Home: Family Playhouse. Coming to this game, you will live in a virtual family and control all the big and small characters from parents to babies. Everyone can create their own leisure and enjoyable daily life in the family of little dolls. You can play any role of a parent or a boy or a girl. Play fun games in the dollhouse and explore the fun-filled little town together.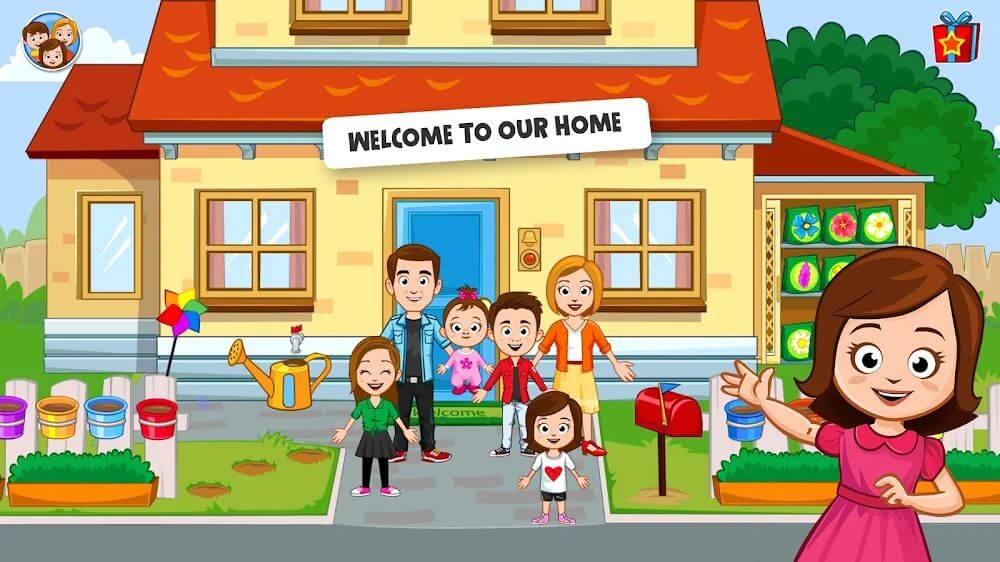 EXPLORE ENTIRE ROOMS WITH THEIR OWN USE
When you have small children and want them to understand the rules of daily life and know what to do when they grow up, let them experience virtual family life in My Town Home: Family Playhouse. Coming to this game, players will live in a family-like real life. You will own a house with six rooms, and all have separate uses. Such as living room, kitchen, spacious garden, and much more…
GIVE HOUSE RULES TO CREATE THE DREAM LIFE
Living in any environment or century requires rules and laws separate rate. Not to mention when stepping into this game, you are already the owner of a large house and the breadwinner of the family. So if you want to live your dream life in this virtual environment, then come up with rules for the house. Like what time it is for the children to wake up, for the children to have breakfast, or to pick them up from school. You also have to put in place a curfew for your home and a time for moderation.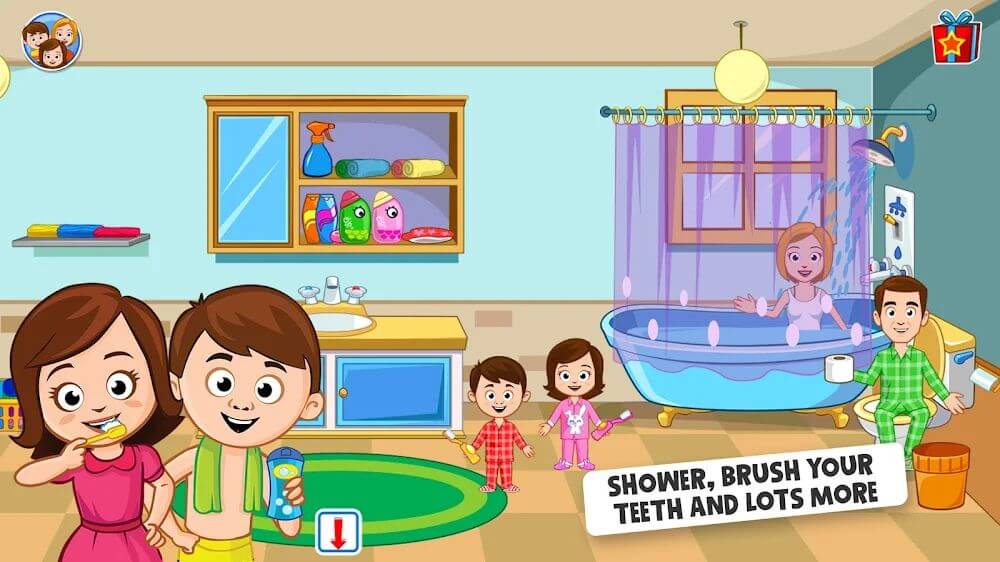 CONTROL ALL THE CHARACTERS LIKE MOM OR DAD…
Please create your own dream life when you come to My Town Home: Family Playhouse, where you can unleash your dream creation. It's great that you can create unique stories when you role-play any doll characters in the game. Many characters appear in this game, such as parents, six children, friends, and even lovely pets. Players can role-play any character and control them, performing different jobs and tasks.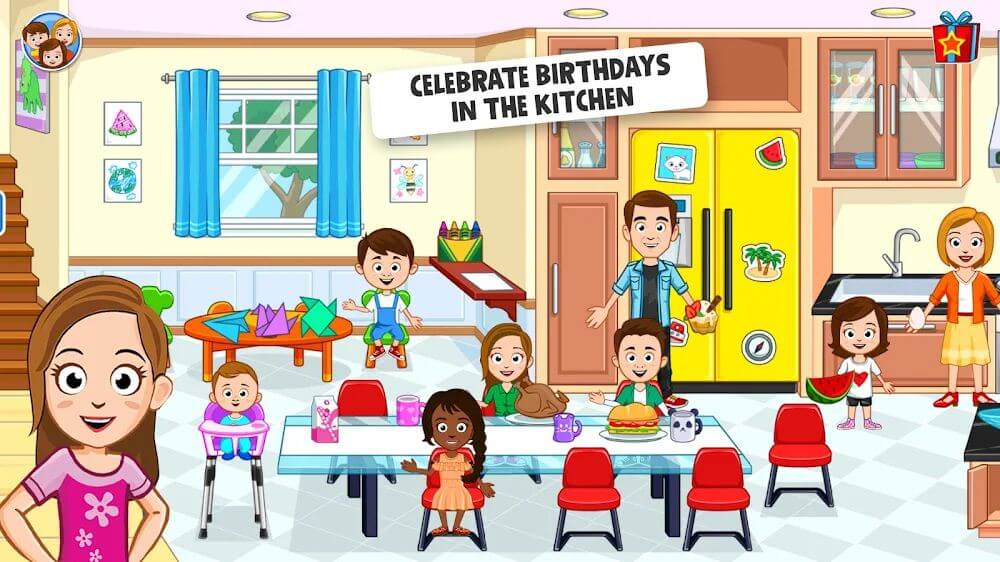 PERFORM TASKS SUCH AS COOKING OR HAVING FUN
Players have control of different characters in a day, and of course, you can also role-play the whole thing. But then, you might be extremely busy and don't know how to organize your work. When you play as a father or mother, your tasks are to prepare delicious dishes in your favorite kitchen. Or, if you want a lighter task, you can play the role of children to have fun in the rooms in the dollhouse.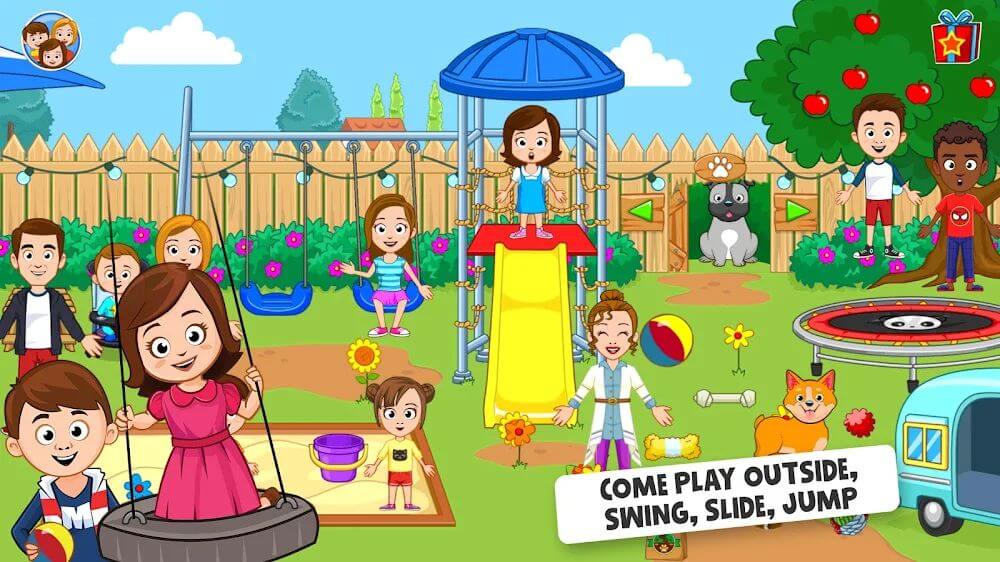 CREATE A STORY AROUND EVERYDAY LIFE
This game depicts everyday life in real life, so it's the best educational way for children to play. After experiencing the tasks and jobs in My Town Home: Family Playhouse, they must have had more or less experience to help their parents when they grow up. Interestingly, players can decide what stories take place in their families, like putting a baby to sleep, putting on makeup for a party, or celebrating everyone's birthday. You can prepare a hearty meal and invite everyone to enjoy it.
HUNDREDS OF SUPPORTING CHARACTERS MOVE, AND YOU WILL SERVE THEM
In addition to the main players participating in the game, hundreds of secondary characters move into the rooms. Naturally, you will serve and please everyone to receive positive points like leading your children to play exciting games in the garden. After that, I will shower in the toothpick room after finishing the mission in the large garden. Of course, it is indispensable to provide jobs for parents to keep them happy and give great comments in My Town Home: Family Playhouse.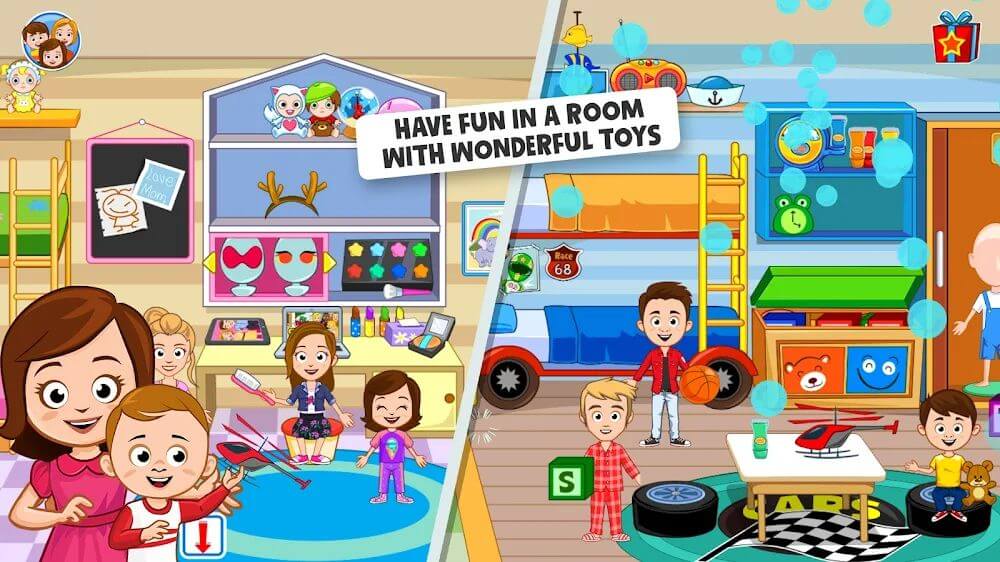 KEY FEATURES
Explore all six rooms appearing in the game with separate uses such as living room, kitchen, garden, or more…
Make strict rules for your house to build. Your dream life & new life will start from there.
Many characters appear in the game; it will create a living environment like a real home when full of parents, children, and pets…
Players can perform different tasks when they play any character, like preparing family meals or playing mini-games.
Customize the story, and they will lead you to different endings when building stories at home, like putting your baby to sleep or celebrating a birthday.
My Town Home v7.00.07 MOD APK (Unlocked All Content) Download