You are a lover of lovely cats, or you like to take care of pets, then My Talking Tom 2 is the choice for you. With the famous game My Talking Tom, many people around the world are fascinated. The publisher Outfit7 upgrades the game, and there will be many completely different features to give this version a new wave for the virtual animal farming genre. You like to raise animals but can't afford to raise them, and the game will be the place for you to fulfill that dream.
NEW FEATURES FOR YOU TO DISCOVER
Taking care of the cat, Tom will become more colorful with new shapes and many cool things waiting for you to discover. The game has increased its appeal to players with more unique features, and You will be surprised with mini-games, costumes, and new friends. The feature for Tom is to fly a plane around the world so you can take your cat to travel and collect more items. You will be flying and exploring the vast world for the first time in this version. Travel around the world and dress yourself up in beautiful outfits.
Tom will have more toys for him to play with. In addition, when he is injured, you can also treat him with medical tools. Especially Tom can also play with his pet, unlock the pet so you can help your cat have more fun. This new version will design for your cat more mini-games. From there you earn many attractive rewards.
CARE FOR YOUR CAT WITH A NUTRITIONAL MENU
Improved from the previous version, My Talking Tom 2 retains its basic gameplay. The player's task is to take care of the cat as quickly as possible, but at the same time, find a way to entertain it. Tom will have requests or facial expressions so that players know what it needs. Every time Tom is hungry, the sound of his belly will signal to you, you must give him enough nutritious food so that your cat does not get sick.
Please pay attention to feeding the cat what it craves. That helps you get more stars than usual. Don't forget to give it a full meal with a variety of dishes to play the mini-games in the game. You can also tease your cat by attaching it to the wall, poking its body, and throwing it anywhere. Do you believe Tom can talk? As long as you say any sentence, Tom can imitate that word or sometimes sing it for you.
BRING TOM TO THE MINI-GAME WORLD TO EARN SO MANY GOLD STARS
My Talking Tom 2 not only lets you raise a mischievous cat but also contains many other mini-games. This is the play area for your cat to test his skills. Tom has countless game genres to experience, from brain games to action, all of which provide your cat with the most exciting entertainment world. Trampoline, basketball or you can also let Tom build puzzles, fly planes, even climb aboard a spaceship in the most novel space.
When you let your cat Tom participate in more mini-games, you will receive more gold. Something that every player wants a lot. Buy furniture or change the look of your cat with the gold you get. Start changing your cat's fur, eye color, or really personal outfit in your collection. You use the gold you have to buy food for Tom too. This is what is needed for the fastest Tomcat.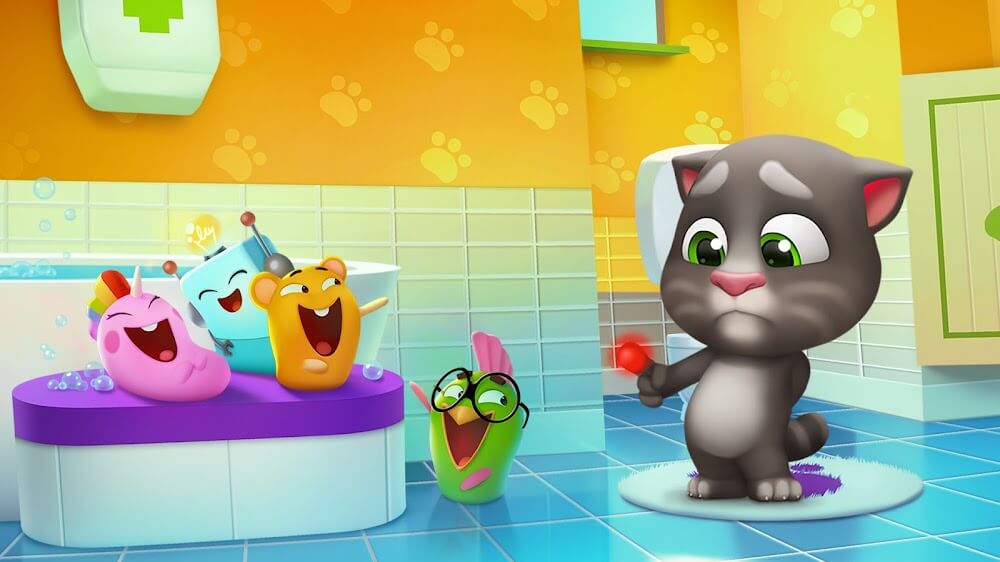 WATCH YOUR CAT GROW EVERY DAY
After exhausting gaming activities, take your cat to a clean bath. And remember, every morning when your cat wakes up, you need to give him a clean toilet. Sometimes your cat also gets sick or injured when playing mini-games. At such times, you need to take care of it more carefully. Use the medicine cabinet in the house and help your pet cat recover from illness.
When you complete many tasks, your cat will gradually grow up. You will organize a birthday party for your cat Tom to celebrate his 1-year-old growth. At each birthday, your cat will be given an attractive gift. This version of My Talking Tom 2 has an additional collection of attractive cards when your cat reaches the age milestones such as 10, 20, 30.
My Talking Tom 2 gives players the most different experiences with a unique map style. Enhanced graphics help players feel closer. You will feel like you are raising a real cat with interactive features with gentle touches. Let's decorate the house for your pet cat to become the most sparkling so that you can play with it happily. Tom will be your best friend as you take care of him and make him grow up happily.
My Talking Tom 2 v3.5.2.3204 MOD APK (Unlimited Coins/Star) Download