Kingdom Rush is a tower-defense game where you will face legions of monsters that are always trying to attack your land. You will use the towers to prevent their invasion and upgrade them to receive a mighty destructive power. At the same time, heroes and support skills will save you in difficult times.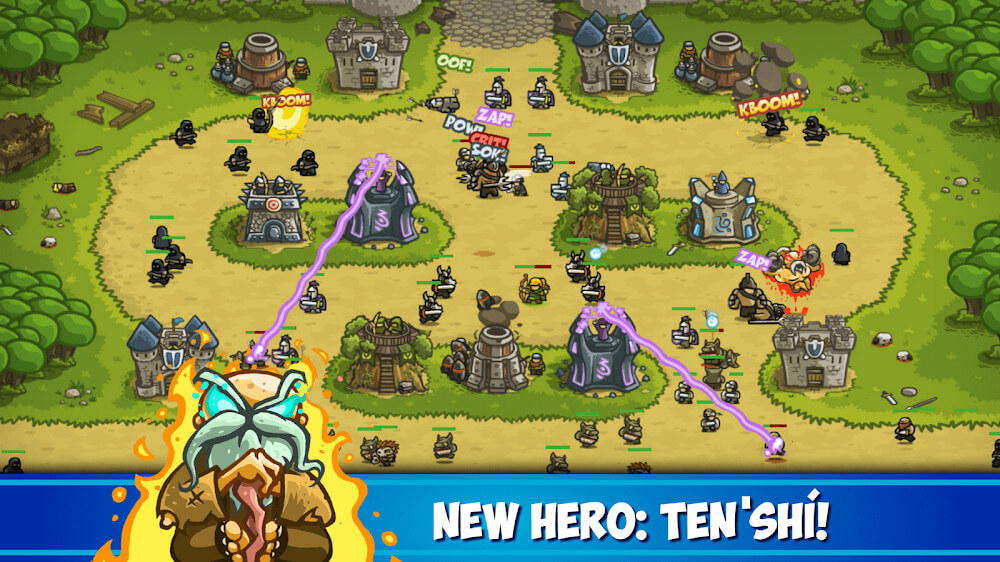 A NEW HERO HAS JUST BEEN RELEASED
The remarkable point in the new version of Kingdom Rush is introducing a hero Ten'shi who takes the form of an older man, and of course, you can also find information related to him. The attack stats reach their maximum limit, and of course, there is one point that will make you feel excited: his strong form. Specifically, when he hits a certain number of times, he becomes more muscular and attacks more opponents than his primary form.
TAKE PART IN IMPRESSIVE TOWER DEFENSE LEVELS
In Kingdom Rush, you'll find tower-defense levels utterly different as you face waves of enemies constantly moving towards you. You will try to defeat them with towers that you can build. So you won't let any enemies through, and you will have a certain amount of HP. When the enemies break through the defense and their attack drains you of health until zero, you lose; that requires you to keep an eye on the level at all times.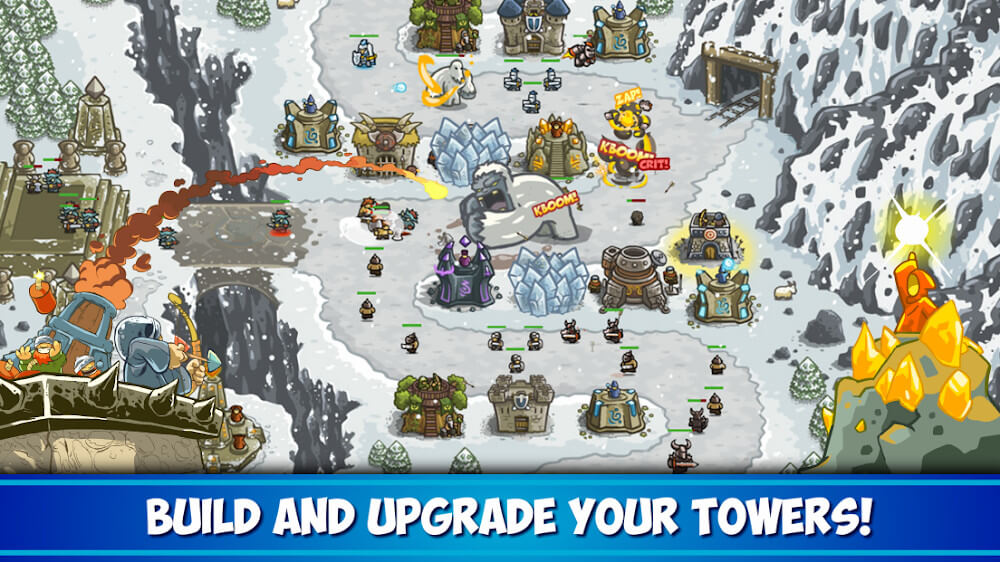 At the beginning of the game, you will find four towers with three attack towers and one defensive tower. Tower defense allows you to summon troops to attack and stop your enemies from reaching essential locations. In addition, each attack-oriented tower will usually have additional damage and rate of fire that you will consider because, in the time between two shots, the enemy can take advantage of it and get out of your attack.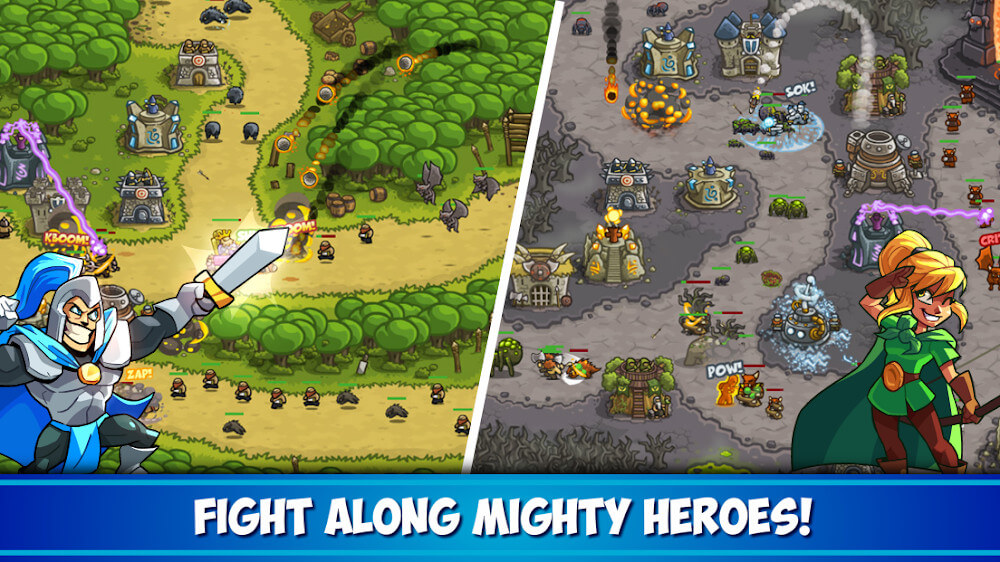 MANY FACTORS SUPPORT THE PLAYER'S VICTORY
When you experience Kingdom Rush, you will undoubtedly receive many supporting elements that you certainly will not be able to ignore. The first factor that should be mentioned is that the heroes will support you, and each has impressive powers that you can exploit for your tactics. In addition, they are also controlled by you and help you protect some important routes to avoid enemy invasion. You also have support skills like Call Reinforcement and Rain of Fire.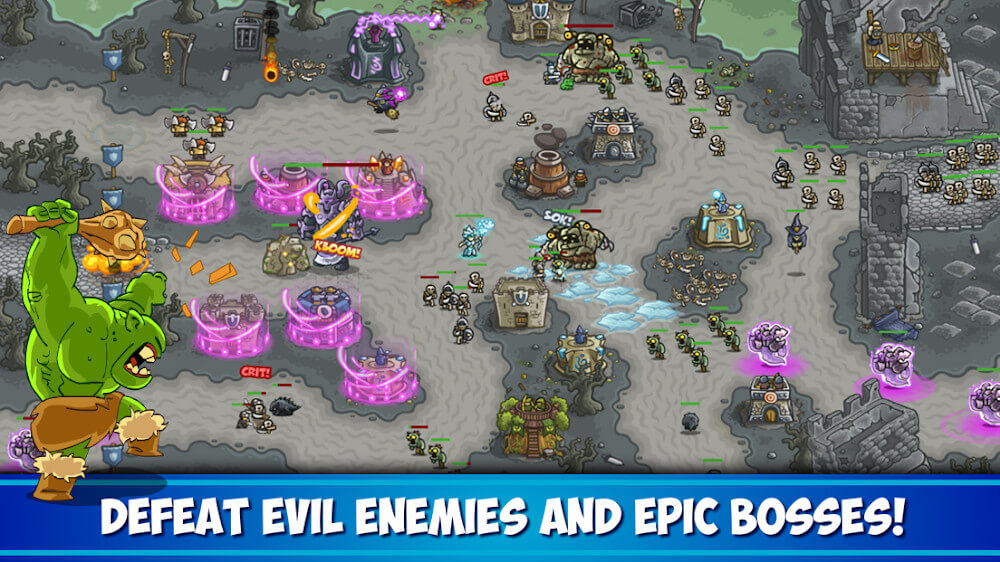 With primary powers, it will be challenging to confront powerful enemies. So, when you complete a certain number of levels, the tower upgrade to level 3 will be unlocked, and you will be the one to choose which towers reach that level. Of course, it will require money in battle by taking down enemies that appear. Therefore, you will need to understand the tower's strength, and the enemy information will be updated for you to increase the power effectively.
Each level has a difficulty level of Casual, Normal, Veteran, and you will choose and try to get the maximum number of stars. The number of stars will be a resource when you upgrade passive skills, and they have specific effects on gameplay and towers. So that is also the motivation for you to complete the level in the best way.
Challenging matches with different levels of difficulty attract players:
You will be caught up in battles with waves of monsters constantly moving with increasing strength.
With a variety of towers, you will be able to set up a strong defense so that no monsters can get through.
You can defeat the enemy easily when upgrading the tower to a new level and correctly using the hero's power.
The results of the stages you pass will give you access to impressive skills that support your tower and gameplay.
A new hero has appeared in the new game version, and don't judge his strength by his appearance.
Kingdom Rush v5.8.02 MOD APK (Unlimited Money, Menu) Download