Kingdom Defense: The War of Empires will bring everyone the most exhilarating and refreshing experience through innovative and unique elements in the Tower Defense genre. It also introduces a large world with countless vital strongholds for the player to defend against the legendary monsters of the fantasy world. Because of that, many potentials will always open up in the gameplay for everyone to enjoy the novelties of the Tower Defense genre or discover many great things from it.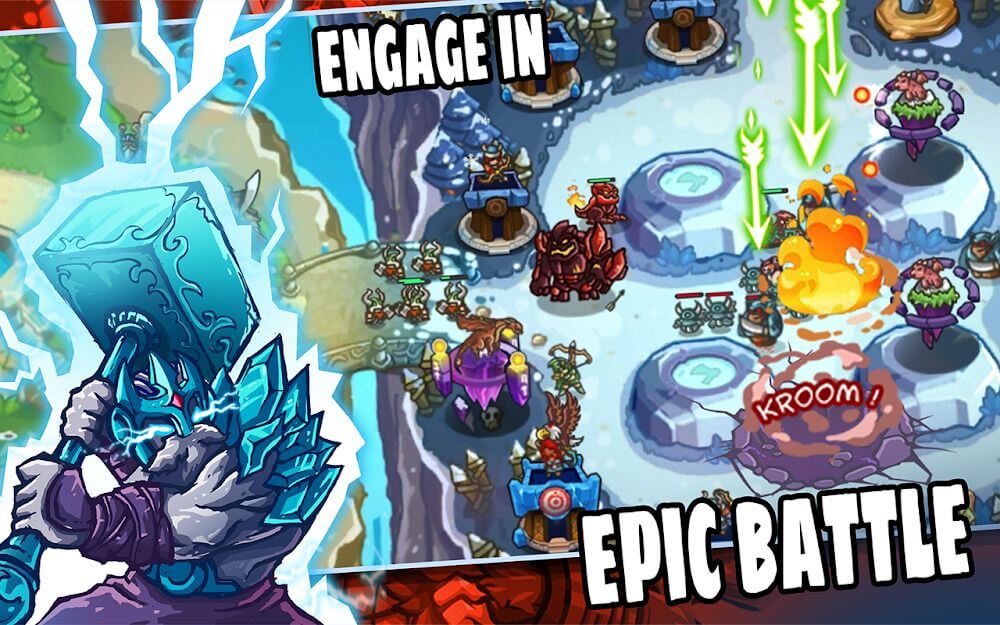 AN EXPANSIVE WORLD FILLED WITH DANGEROUS LOCATIONS
When players first come to Kingdom Defense, a vast world greets them, and the main task is to defend every place from the fiercest attacks. Each place the player passes through will have different levels, and they have many monsters variations, including appearance, physical, and attack skills. However, the most important thing is that the environmental design of each location is creative and superior to immerse everyone in the most chaotic and hectic wars on a grand scale.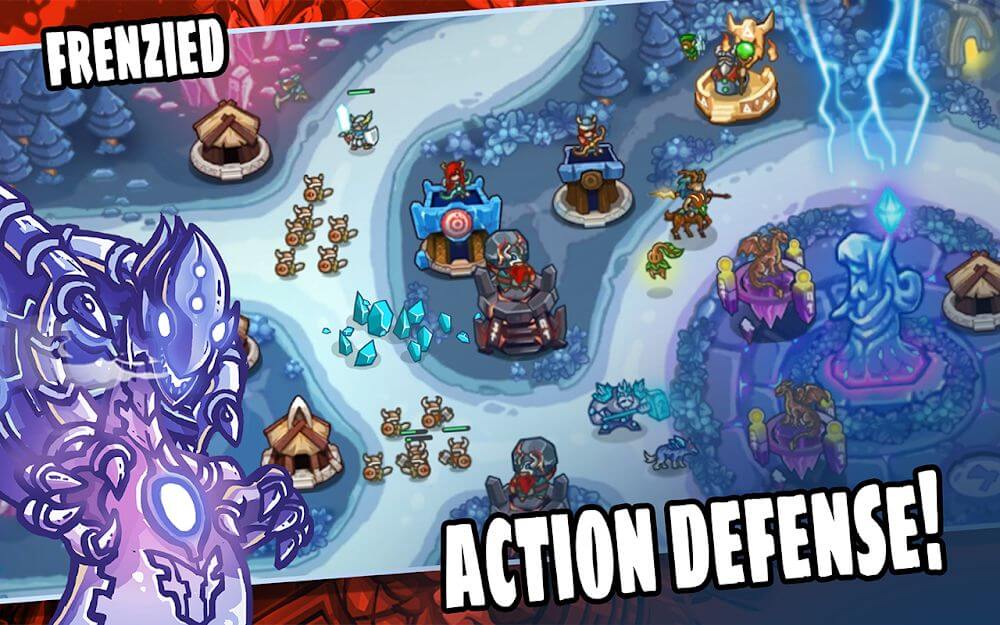 A CAPTIVATING AND INTOXICATING TOWER DEFENSE GAMEPLAY
Besides a large world, the game's TD gameplay mechanics are completely different and make players always depend on the smallest elements to win. At the same time, they had to study tactics, build towers, and use reinforcements properly to withstand countless terrifying attacks. Thanks to the abundance of towers or additional mechanics, everyone's experience and satisfaction are taken to new heights when facing or directly experiencing this new gameplay.
MULTIPLE TOWERS TO DEPLOY AND UTILIZE STRATEGICALLY
The variety of Towers in Kingdom Defense is core and essential to a player's defense strategy, as they all vary greatly. Depending on the individual tower type, the player must coordinate their effects and create strong support to maximize all performance. In the future, players can research or unlock more new towers to diversify their defenses or fight various enemies with myriad elements.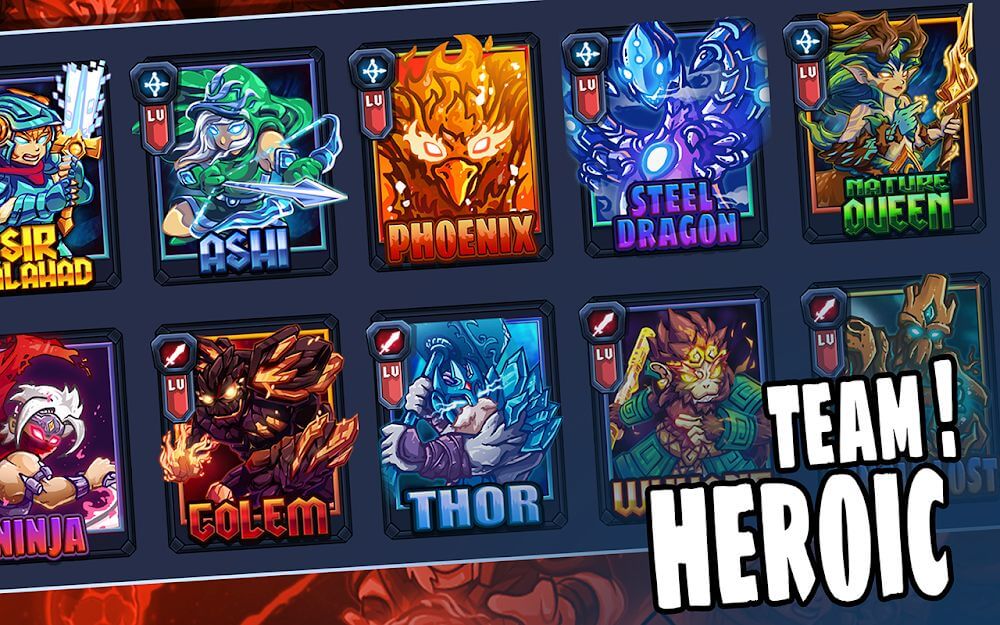 CONTROL THE HEROES DIRECTLY AND JOIN THE WAR
The best part is that the game will allow players to participate in chaotic battles through heroes or legendary creatures directly. They all have impressive and rich abilities to take advantage of on the battlefield, and there are many resonance effects for players to coordinate with Towers effectively. An upgrade system will also be unique while unlocking new wide-area abilities to withstand the enemy's powerful attacks.
VARIOUS GAME MODES FOR SERIOUS CHALLENGES
The variety of game modes in Kingdom Defense will make things more complicated if players look for real challenges. The Endless mode is the most prominent when it always rushes countless enemies into the player's defense but has a difficulty that is compatible with their progress. In each game mode, there will be many different types of rewards for players to actively participate in many activities rather than stick to the primary campaign.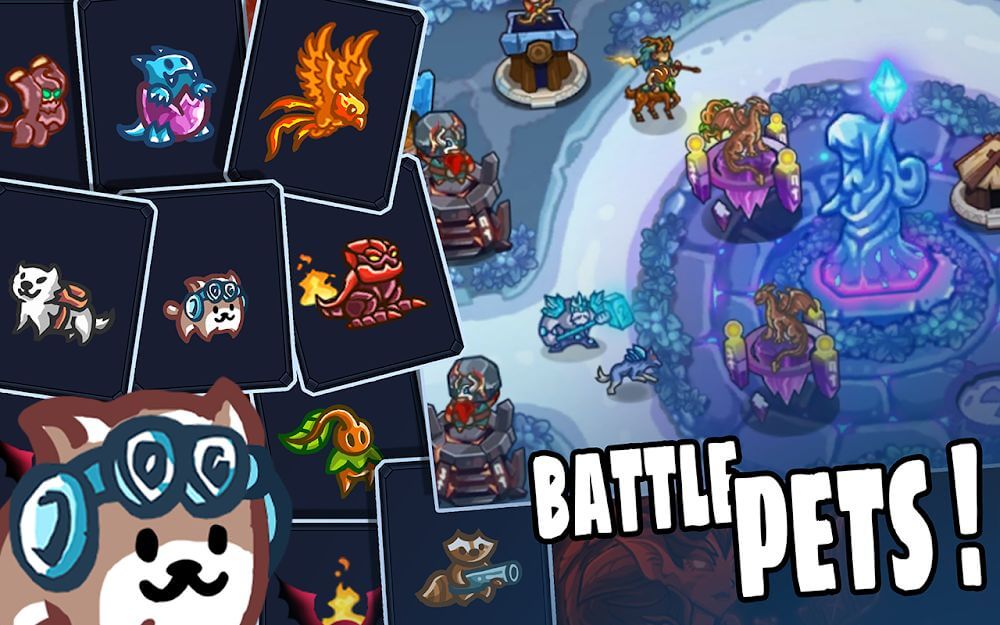 DROP THE MENACING AOE SKILLS ON THE ENEMIES
If heroes or towers can't meet all the defenses, players can use wide-area skills with high destructive power. They all come to the player through various forms or effects, but properly deployed in multiple difficult situations will be helpful. Fortunately, players can upgrade AoE skills and create many new variations to destroy all enemies fiercely to protect everything.
Kingdom Defense is one of the most innovative and impressive TD games with innovative gameplay and remarkable improvements in player progress. Above all, each content has a lot of depth for players to exploit or deploy into countless interesting tactics to withstand or protect the most important strategic locations.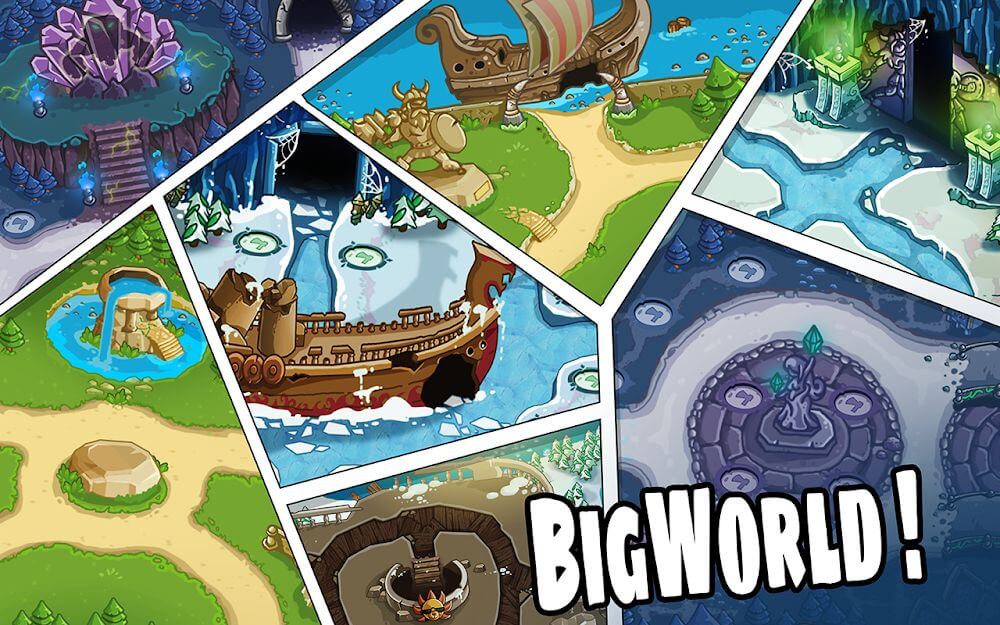 KEY FEATURES
A creative and innovative Tower Defense gameplay to immerse players in a pure chaotic yet epic battlefield filled with fantasy monsters.
An expansive world with mystical designs divided into multiple parts to distinguish the monsters' habitats and characteristics to diversify the gameplay.
Unique towers with excellent effects for users link and combine to protect the strategical location while sending tons of reinforcement rapidly.
Unlock new heroes, join the battle to aid the ground units, and even release powerful blows or stacking effects with corresponding towers.
Drop down the most epic AoE skills to evaporate all enemies or hold down the strategy points while developing the most potent defensive line.
Kingdom Defense: The War of Empires v1.5.7 MOD APK (Unlimited Money) Download