Idle Hamster Energy will be a very suitable game for those who love small and lovely hamsters. It is not that you will take care of or raise them like in real life, but they will become tools to help you create energy for all the objects in the factory. A whole army of cute hamsters will work for you, so try to train them to be helpful to you.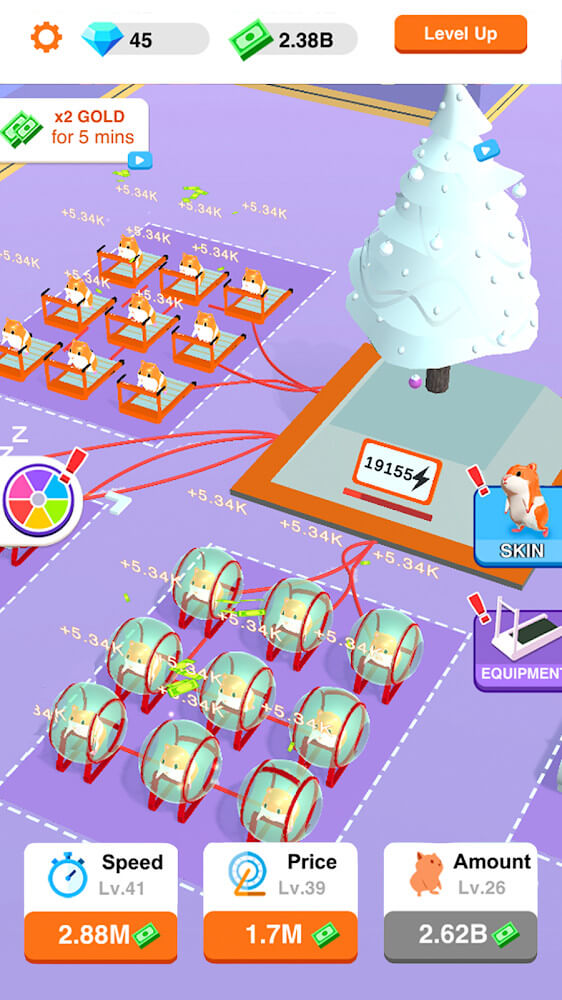 MANAGE A TEAM OF HAMSTER N MOUSES
When you first enter the game, you will see an image of a hamster running on a wheel dedicated to it, and behind is a cord connected to a phone with a dead battery. Each time the hamster runs, it will generate energy to charge the phone entirely, and below the screen will be three choices for speed, money, and quantity. Not only do they generate power, but they also generate money, and you will use the money you have to speed them up or buy more hamsters. The more hamsters, the faster your phone will be fully charged.
After you have finished charging the phone, you will proceed to recharge some other items such as a night light or a Christmas tree. Later on, the items will need a lot of energy to be fully charged, so you need to use the money you earn wisely. Try to create as many hamsters as you can and train them to do everything you want.
UPGRADE FOR HAMSTERS
Usually, people will only see hamsters running in circular balls or generator wheels, but Idle Hamster Energy is even more interesting. To increase productivity, you will have other options to upgrade equipment for hamsters, which is to run them with a conveyor belt or maybe a treadmill. However, to own those modern devices, you need to have a sufficient number of hamsters to be able to unlock them.
In addition, you can upgrade the equipment you have by using money to upgrade all of them, and after each upgrade, the amount will increase more and more. So save a lot of money so you can use them comfortably without having to think about anything. In addition to the equipment, you can also decorate your hamsters by going to the skins section and freely choosing cute accessories for them.
Becoming the manager of an army of cute hamsters and training them to do all you ask will be a great feeling when coming to Idle Hamster Energy. Not only having fun but also watching the adorable hamsters move people.
KEY FEATURES
– Automate everything thanks to the hamster.
– Discover many different types of cute hamsters.
– 3D graphics with bright and eye-catching colors create a sense of light entertainment.
– Become a power manager when holding a large amount of money.
– With just a few touches on the screen, you can conquer the game easily.
Idle Hamster Energy v1.2.1 MOD APK (Unlimited Money, No ADS) Download