House Flip is a great game where players find the most exciting feeling when refurbishing every home with creative and unique styles. It also combines with many special elements that allow the player to build an interior renovation company to develop the business and participate in many large projects. Not stopping there, its visuals and graphics have the depth to enhance the player's experience throughout the gameplay.
ESTABLISH A NEW HOUSE FLIPPING COMPANY
When players first come to House Flip, they will have to start a small company that refurbishes every size home. From there, they will have to continuously receive many orders and fulfill many requests from diverse customers, and at the same time improve the performance or value of the company. Over time, players can receive more orders with the greatest value and have more massive customer bonuses if the job is completed perfectly.
INNOVATIVE HOUSE FLIPPER GAMEPLAY
After players receive orders to renovate the house, the scale of the work is varied, and even they have to refurbish everything from the outside to the inside or vice versa. The renovation process will start with the smallest steps from the rooms, but they must decide on the dominant style and color of the house. Players can freely change all furniture or decorations, and they have the unparalleled depth for the player to decide the outcome of the renovation of the houses.
IMMENSE CONTENT AND FURNITURE MODELS
Every interior design or home furnishing in House Flip is based on actual and famous prototypes from various designers. They also come with different distinctive colors or striking designs from the East to the West to create a variety of atmospheres typical of many architectural cultures. Players can also blend multiple atmospheres to create perfect and vibrant rooms in each house.
UPGRADE AND DEVELOP YOUR COMPANY
Every player's company goes through several stages, including recruiting or upgrading offices of any budget. Meanwhile, the bonuses from house flipping projects are plentiful and generous, so players will always have enough resources for long-term development, even forming a large company. If they hire new employees for the company, many new jobs or functions will open up for the entire company with home renovation.
HILARIOUS MINI-GAMES FOR HOUSE FLIPPER
The mini-games in House Flip are creative and cover many themes related to renovating any home, like mixing paints, shopping, and more. They all have many positive purposes, give players more ideas to renovate in various new homes and give additional rewards such as famous furniture prototypes. Over time, the value and style of mini-games will change to diversify gameplay in many ways.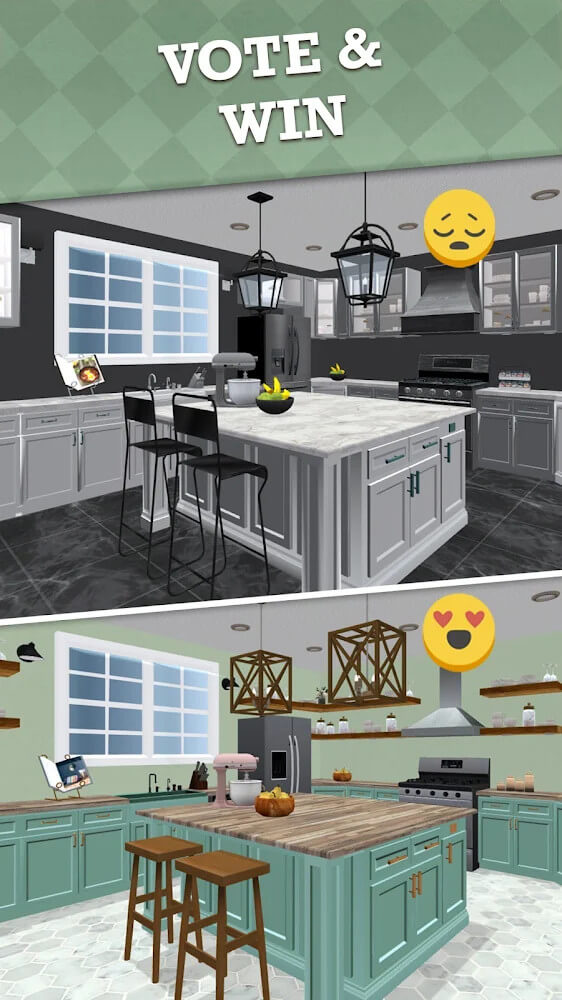 VOTE AND WINS BEAUTIFUL DESIGNS
The game will feature more events or activities for house flippers or between companies, showcasing their abilities through their creations. The audience will be the ones to decide the winning or losing factor of the contenders through the votes system. The designs will all share a room, but each must create a unique atmosphere for them, bringing many rewards for growing the company or acquiring new art.
House Flip is an endless idea if players intend to refurbish their homes in real life, and it is a source of entertainment for fans of refurbishment. Not stopping there, events or activities for flippers will always be bustling and widely attended by the most creative people on this topic.
– Immersive refurbishment from various house sizes.
– Authentic graphics with a realistic environment.
– Real models of furniture from famous manufacturers.
– Bustling and friendly contest of house flippers.
– An in-depth company system to develop over time.
House Flip v3.9.0 MOD APK (Unlimited Money, Hearts) Download