Hills of Steel is a game where the player will drive his tank and confront different enemies on a hill. You will take advantage of everything you have, from weapons to boosters, and take advantage of the terrain factors to win the match. At the same time, you can also play with other players and see the power and tanks they own. From there, you will be motivated to unlock different tanks in the game.

UNLOCK NEW POWERS TO CELEBRATE THE GAME'S BIRTHDAY
In the new updated version of Hills of Steel, players will find many exciting elements when this game turns four years old. From there, you will find new weapons that are completely impressive and help you in the various battles you may face. The first factor that you cannot ignore is getting legendary tank skins for free. Each skin has impressive features that you cannot ignore.
In addition to finding new skins, the game also introduces you to an entirely new support booster: the drone. It is a machine that allows you to hit your enemies with precision. At the same time, you will not need to worry about controlling it because after you press the button to activate the booster, it will appear and start locating enemies. From there, you will join it to attack enemies until their tanks explode and win, and the drone can only be used once in battles.

TAKE PART IN MANY DIFFERENT TYPES OF BATTLES
You will appear on a hill in the Hills of Steel and start moving to start attacking your enemies. You will be moving in a 2D environment, so you will only need to care for left, right, and attack elements. Also, since this is a hill, you will find various terrains from high to low. Each height will have a specific effect on your attack, so you will need to know how to fire your tank and start attacking.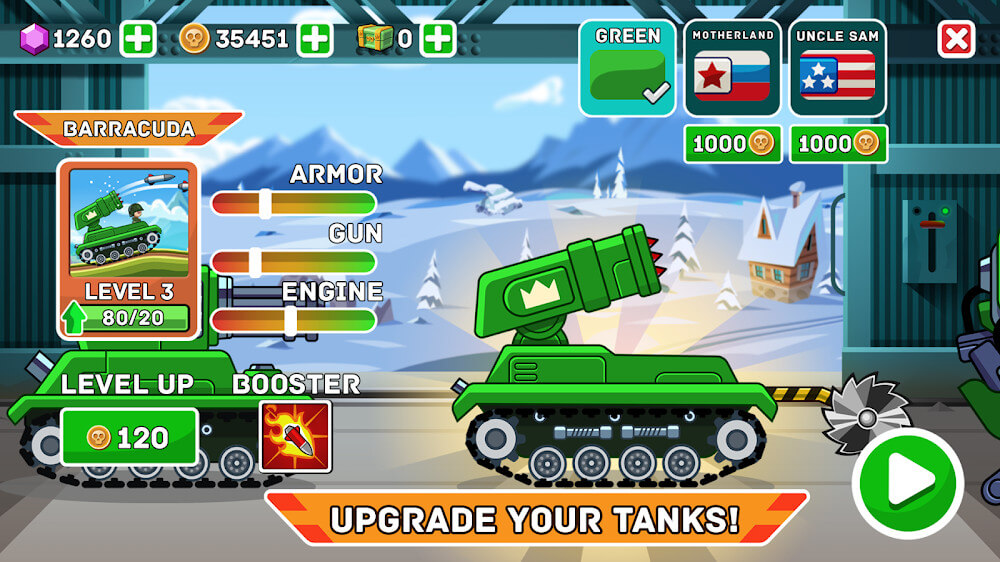 The experience you find in this title is divided into modes like PVP and PVE. In PVE mode, the player will find a constant number of enemies appearing before your eyes. They will be bots ready to set your tank on fire, and you will find a way to take down these enemies. At the same time, when you reach a certain level, enemies with larger tanks will appear, and of course, they will be stronger than the enemies you encountered before.
After you get familiar with the firing mechanics of your tank, then you definitely shouldn't miss the PVP levels. You will be able to take on other players, and of course, their tanks are also fully equipped, and the match's outcome depends on your skills and strength. At the same time, the number of people participating in the match can also change as you experience 1vs.1 or 2vs.2 games. Each genre brings exciting but equally challenging experiences.

UNLOCK NEW TANKS AND WEAPONS
One point that will ultimately attract players in Hills of Steel is the tanks and boosters you can use. Specifically, the types of tanks found in the game will require a certain amount of resources to unlock, and they are not only regular tanks but also some types with fictional looks and powers. In addition, some boosters you will receive as cards and need a corresponding number of pieces to upgrade to the following levels.
Hills of Steel v4.6.0 MOD APK (Unlimited Coins) Download