Hills of Steel 2 is a tank physics combat action game with engaging real-time battles. You will join your teammates in dramatic 3vs3 battles to compete for rankings on the leaderboard. Players will enjoy a variety of game modes and combat environments. In addition, you will be allowed to customize your tank and equip the necessary items and equipment to make them work more efficiently.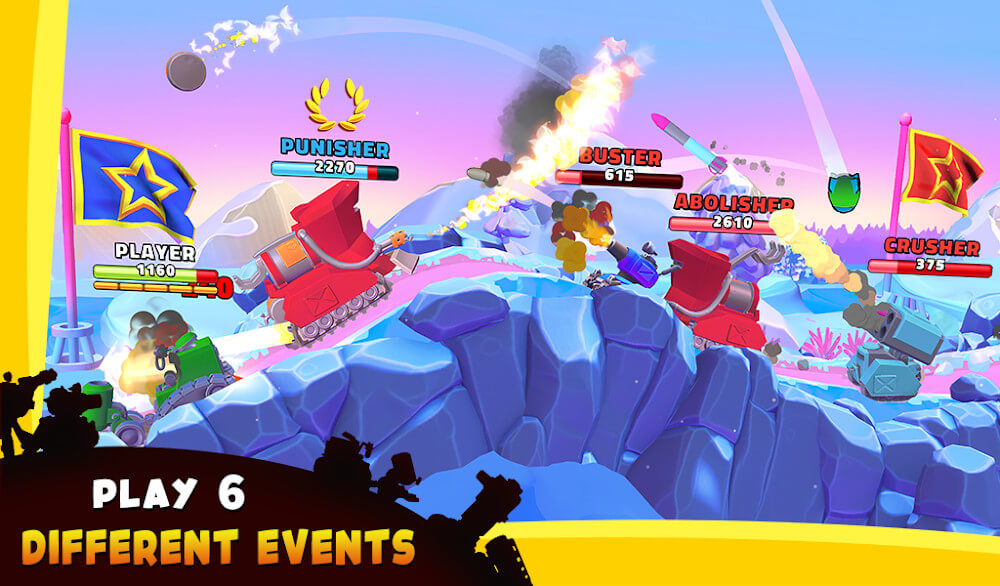 ENDLESS TANK BATTLES
You will join your allies to fight the opposing team on treacherous and bumpy terrains. The battles are incredibly intense, and you have to use your tank to challenge the enemy and destroy them to get points. The levels are limited in time, so the battle will stop when the time ends. Therefore, there are moments of a dramatic battle between the two factions at the end of each level.
The winning team is the team that kills more enemies and has a higher score than the other team. Therefore, players need to have intelligent combat tactics and perfect coordination between team members to be able to shoot down all enemies on the fierce battlefield. If you defeat all of the opponent's tanks before the time is up, you will gain a high combat record and get many points along with other attractive rewards.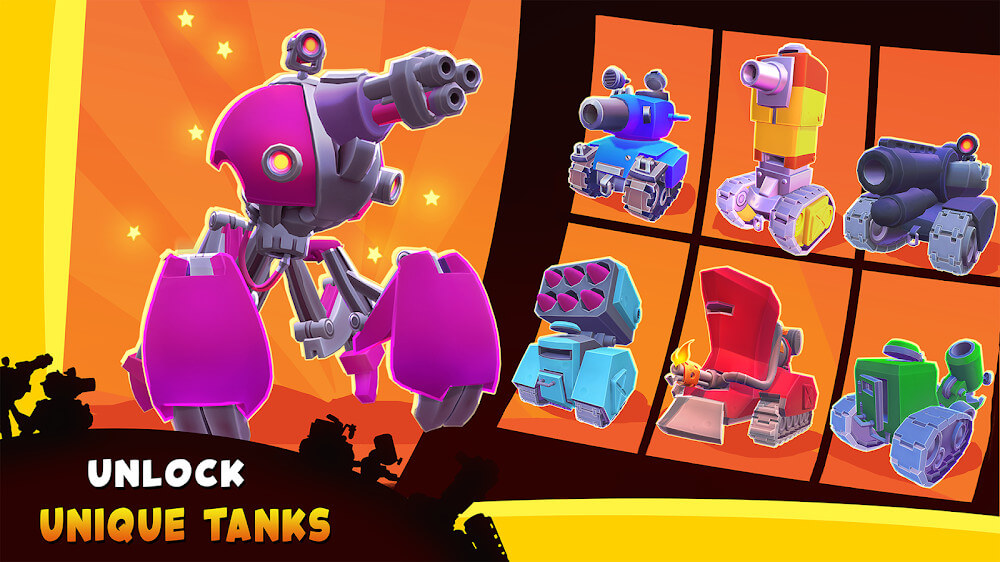 SIMPLE PLAY AND EASY TO CONTROL
The user will use the function buttons to move forward, backward located on the left side of the screen, and other special function buttons such as aiming will be placed on the right side of the screen for players to control easily. After going through many levels, your fighting and control skills will become more proficient. In addition to this factor, players need to combine many other essential factors such as mastering the terrain, good support between teammates, and the ability to withstand tank damage.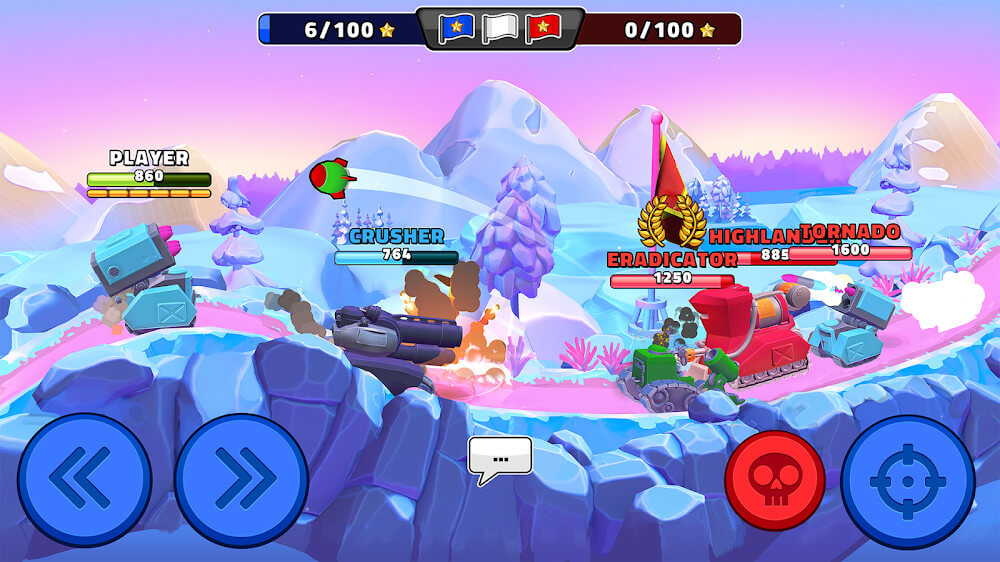 UNIQUE BATTLE TANKS
Tanks are the main combat vehicle of Hills of Steel 2, and there are many different models for players to choose from. Each type of tank will be equipped with its own combat weapon and provide some special abilities. The default tank that the system gives the player at the beginning is Joker, and this vehicle only uses normal ammo. Because this type of ammunition is quite light, the bullet's flight speed will be faster than other tanks.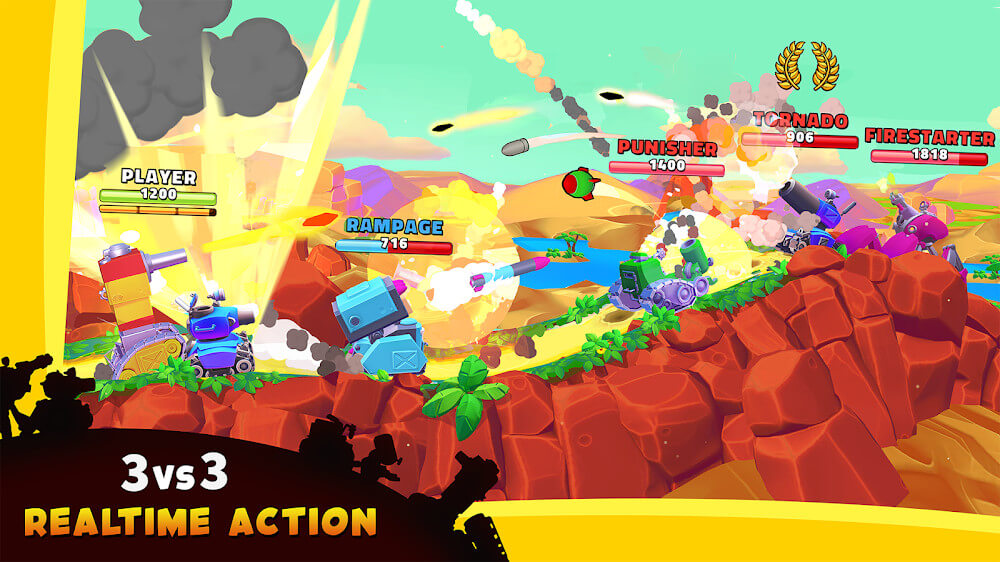 In addition, the Stinger tank is a tank that possesses an advanced missile system, and it can fire in series with up to 6 missiles and has a great deal of damage to the enemy. Another type of tank model is the Gatlin, it is equipped with an excellent gun and has a faster rate of fire than the previous two tanks, and the damage is also much more significant. However, to get this type of tank, you have to spend a lot of money and time to be able to own it.
UPGRADE TANKS TO BE STRONGER
To ensure the strength of the tanks, you need to upgrade them and equip more powerful items. In addition, it increases their damage and combat ability to be able to shoot down enemy tanks with ease. The tank model will be upgraded through cards, so you need to play well to collect a lot of experience points and bring many cards. As for equipment, you need to add more ammunition and weapons for them.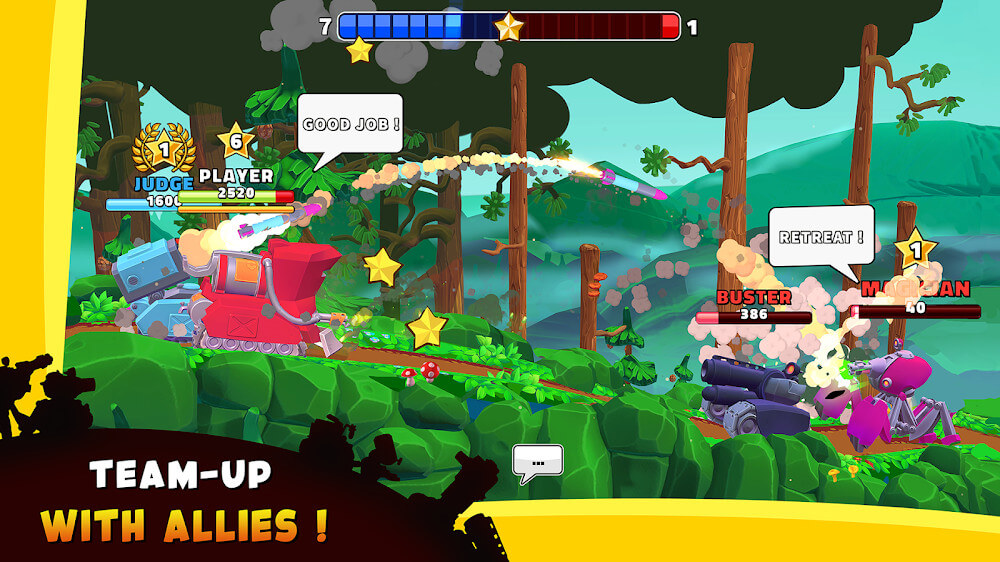 NEW EVENTS AND MISSIONS
Hills of Steel 2 organizes many events for players to participate in, such as Rare Duel, Domination, … and each event has attractive rewards for the winning team. In addition, the game also has many activities, such as logging in daily to receive rewards and complete assigned tasks.
KEY FEATURES
– Exciting fighting action game: fight in the craggy hills with your teammates
– Join the fight with friends or relatives
– Allows players to customize and equip tanks with items
– Many attractive rewards for the winning team
– Many new online events were added: Star Catch, Epic Duel, Rampage,…
Hills of Steel 2 v3.7.0 MOD APK (God Mode) Download