The roguelike dungeon genre has become popular and widely used in many games today, including Gun & Dungeons, but incorporates many new elements. Players can now wield various modern guns and battle many monsters in a comprehensive and multi-dimensional 3D environment. Moreover, its daily events or activities are exhilarating and full of entertainment for everyone to strive and become the best players on the leaderboard.
FAST-PACED ACTION SHOOTER GAMEPLAY
The gameplay of Gun & Dungeons is relatively friendly and straightforward, but its pacing is fast, whether it's the atmosphere, the control mechanics, and more. Everything is fast, compelling, and exciting, and always puts the player in a variety of complicated situations and makes them face everything with skill or reflexes. In addition, based on each person's development progress, they will gradually unlock or access new potentials throughout the game.
FLUID CONTROLS WITH INTERACTIVE ENVIRONMENT
The controls in the game are smooth and fluid, suitable for controlling with a single finger rather than complicating everything else in the range. Instead, when the player stands still, the character will continuously attack the nearest targets, which helps people quickly take advantage of the hit-n-run factor to new heights. Not only that, people can customize the mechanism to have more fun experiences instead of old-school style like other roguelikes.
MULTIPLE WEAPONS AND EQUIPMENT TO COLLECT
Instead of crafting new types of equipment, Gun & Dungeons wants players to collect pieces of them until they perfect a weapon. Because of that, the variety in the fire system is abundant and creative so that people change their fighting style often instead of focusing on a specific direction. Many new types of equipment will unlock in the future, thereby opening up a lot of new potentials for people to fight everything.
HILARIOUS SKILL COMBINATION AND SETUP
The roguelike genre is about having the player reset all progress and start from level 1 in each new run attempt. That makes them lose any progress from the previous run attempt, but at the same time, creates more conditions and opportunities for them to change things up creatively and dynamically. Moreover, as players level up, they will have to choose one of three skills to continuously process or combine them to create many funny but powerful combinations.
MAGNIFICENT DUNGEONS WITH BEAUTIFUL BIOMES
Gun & Dungeons will not reset a player's progress in conquering dungeons, instead of being continuously unlocked, allowing them to continue with other new types of dungeons. Each type of dungeon also comes with an abundance of biomes and diversifies the enemies or other unexpected elements that may appear in the level. However, the most impressive point is that each level has a random design, and their scale is large for players to run away or attack comfortably.
BEAUTIFUL GRAPHICS AND VISUAL EFFECTS
Besides the awesomeness and entertainment from its gameplay or challenges, the picture quality and graphics are exquisite, simple, and lovely. They combine to create a vibrant and bustling atmosphere instead of being fierce and scary like other games. On top of that, the effects of weapons or skills are eye-catching and vivid, greatly enhancing everyone's experience and showing realism in each dungeon or their biome.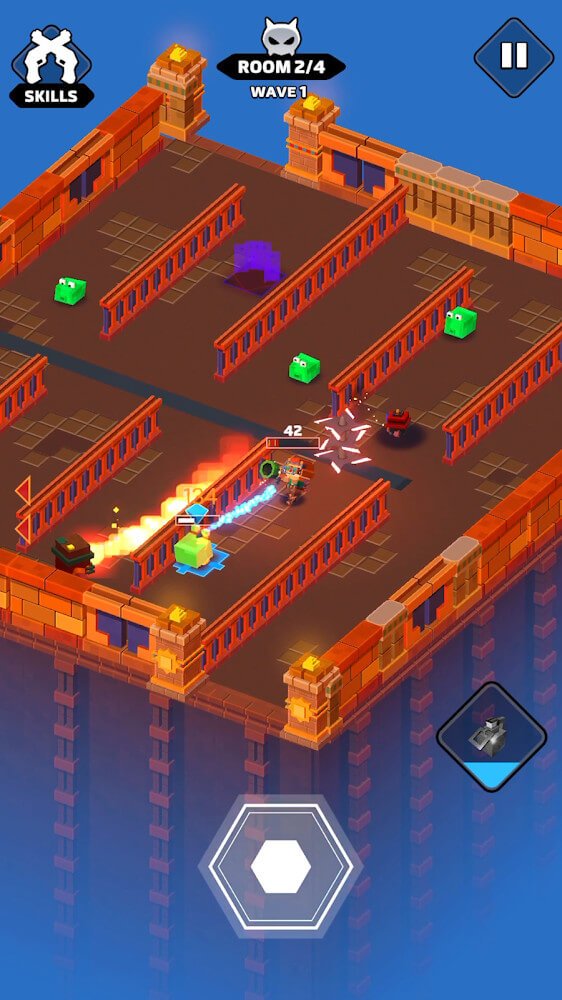 Gun & Dungeons will be a perfect choice when players immerse themselves in countless levels of dungeons with special weapons. Besides, they can be flexible and discover many new combinations of skills, thereby taking full advantage of everything to get the best results for each run attempt.
Exciting, fast-paced roguelike dungeon crawling gameplay.
Diverse options of weapon and equipment to change playstyle.
Unique dungeons with dozens of levels and biomes.
Expansive skills to pick and combine for an ultimate combo.
Play with friends through dynamic and controversial game modes or challenges.
Download Gun & Dungeons v333 MOD APK (Free Purchase)