Drill Down presents people with simple gameplay, but its items or elements are plentiful and have a lot of depth for the player to build an empire. Meanwhile, their default world is infinitely expandable, but at the same time, continuously produces a variety of rare ores based on the depth the player digs. Also, they must continuously upgrade or improve mining technology to create the most prosperous mining empire.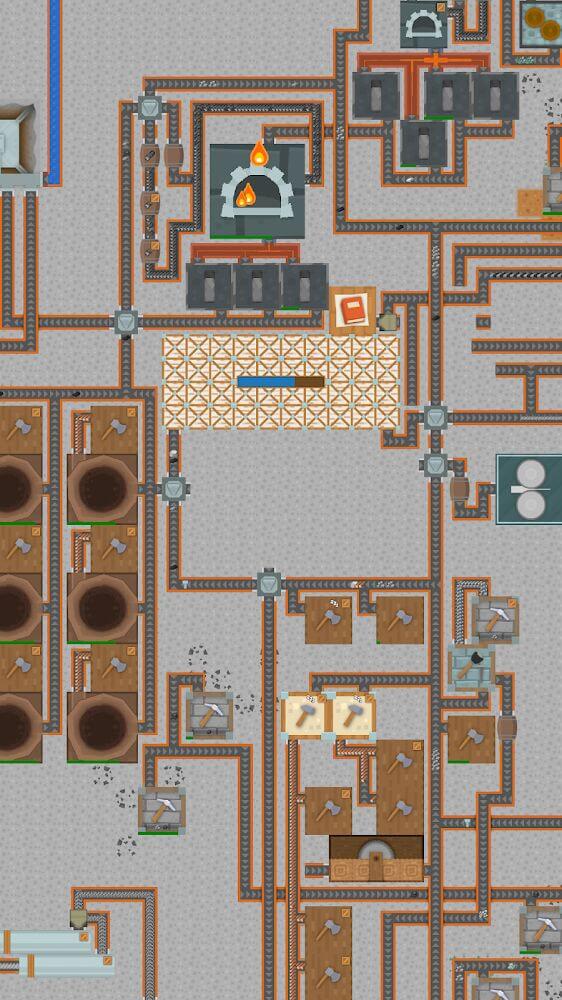 GENUINE MINING TYCOON SIMULATOR GAMEPLAY
Managing a tycoon or mining colony in Drill Down is complicated and requires a lot of attention, but everything in the gameplay is slow-paced for players to catch up on. Therefore, the game will continuously expand many things into many different arrays, and at the same time, make players have to make the most of the performance of each machine. On top of that, they can build more new colonies in different world areas and enjoy the superior quintessence of the mining empire-building simulation.
TREMENDOUS MACHINERY TO BUILD AND EXPAND
The best part of the gameplay is the massive machinery system that lets players take advantage of the empire's mining capabilities for certain ores. Depending on the terrain or surrounding conditions, the player must always use the right machines, then exploit the appropriate resources to upgrade or unlock new machines. People can also connect all the machines through flexible conveyor belts, creating a tight transportation network to the storage.
INTUITIVE CONTROLS WITH EXCELLENT ALIGNMENT
In Drill Down, if players want to mine important resources, they need to find their sources on the ground, place a compatible drill and connect to the collection point. Depending on the type of drill, they will have different productivity levels and even energy consumption if using a high-quality drill. In addition, players cannot upgrade the machines but can build new or destroy them, helping to maximize all resources available in mining.
RESEARCH AND UNLOCK NEW TECHNOLOGIES IN REAL-TIME
Once players gather enough resources or meet the conditions, they can upgrade or unlock new machines in the main house. It also allows them to access new technologies, including energy, to increase mining productivity or consume unnecessary resources. Depending on the creativity or skill of the player, they can make connections and research things dynamically to achieve results that are superior to ever.
CRAFT OUTSTANDING PRODUCTS TO MAINTAIN THE EMPIRE
Once players have enough resources, they can lead the conveyor belts to transport things and start crafting more high-quality products to increase revenue. Creating products will bring players many great benefits and unlock more new technologies or knowledge to supplement the crafting. Depending on the layout of the factories, players can create more types of products and unleash all their economic potential to achieve more enjoyable results.
Drill Down introduces entertaining and profound gameplay to the simulation genre of building a mining empire through complex and intensive systems. Moreover, it comes with lots of content and features for everyone to exploit or unlock new gameplay potential based on their progress in expanding everything.
SOME FEATURES
A relaxing tycoon gameplay where players can utilize and develop the most prosperous mining empire filled with machine and high-tech equipment.
Intuitive controls for quick conveyor belt connecting to transfer all mining resources to various places for storage or manufacturing.
Expansive maps with diverse biomes and surface distribution to diversify players' mining productivity toward specific ore veins.
An in-depth upgrade system with various functions and new machines to unlock and extend the productivity of the empire.
Crafting goods and trade with other sources to maintain a stable source of income to exchange more excellent items or equipment.
Drill Down v122-full APK (Full Game) Download