Dream Park Story is a game from the famous publisher Kairosoft and is known by many players as the place to create a lot of construction games. The products they have launched in the gaming market always attract millions of players around the world, and this game is no exception. You will have fun moments of entertainment when you have the opportunity to become a real manager of a large amusement park.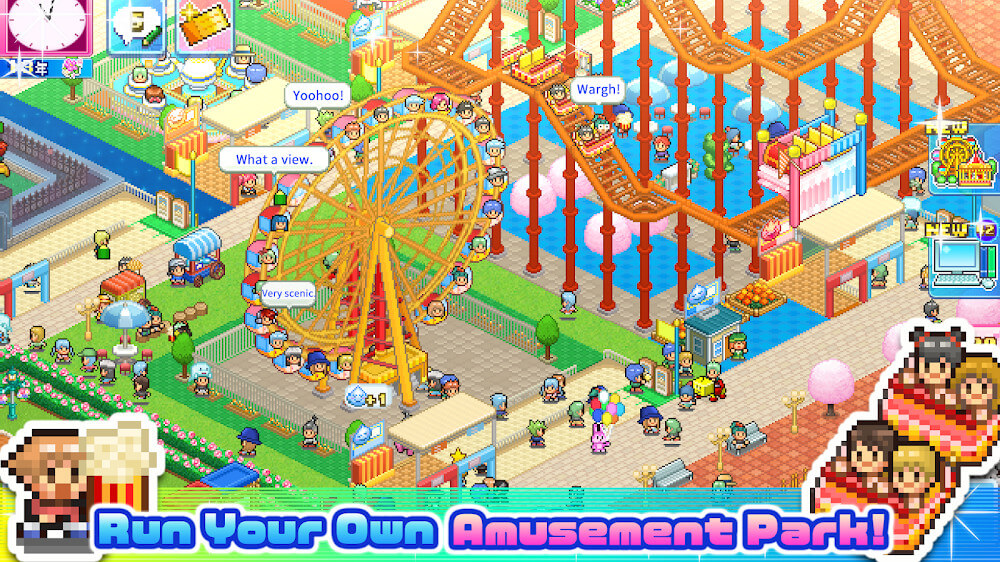 MANAGE YOUR AMUSEMENT PARK
The place where people can go to have fun and entertain themselves with family and friends on weekends or some special occasion is an amusement park. An amusement park operates on a huge scale, and its manager must undoubtedly be a wealthy person. If you want to have the best experience when being a real manager of a famous amusement park worldwide, then Dream Park Story will help you make that happen.
You will start with ample open space, and there is nothing here, so your task will be to build a few small structures to attract some tourists to come here. Some simple and basic constructions that you can decorate your parks like a roller coaster, Ferris wheel, Ferris wheel, or more. Although there will be very few visitors at first, it still creates a small source of income from which you can accumulate and build many bigger things.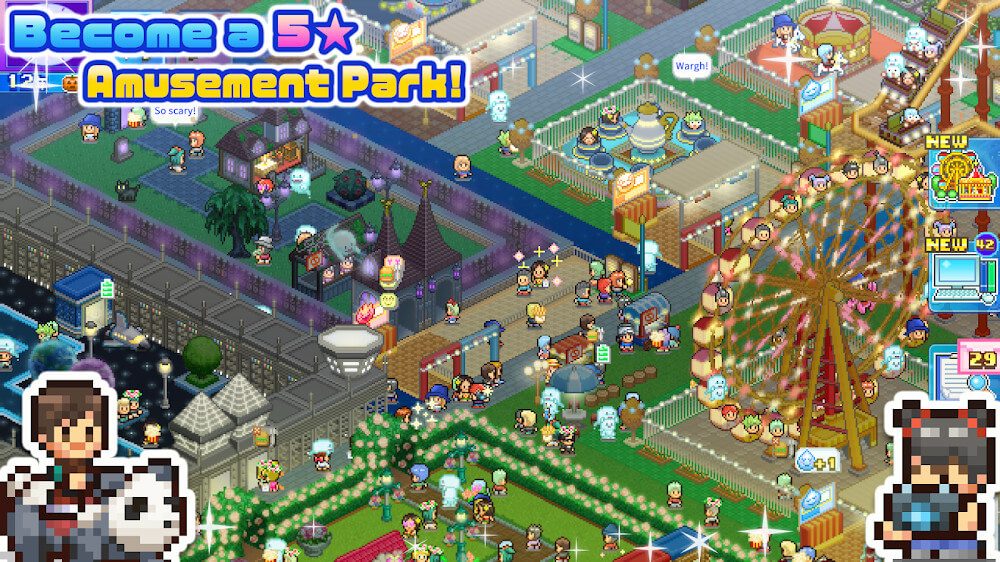 MAKE IT A 5 STAR AMUSEMENT PARK
Your goal is to bring your amusement park to more tourists, and to do that; you need to attract them in many different ways. For example, replace small constructions and instead with more adventurous games to bring the best experiences to your customers. Therefore, you need to come up with the best strategies for growing your park bigger and bigger.
Buildings and some cool features will be unlocked at each level, so the higher you are, the more beautiful buildings you can build. But most importantly, you have enough money to be able to buy them or not, and if not, you can wait until you have enough savings. Having some money will also help you to expand the park further.
SOME OTHER INTERESTING THINGS
There will be a representative mascot in any amusement park, and it is considered the soul to help people remember that place more because they are cute. The mascots here can be any animal, such as a cat or a snowman. They will be dressed in hilarious outfits and go around the park to bring laughter to everyone.
Each year you will be able to choose whichever new mascot your love for your park, and the game already offers a lot of different mascots. It is considered indispensable because people will remember it when mentioning your park. However, it would help if you also chose mascots with high popularity so that they can help you earn an extra part of your income.
Dream Park Story is the place to help you fulfill your dream or simply experience the feeling of becoming the manager of a giant amusement park. Not too complicated, and just a few taps are enough for you to have fun with exciting features.
KEY FEATURES
– Start building yourself an integrated amusement park system from the simplest amusement games.
– Develop and expand your entertainment game system into a vast entertainment complex.
– Create excitement for customers who come to your amusement park through summoned beasts, festivals,…
– Build good relationships with customers and get feedback from social media.
– Characteristic 8-bit graphics will bring unique, interesting, and attractive points.
Dream Park Story 1.3.0 APK + MOD (Unlimited Money/Points) Download