Disney Frozen Adventures is a game where players will find interesting journeys in the world of Frozen and meet familiar characters again. You will have to complete the quest when helping the characters redecorate various locations by collecting enough Snowflakes. At the same time, you can take advantage of your companion characters' boosters and special skills.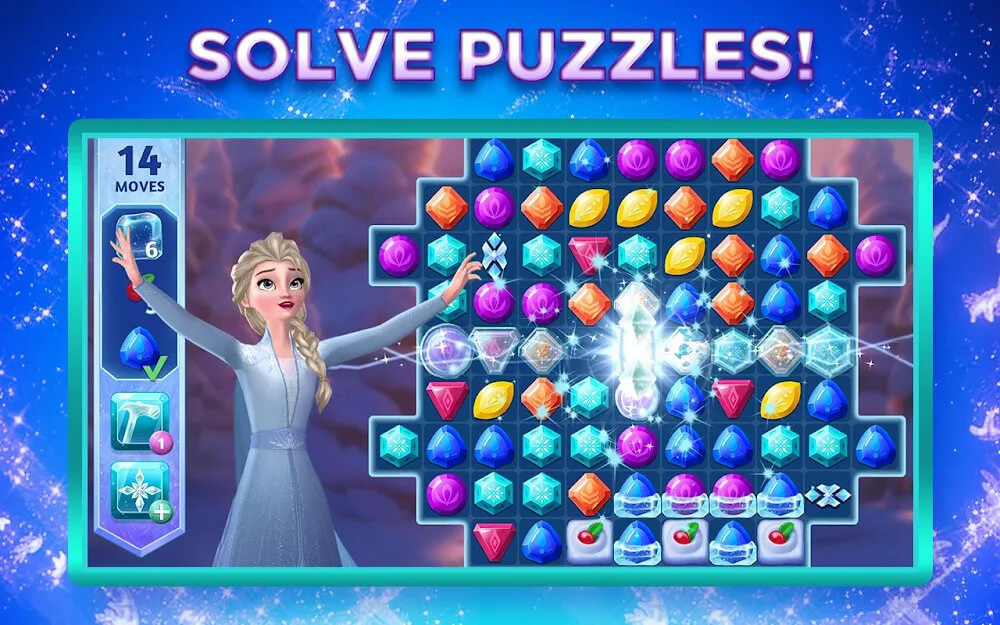 NEW CHALLENGES IN THE WORLD OF FROZEN
There are many interesting points for players in the new version of Disney Frozen Adventures. The game has just released a new place: a yard with a party, so you will help Elsa decorate it quickly and organize a party soon. At the same time, this also means that you will take time to complete challenging new levels. You can also find events where you can join the cute Olaf character.
EXPLORE THE STATUE-FILLED KINGDOM OF ADRENDELLE
When you experience Disney Frozen Adventures, players will encounter familiar characters from the impressive Frozen and Frozen 2 movies. The first two characters you will meet are Anna and Elsa, who stand before a castle entrance. At the same time, these two girls want to redecorate the castle's look, and you will need to participate in the challenges and fulfill what they ask of you.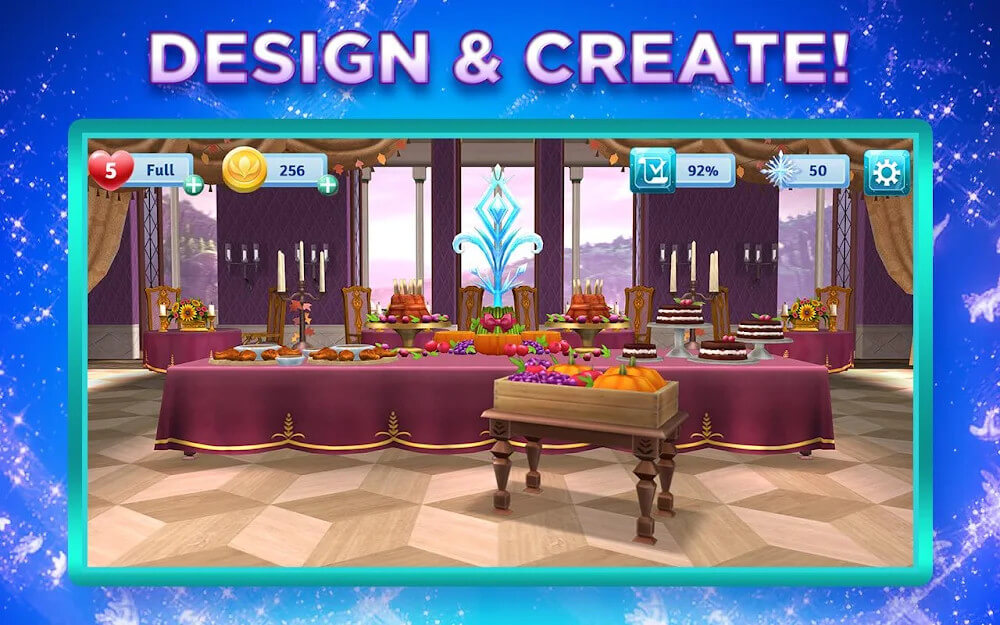 All decorations require a resource called Snowflakes, and of course, they will be associated with impressive but equally challenging match-three levels. The match-three levels all bring the theme of the movie Frozen, and you will be able to fully access the familiar gameplay of this game and go through many different levels. At the same time, you will always receive help when completing these match-three levels.
REQUIREMENTS THAT YOU MUST COMPLETE
The general goal of the match-three levels in Disney Frozen Adventures is to force the player to complete specific tasks such as collecting certain elements in the level. At the same time, in a limited number of turns, the player is forced to complete it in the best way and get some additional gold rewards. In addition, you will use what you have to think of interesting strategies and complete the level as best as possible.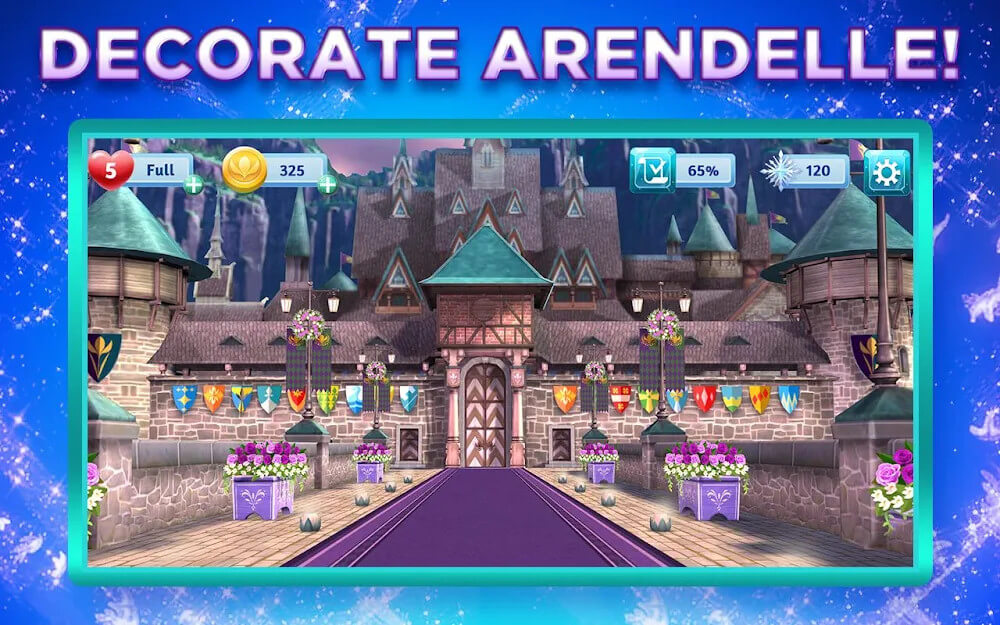 Players can take advantage of boosters to complete levels in Disney Frozen Adventures, and they all have many interesting uses and shapes that you can explore. They can help you make certain elements disappear in a line, destroy an area and many other uses. At the same time, the game also possesses a unique skill mechanism of the character that requires you to collect enough required energy. When full, they will randomly turn some aspects on the field into a booster that you can use immediately.
DECORATE MANY DIFFERENT PLACES
After you complete the level in Disney Frozen Adventures, you will receive the Snowflakes reward. You'll know what you need to do through quests that pop up, and as you use resources to perform an assigned activity, you'll get a selection of items that you'll add. At the same time, they possess many different characteristic colors that you can choose from and bring new colors to your kingdom.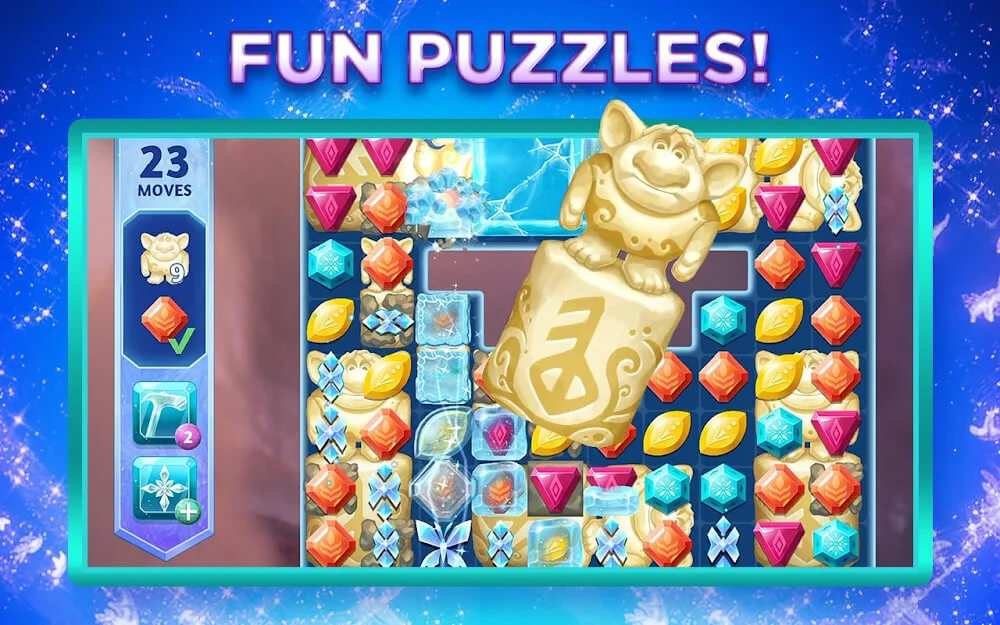 The journey you will have to go through in this game is diverse and will appear continuously. You will need to overcome many levels with increasing difficulty to collect enough necessary resources and complete the assigned tasks. At the same time, the goals that you do in the game completely become diverse that you need to complete and understand the nature of the challenge you are facing. If you're lucky, you can get a reward that's effective for a few hours to retry many levels you've lost before.
Disney Frozen Adventures v28.0.1 MOD APK (Unlimited Heart/Boosters) Download