Crush Them All is a game with an idle style where the player will be the one to ensure his hero can overcome many different enemies. You will upgrade their strength and recruit new members to diversify their tactics. At the same time, it will consume many resources and game modes with different opponents waiting for you to overcome.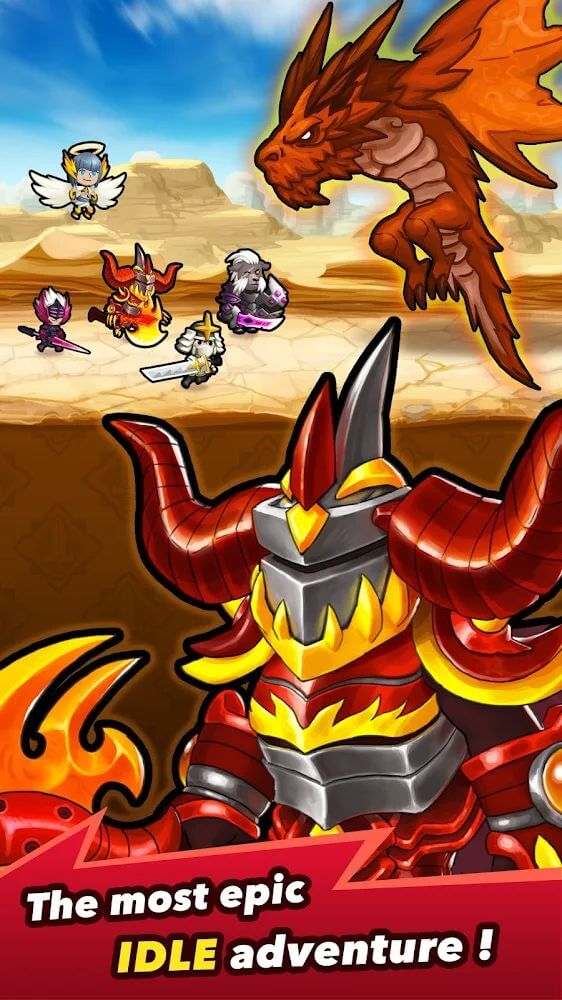 NEW CHALLENGES AND STRENGTHS ARE WAITING FOR YOU
There are many elements changed and added in the new version of Crush Them All, and of course, anyone will not be able to ignore them. In Arena mode, you will find one more match type 3vs.3. This mode will also have a leader board to extend their positions and rewards after each season ends. At the same time, it requires challenges as you will form three teams to fight against other opponents.
Players pay attention to the power mechanics that have just been changed when some heroes have been rebalanced in strength. So you'll need to learn about these changes to create a new roster that's better suited for different challenges. At the same time, impressive bonuses have just been added when you farm two artifacts: Undead Samurai and Twin Face. Indeed, this change also brings challenges for players.
JOURNEY THROUGH POWERFUL ENEMIES
The gameplay you experience in Crush Them All is accessible as you will see one of your heroes moving and constantly finding enemies and fighting them. You will only see his skill and use it when needed, and the rest is done automatically. So you will spend time to upgrade the character's strength and use the money on other elements like the village.
Each level is completed when a crystal at the end of that level is broken, and certainly, no one wants their character to die. So you will use your money to upgrade your character's stats through the level-up mechanism. One way to make money faster is to invest in buildings inside the village and know how much gold you will get each time you collect. At the same time, you will completely upgrade them to get more gold.
TAKE PART IN DIFFERENT GAME MODES
There will be multiple modes found in Crush Them All, and each mode has different challenges and enemies. You will compete with other players in the Arena or participate in dungeons to farm the resources you feel you need. At the same time, you can also join guilds, make new friends, and overcome boss guilds to get artifacts. Artifacts are one of the strong supporting elements in this game.
Besides the main character you own, you can also recruit new heroes to form more completely powerful squads to take on new challenges. So it will be a long journey for you to reach an impressive power.
Challenging battles for players offer attractions such as:
An idle gameplay where any player can approach and support their characters as they progress through different levels.
Each game mode owns a different number of enemies and gives you impressive rewards.
You will be able to use your resources free to upgrade your character's strength over time.
New characters will gradually be recruited into your squad and create powerful formations.
In the new version, players will find a newly updated game mode and a new balance of power in the game.
Crush Them All v2.0.253 MOD APK (Free Level Up) Download