Crime Santa is a game with the colors of the crime genre where players will play the role of Santa Claus and spend time exploring the open world. Players are free to choose the experiences they want, and certainly, each experience will bring different benefits. At the same time, the number of weapons you can use ultimately attracts your attention and the stats that make you stronger.

PRETEND SANTA CLAUS AND EXPLORE THE CITY
In Crime Santa, the player will own a Santa Claus costume, but your role is not to deliver gifts to obedient children and solve problems in the city. You will enter a big open world where you can easily interact with NPCs or vehicles with ease. At the same time, similar to crime-themed games, players will find experiences, diversity, and dangers that they freely choose.
Players will control the character from a third-person perspective and move freely within the city. At the same time, Santa Claus also possesses weapons to punish spoiled objects he sees or to complete tasks. An interesting point that any player cannot ignore is the character's hook feature when you can shoot it towards the object in front and rush to it at a fast speed. So, this is a feature that you will not be able to ignore, and you will create many quirky ideas with it.

COMPLETE QUESTS OR EXPLORE THE WORLD FREELY
When you experience a crime-themed game like Crime Santa, you'll find two main experiences. The first experience is that you will explore with Santa Claus what is in this city. At the same time, you can use weapons freely but always be careful with the number of stars you have. The lower the number of stars, the more comfortably you can explore the city and vice versa, the police can attack you at any time when they see you.
The second experience that you will not be able to ignore is finding different tasks such as daily tasks to earn money and increase levels. At the same time, you will recognize the locations to receive the quest, the places to go, and the targets you need to defeat. So these two experiences often interchange so that you can switch experiences without any problems. In addition, the number of weapons that you can reach is entirely diverse.

UNLOCK VARIOUS WEAPONS AND INCREASE YOUR POWER
When you have used weapons in Crime Santa, you will realize that they all possess a specific limit. So, if you want to continue using it, you should earn money through the many activities that you find in the game. You also easily unlock various weapons with different properties and damage to fight the enemies you see or aid in an easy escape. In addition, the character's stats will be a factor that helps you better survive in the battle.
When you gather enough experience, it is natural to have SPs, and they will be used to increase the stats that the character has. The stats that you can find include max health, health regeneration, armor efficiency, and many other stats you need to consider choosing.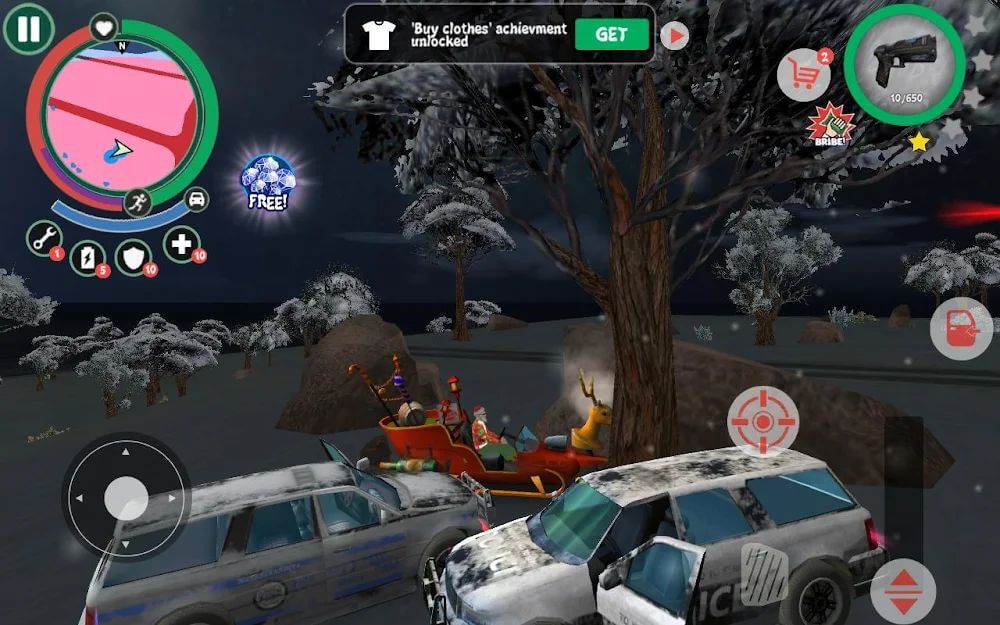 Players will find a variety of experiences in a big world:
Players will play as Santa Claus that will not give gifts to others but will do whatever they want in the city.
There are always diverse experiences that players will choose to depend on when they want to.
You can control the movement freely inside the city, do weird things, or explore the potential of the hook you have.
Many quests of different genres that you can receive, and the money you earn will help you buy many useful things.
A collection of weapons that you can equip yourself with and the stats that will help you increase your strength and endurance.
Crime Santa v2.0.7 MOD APK (Unlimited Skill Points) Download