Cafeland – World Kitchen is a coffee shop management game to help it become a high-quality and popular coffee shop. You will manage many aspects of the restaurant, such as food, drinks, or furniture, to keep the guests happy. At the same time, you can also unlock many new elements and add to your cafe to make a difference during the game.

MANAGE A COFFEE SHOP
The location of Cafeland – World Kitchen opens before the player's eyes, which is a coffee shop located in a vast area, but for some reason, you can only use limited space. From there, you will begin your service process to earn money and expand the cafe's site. Of course, anyone wants to have a high-quality coffee shop that many people visit. You will be able to change and extend it in your way.
You can observe what's going on in the cafe and adjust the objects in it to your liking. The object position is not fixed, and even the elements appear when you start the game. So you can adjust whatever you want to a place that you feel comfortable and help the cafe's interior be better organized. For sure, you will continue to add new items to diversify the interior and achieve the quality of a top coffee shop.

SERVE THE GUESTS IN THE BEST WAY
When the guests go to your cafe in Cafeland – World Kitchen, the first factor is the food and drinks available in the game. The interesting point is that you will find rows of empty tables next to the restaurant's counter, where to put the food you have prepared. At the same time, they will be a little different from what you imagine in that their size is enormous and anyone can go to get the food they want. So you will get money when your guests are satisfied.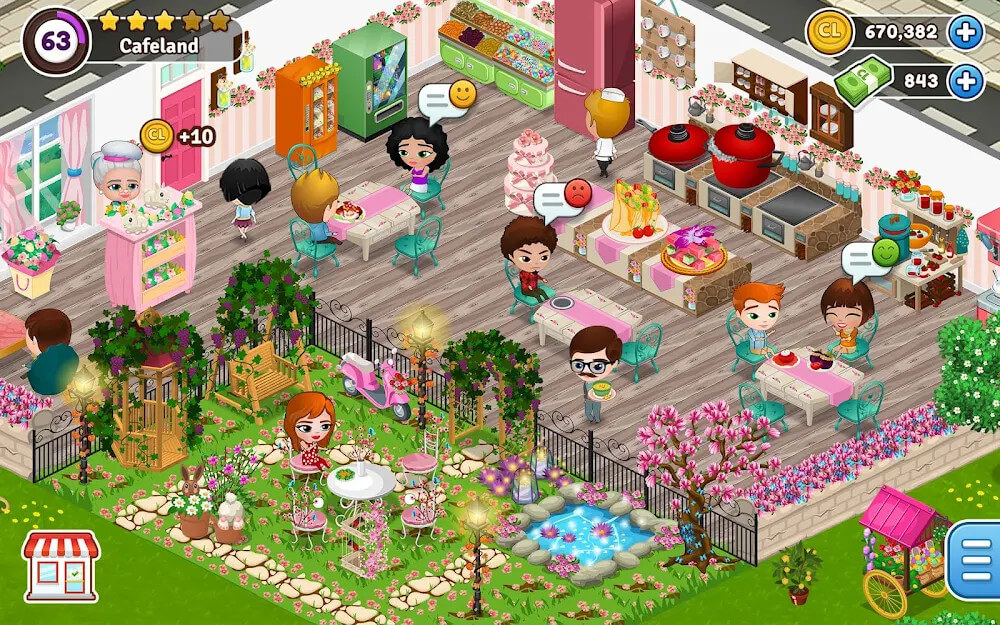 The amount of food in the game is entirely varied, and if you want to add food to serve guests, you need to add a table next to the existing ones and cook a new dish. At the same time, you can also buy new furniture and help you receive new customers regularly and not let them go when they first enter the shop. Therefore, when adding some new items, the existing space of the cafe will become more and more limited.

EXPAND THE AREA OF THE COFFEE SHOP
As mentioned above, you will have a certain amount of money when you start Cafeland – World Kitchen, and you can use it as you like. Specifically, you can buy new furniture, which will help you serve new dishes and drinks to the guests. You can also extend the coffee so it can add more tables and accommodate more flavors. Of course, as you help your coffee shop grow bigger and bigger, it's natural to make a lot of money.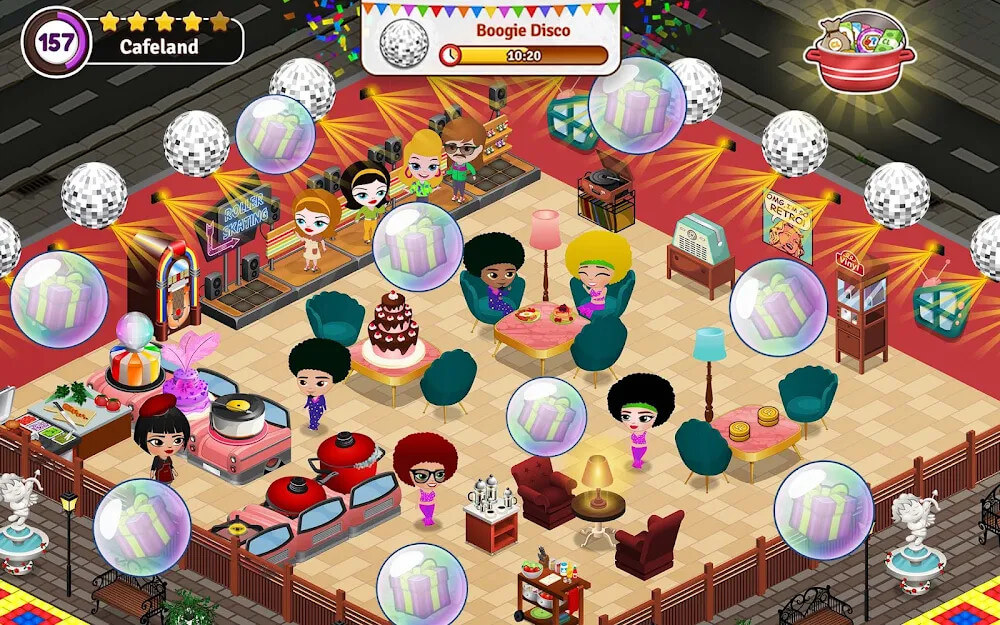 You will not need to worry too much about the service because taking cake or paying is done automatically. Your job is to make sure the activities going on in the cafe are stable and find new exciting things. At the same time, you also need to take care of the stains on the floor that will sometimes appear, and you can clean it up quickly. You can also give your cafe a new look by using a new type of floor tile.
KEY FEATURES
Many various types of furnishings and styles are available for your restaurant.
Manage your cafe's menu by selecting from a variety of delectable foods.
Various kitchen additions allow for the preparation of even more delectable meals.
Increase the number of clients you have by providing fantastic food and entertainment.
In your own kitchen, you may become a gourmet expert!
Create the café of your dreams with this game!
Enter to win prizes by attracting the attention of celebrities.
Get ahead of the competition in the catering industry!
Become a 5-star chef in the comfort of your own home!
Take care of the questions that have come in from the kitchen.
Have a good time with your pals and work on being a social butterfly!
Cafeland – World Kitchen v2.2.68 MOD APK (Unlimited Money) Download