Battle Forces is an FPS game where players can travel to amazing locations and find enemies to destroy. Each weapon brings different experiences to players and creates proper tactics they can think of. At the same time, the diverse skill and character system bring a new experience, and the weapon upgrade system gives players a chance to win.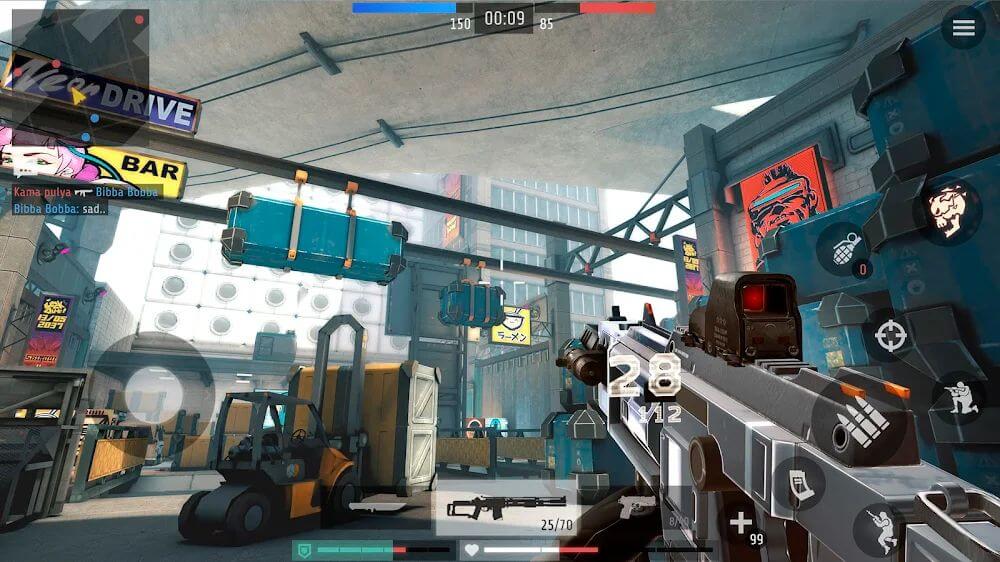 BATTLES IN IMPRESSIVE ENVIRONMENTS
The first factor that makes you excited when you experience Battle Forces is its graphics when you can find an environment designed in a slightly futuristic direction. You will completely feel attracted and start spending a lot of time experiencing this game. At the same time, the area in this game is entirely full of places for players to go to, and sure, you can face your opponents at any time.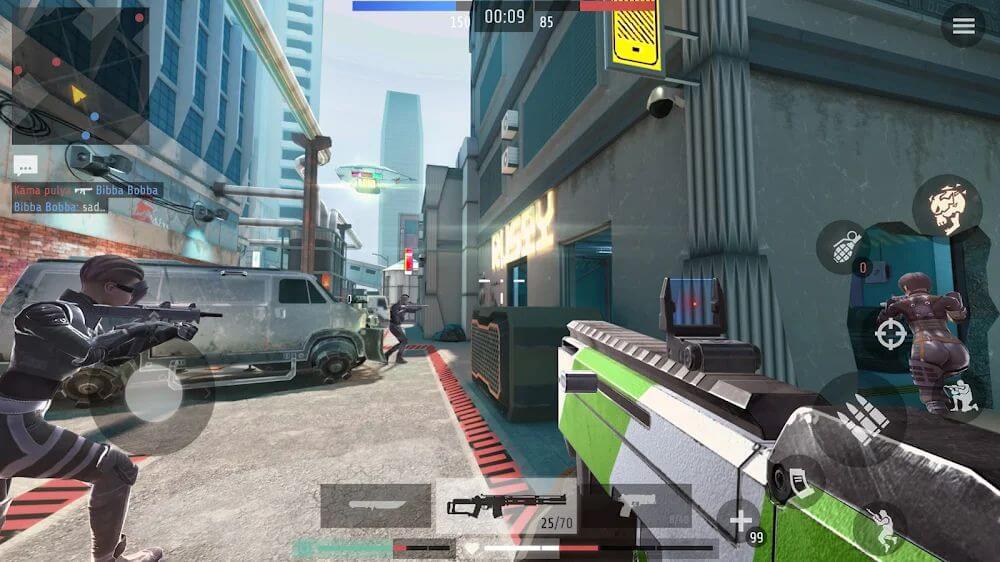 It is an FPS game, so players will experience detailed controls, and you will do many things, from aiming at enemies to taking down enemies with the weapons you own. It can be said that this is not a problematic mechanic, but players will need to overcome different matches to make the skill more impressive. At the same time, attack tactics can change over time depending on their weapon.
FIGHT THE ENEMY TOGETHER WITH YOUR COMRADES
After you have started the level of Battle Forces, you will be paired with other players and destroy the enemy. The goal of the whole game screen is straightforward: the player will try to accumulate points for his team corresponding to the times they destroy the enemy. Also, if they get knocked down, they can continue to return to the field after a waiting period. In addition, you also easily change tactics through the weapons you pick up.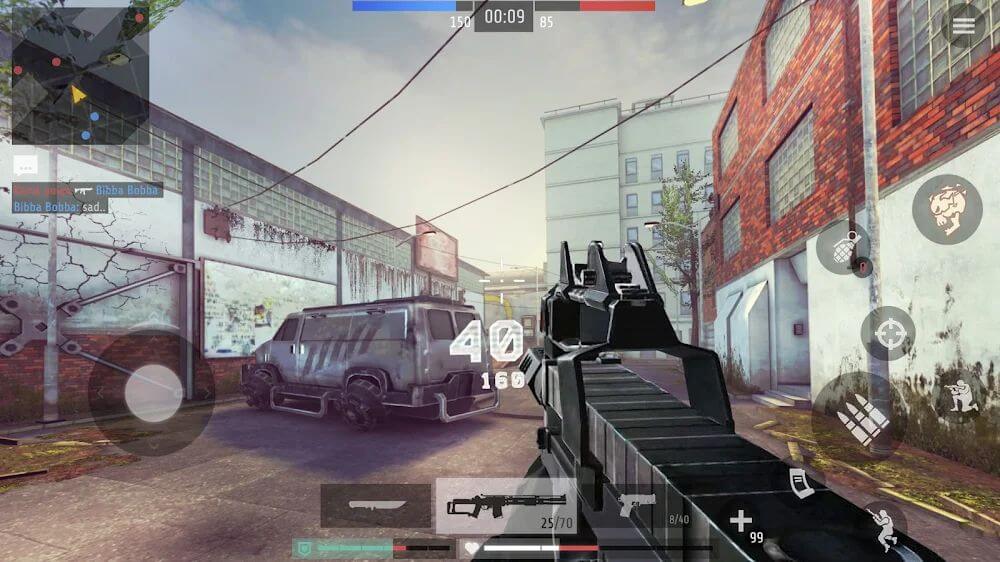 Besides the primary weapon, the player can also pick up the enemy's weapon, and this is a mechanism that often appears in FPS games. Players can destroy enemies and pick up their weapons, and each has its unique characteristics. For example, the player can play in the style of charging at the enemy with a shotgun, and with just a few shots at close range, the enemy can be killed instantly, and you can hide in some places and rush out unexpectedly.
Besides the basic attacks, surely players will not be able to ignore the character's support feature, and it is located in the middle of the screen for players to find. You can use it in difficult situations when you are almost out of health; depending on your current health, the color of the displayed environment will also change, indicating that you are in trouble. Indeed, this is a feature that you will not be able to ignore.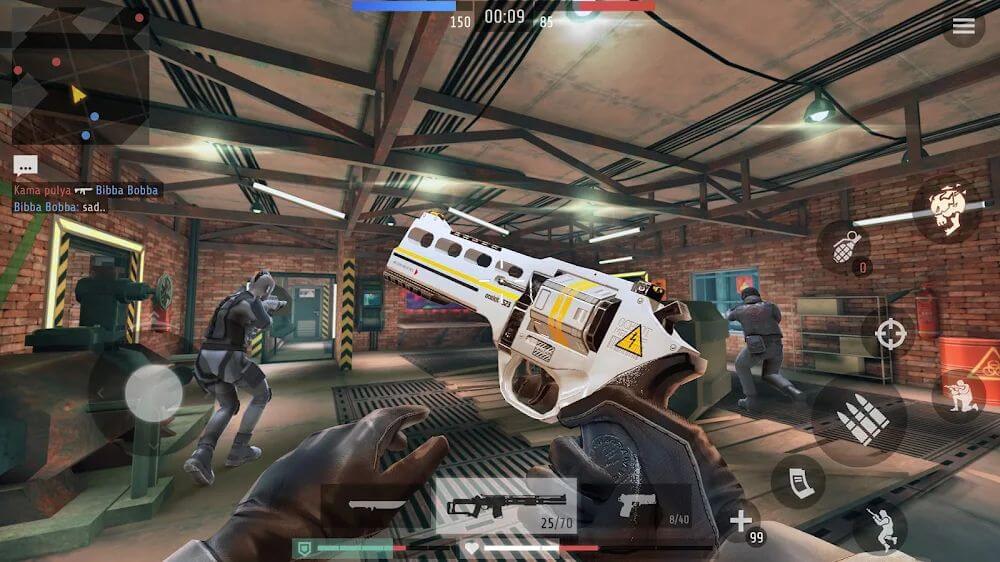 CHANGE TACTICS ACCORDING TO YOUR PREFERENCES
A player's strategy is a key factor in winning in Battle Forces as they can become an object of fear for players once they are well versed in what they have. At the same time, players can choose the hero they feel is suitable to fight against the enemy and take advantage of the skills they receive. In addition, because this is a skill, their frequency of use will often be more continuous than the items you have.
Besides the unique strength of each character, you will not be able to ignore the game's upgrade system to promote the weapon's performance. Specifically, you can increase the firepower of the weapons you often play by adding extra equipment to them. You can add extra equipment such as silencers, sights, flash hiders, and each gun has its number of skins that the player can unlock. Indeed, it will bring enjoyment immediately after receiving new skins.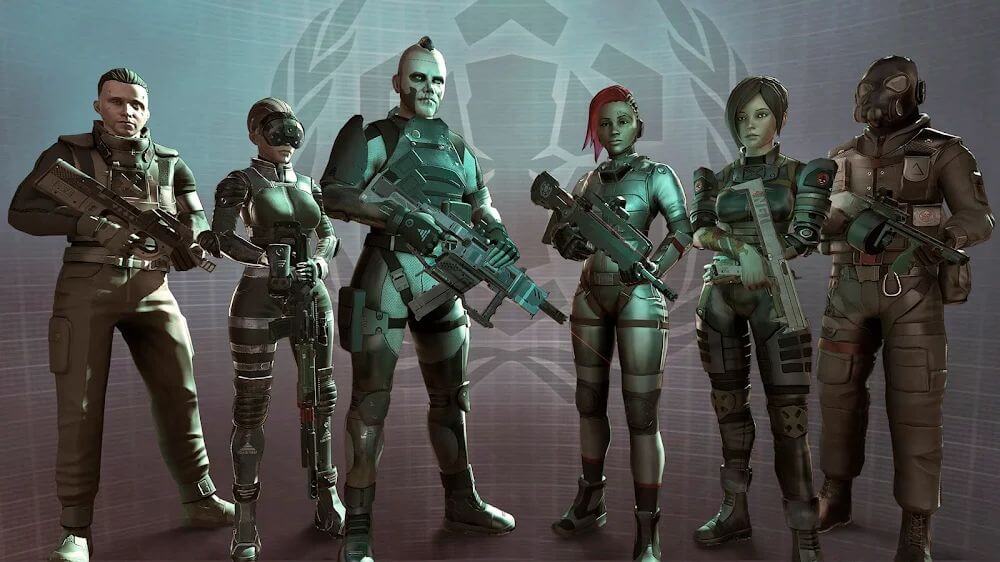 Players will enter awe-inspiring FPS battles:
An amazing world of graphics and futuristic design is waiting for players to join and require them to overcome challenging battles.
Players will accompany other players and try to collect as many points as possible by killing enemies they see.
Before starting the battle, you can adjust your weapon, which determines the attack strategy to destroy the enemy effectively.
The game offers six different heroes, and they have skills that players can use when eligible and support good survival in the battle.
Various weapons are typical of the FPS genre and help players choose and upgrade the often-used weapons to kill enemies quickly.
Battle Forces v0.14.0 MOD APK + OBB (God Mode, Map Speed) Download