Badlanders is a battle royale game where players will survive on their own through finding weapons, taking down enemies, and successfully escaping. Players won't find the safe zone, but instead, they'll get directions to the destination. At the same time, this is also the factor that makes players meet and use tactics to destroy each other, become the winner and receive valuable items.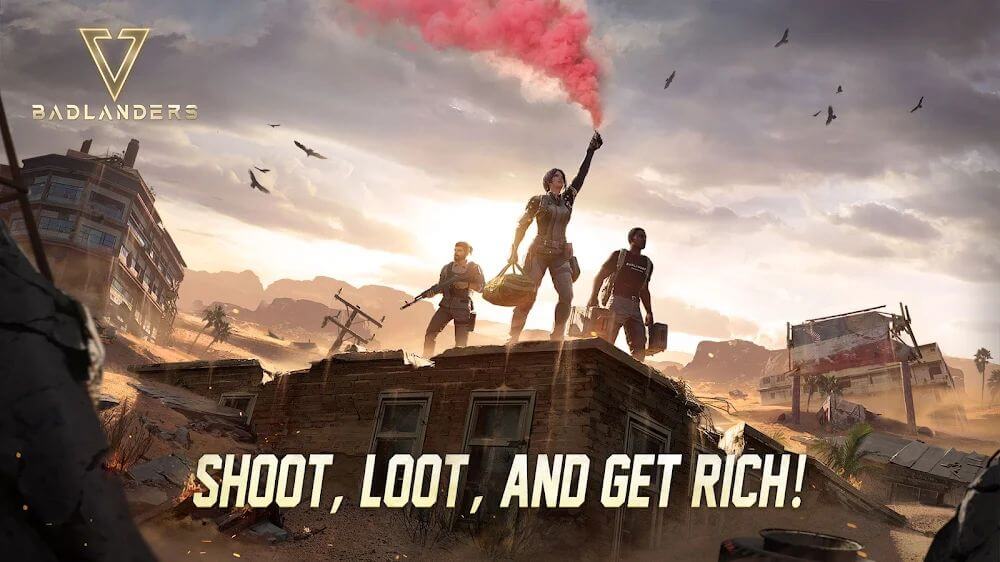 SURVIVE THE BATTLE ROYALE BATTLE
An impressive game in the battle royale genre, Badlanders completely captivates players with its unique mechanics and challenging battles with other players. You will try to survive in a big world, looking for what you have to become the last person to escape without being stopped by any players. Therefore, this is a game that you will not be able to ignore if you are a lover of the battle-royale genre.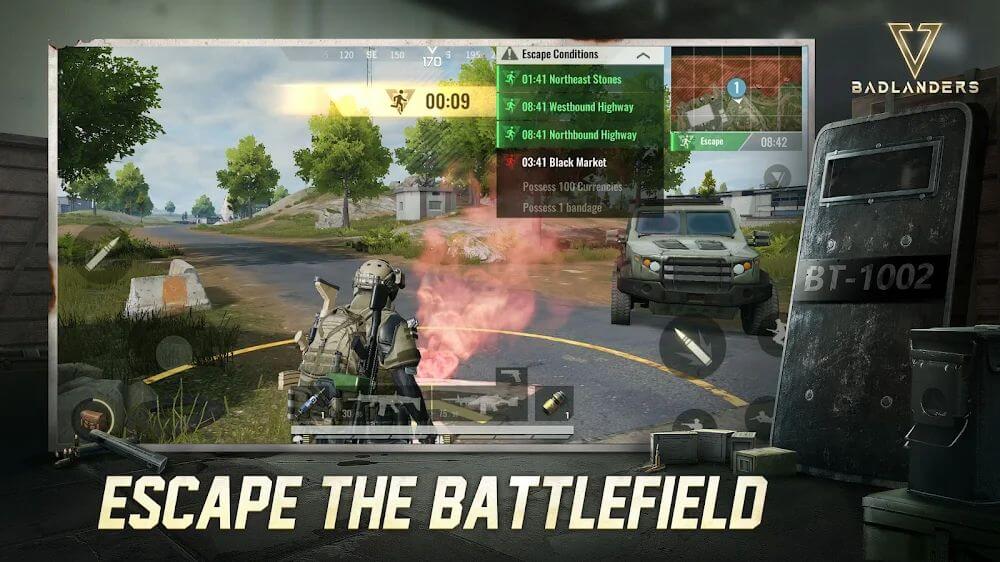 You will control the character to travel in a world where there are always elements of surprise that you will need to be careful of. You'll still be able to interact with and take advantage of the environmental elements you find necessary to attack or hide from enemies. At the same time, you will also realize that the game does not exist in a safe zone, and in other words, you will not need to worry about rushing to the next location not to lose health.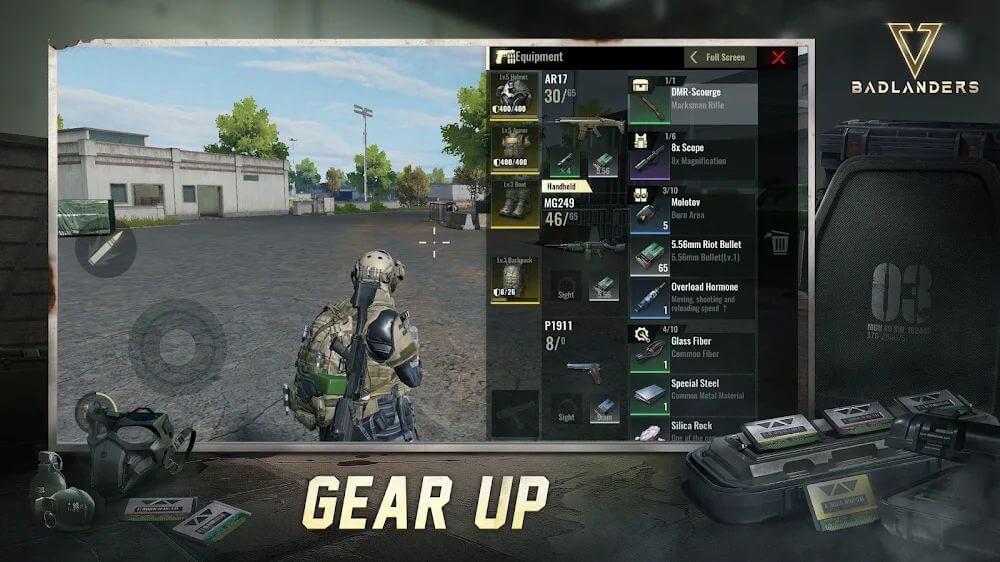 BE THE LAST TO ESCAPE
Similar to other battle royale games, you'll arrive at a Badlanders location with plenty to explore. You will need to get armor, backpacks, items, and many different weapons to serve your survival. At the same time, over time, accessories will appear before your eyes, and one of them will make using weapons more convenient, like scopes. In addition, you will also try to become a successful escape in the game after fully being equipped.
You will see an icon specifying the destination to go and proceed to escape along with the distance you need to go. At the same time, to get there, you will not be able to avoid battles because that is the goal of each player. You will move cautiously in the places you go through, and if you are lucky to reach the destination, it is not there. You will need to stay in the escape zone so that the countdown and your location will be fully identifiable by the enemy. So if you succeed, then the rewards will be impressive.
BUY AND SELL THE ITEMS YOU COLLECT
If you are the winner of Badlanders, the items you collect during the match can be included in your inventory. So any player will be motivated to win and be careful in the game. You can also find guns with different qualities to sell in the exchange. At the same time, when you have a certain amount of money, you can also buy things that you feel are necessary.
Similar to other shooting games, players will easily find many different types of guns and different types of ammunition and accessories. So you will be able to train your shooting ability to fight the enemies in front of you and kill them unexpectedly.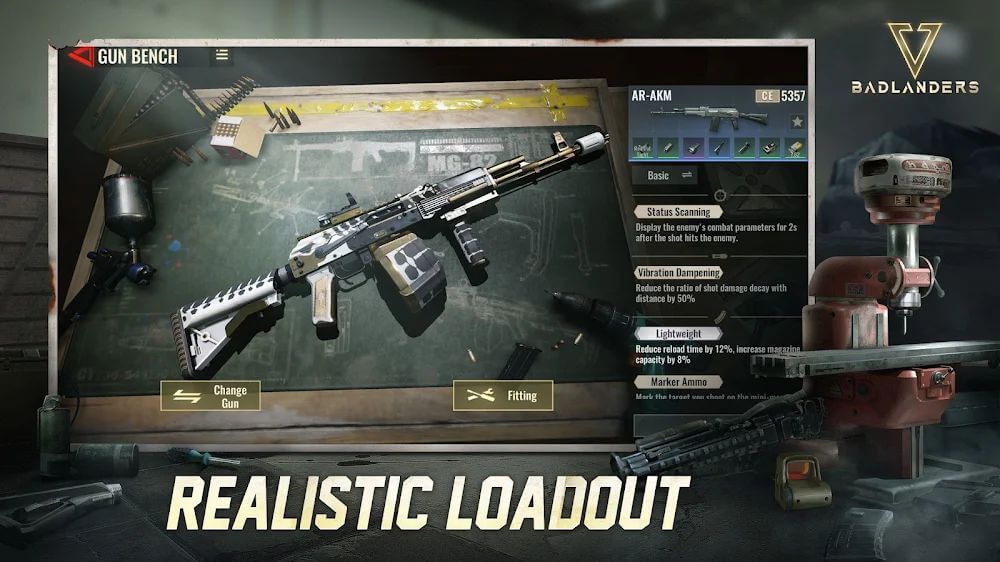 A challenging world opens before the player with interesting features such as:
Players will enter a battle-royale world with no safe zone, and they need to go to a predetermined location and escape.
They will go through many different areas and pick up the items they need, such as weapons, accessories, items, and many other unique elements.
Each player will try to be the winner when going to the specified location, waiting for the timer to count down until a successful escape.
Various weapons that you can take advantage of and choose from depending on their characteristics and your skills to win over your enemies.
Many of the items you collect from the battle will be sold with different values; that will help you get your hands on your favorite weapon.
Badlanders v1.7 APK + OBB (Latest) Download