Alpha Hybrid Launcher will bring users unique and intoxicating interface designs for the Alpha concept. Its advantage is that everything has extensive customization and many detailed changes, allowing users to create an exotic Alpha UI, including a universal appeal to all applications. On top of that, it has tons of exciting options for changing colors or interactions, expanding the user's interactive performance and personal user experience.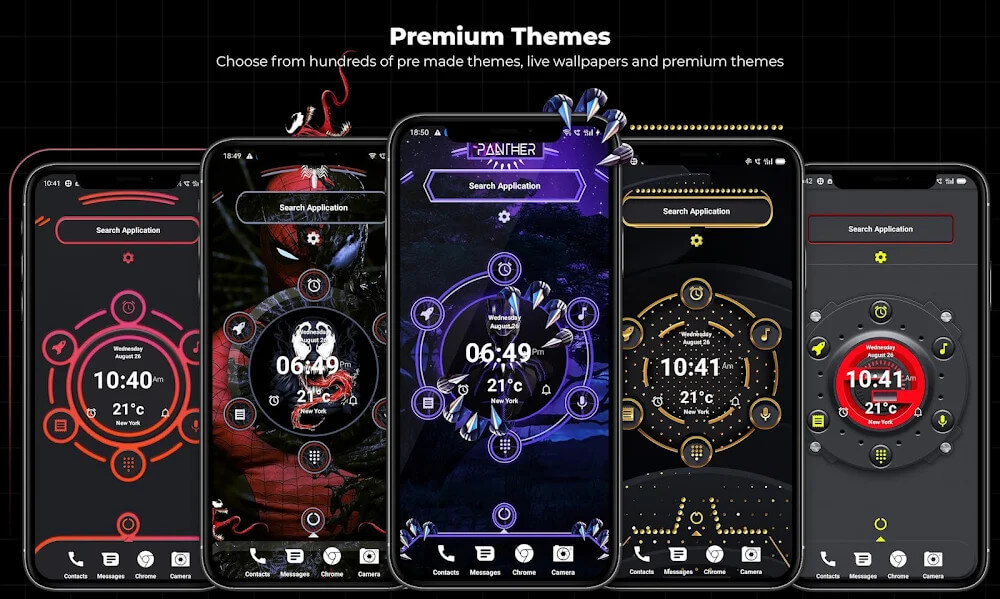 VERSATILE AND PROFOUND LAUNCHER
Alpha Hybrid Launcher has endless potential as it directly changes everything in the device and at the same time optimizes user interaction. Users can access their favorite or frequently used applications with simple actions and even expand or customize everything flexibly. Besides agile access, beauty and systems are also simplified to get used to or adapt quickly.
BUILT-IN VERSATILE SEARCH TOOL
Included with the launcher is a versatile search engine that allows users to access files, applications, multimedia, and more quickly. Thanks to the system's built-in AI, the search can be instantaneous. It will even filter out the small files hidden deep inside the system. The search results will also prioritize the app, then show any additional content related to the search keyword.
FLUID AND INNOVATIVE ANIMATION
Besides the search engine, the integrated interface design of Alpha Hybrid Launcher gives users a dynamic, smooth, and fluid interaction. Everything works according to the mechanism of science fiction or combined with many other modern and novel elements, thereby creating a professional and sophisticated feeling that few launchers respond to. Of course, users can change all their interactions to feel more comfortable or more straightforward than the default.
WIDE RANGE OF CUSTOMIZATION
The interface modification is to have spaciousness for users to search or meet their own needs freely. Through the editor, they can freely change the layout, location of the application, the main content should display, and the style of extensions by branch or others. On top of that, changing the colors is also important, although it only changes its accompanying borders and allows users to use images from the gallery to set as wallpaper.
HIDE OR LOCK APPS
Alpha Hybrid Launcher will integrate with simple protectors that can help users lock or hide various content, such as photos, files, and applications. While hiding them, users can only manually access the root folders, and even the search will not show hidden files. Meanwhile, the password function is more useful, and the application will support the use of fingerprints, face ID, and many other types of security.
INTEGRATED NEWS READER
Although the entire ability of the application is to change the user interaction or the overall interface design, it still integrates a newspaper reader. The newspaper reader function is fully functional, comes with a smart filter, refined interface, and the ability to update news instantly. Best of all, they can freely personalize the newspaper reader for the best experience besides enjoying a breakthrough in the interface.
Although Alpha Hybrid Launcher can only change the interface and overall layout of the device, it has a modern and novel design. It also comes with many interesting contents, such as newspaper reader, application lock, search bar, and exotic background designs for users to explore. The change is also done quickly, allowing them to enjoy a new change they have been looking for for a long time.
Download Alpha Hybrid Launcher v14.3 APK + MOD (Prime Unlocked) for Android